Desks
Frank Lloyd Wright Racine Collection
by Frank Lloyd Wright
Celebrating an icon of modern work, the Frank Lloyd Wright Racine Collection by Steelcase reintroduces, reinterprets and reimagines the classic furniture designs of Wright, produced by Steelcase for the SC Johnson Administration building in Racine, Wisconsin in 1939.
Reintroducing an Icon
Merging beauty and function in his philosophy of organic architecture, Wright's unique furniture for the SC Johnson building's Great Workroom pioneered a new way to work.
Our reintroduction of these pieces in the Signature collection closely captures the spirit and unforgettable look of his designs. We've faithfully matched the style and finishes of the original furniture, implementing only subtle adjustments to fit people today.
Reinterpreted with Respect
Guided by Wright's design principles, the modern Frank Lloyd Wright Racine Collection reinterprets the original line of furniture for use across a wider range of workspaces and settings.
This expanded collection translates Wright's clear aesthetic for today's work life, with new desk sizes that feature broader dimensions and proportions; an expanded material palette to provide more design choice; and the first-ever introduction of a lounge chair that Wright designed for the SC Johnson building in 1939 but which has never been produced until now.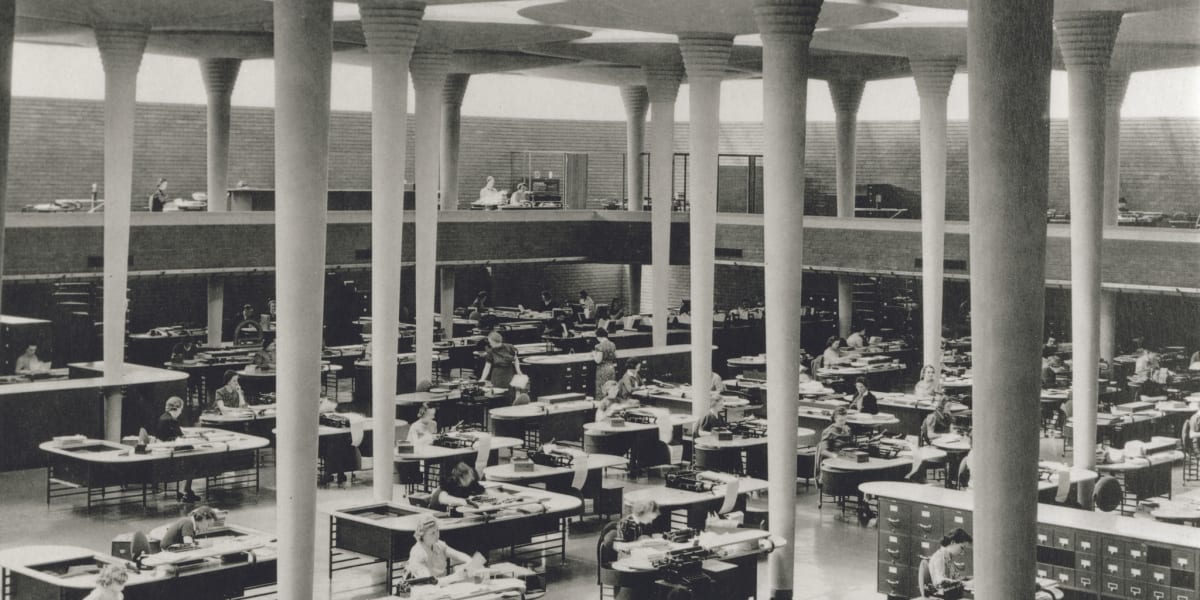 Our Relationship
Steelcase and the Frank Lloyd Wright Foundation have joined in a creative collaboration that ranges from launching reintroductions of iconic pieces to newly authored designs rooted in Frank Lloyd Wright's principles.
Frank Lloyd Wright used design as a means of deepening the relationships between people, nature and place. With the Racine Collection we're proud to participate in his vision of an architecture for better living that can help us all work better.
Learn More about the Steelcase and Frank Lloyd Wright Foundation Partnership