Simple and Complete
With Answer freestanding workstation solutions, it's easy to achieve a consistent aesthetic across the floor plan, from open spaces to private offices. That means, create simple desking solutions throughout the office that coordinate and easily reconfigure and rearrange.
Answer Family
One Solution. Endless possibilities.
Answer Freestanding private workstation is part of a family of products designed to support both individuals and groups, in resident and nomadic settings, with the flexibility to adapt and evolve as the needs of your organization, your people and your culture shift.
Answer fence, beam, panel system and freestanding furniture offer a range of applications, aesthetics, technology integration and privacy, optimizing creativity and performance.​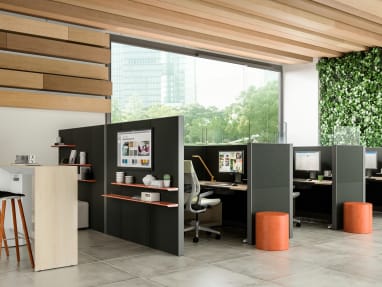 Answer Panels
Answer Panels are designed to create spaces within the open floorplan that help organizations balance collaboration and privacy, support mobility and optimize real estate, through the broadest range of applications.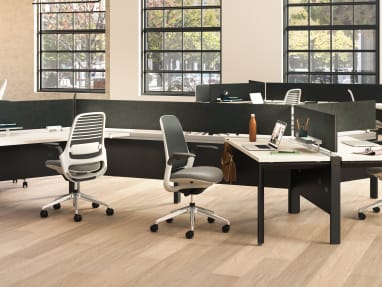 Answer Beam
Answer Beam offers a collection of supporting elements that connect and integrate at a lower elevation to complement an open floorplan. This allows for access to daylight, encourages collaboration and offers an updated feel.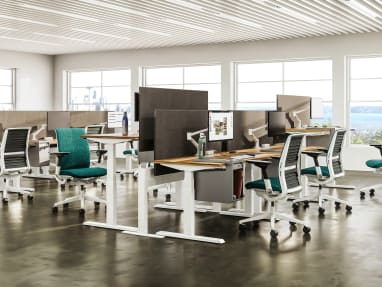 ANSWER FENCE
Answer Fence offers freestanding, light-scale space division, while providing power and data distribution and access. The fence was designed as a complementary element to plan with height-adjustable and freestanding desks to create a simple and complete solution.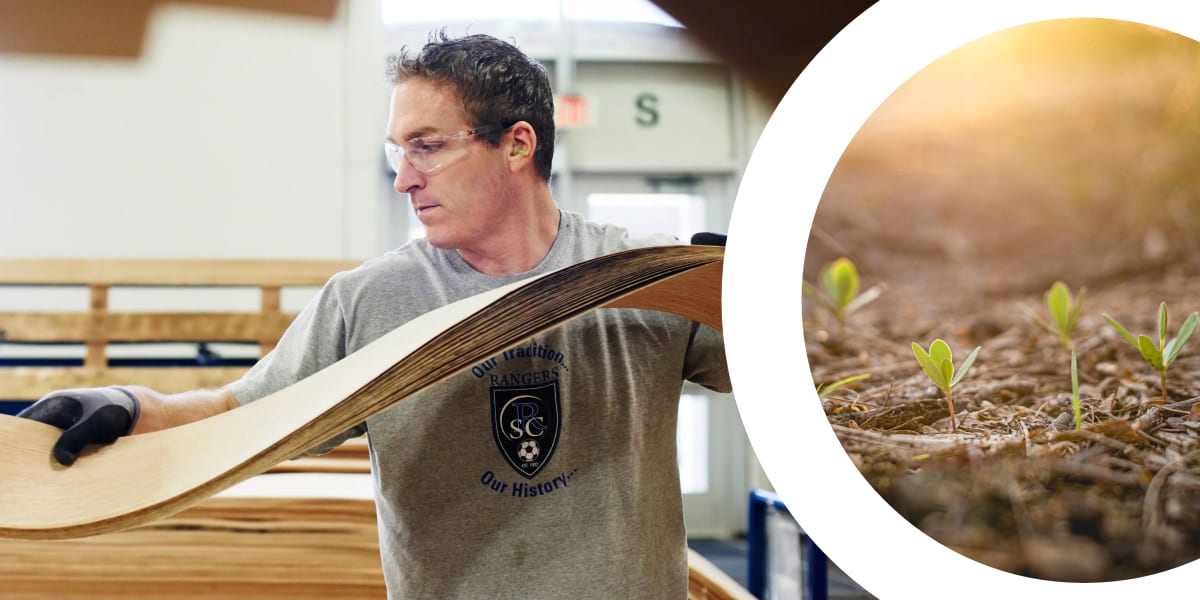 Sustainability
Designing for Sustainability
We create products that are good for people, and good for the world. Our products and operations are designed around a commitment to reduce climate change, reinforced by sustainable practices across our value chain.
Our Sustainable Design framework ensures our products are designed with consideration of life cycle thinking and cradle-to-cradle principles:
Source materials responsibly
Minimize global warming and other life cycle impacts
Ensure material health
Enable end-of-use strategies
Specifications
Dimensions + Components
Dimensions + Components
Answer Freestanding Desks and Components
Desk Shells: 24", 30"D; 60", 66", 72"W
Single-Pedestal Desk: 24", 30"D; 60", 66", 72"W
Double-Pedestal Desks: 24", 30"D; 60", 66", 72"W
Returns: 24"D; 24"-60"W
Pedestal Returns: 24"D; 24"-60"W
Bridges: 24"D; 42", 48", 60"W
Corner Desk: 24"D; 36", 42", 48"W
Hutch Kits: 14 7/8"D; 24"-72"W
System Worksurfaces
Straight: 18″–30″D; 24″–96″W
Transition: 18/24″, 24/30″D; 36″–60″W
Tapered: 18/24″, 24/30″D; 48″, 60″, 72″W
Taper-Flat: 18/24″, 18/30″, 24/30″D; 60″, 72″W
Corner (flat front, dual, curved front): 18″–30″D; 36″–60″W
Extended Corner: 24″, 30″D; 60″–72″W
120° Corner: 24″, 30″D; 36″–48″W
Spanner: 25½"–37½"D; 51″, 63″W
Bullet Peninsula: 24″, 30″D; 48″–72″W
Jetty: 24″, 30″D; 66″–78″W
Bubble Jetty: 24″D; 30″–48″W
Visitor: 24″, 30″D; 24″–48″W
Transaction: 15″D; 23″–53″W
Pedestals/Laterals/Towers
Fixed Pedestal (FF, BBF): 18″–30″D
Mobile Pedestal (BF, FF, BBF): 18″, 24″D
Lateral File: 30″–42″W; 18″, 24″D; 16″–65½"H
Open Side Tower: 24″W; 24″, 30″D; 47½ –65½"H
Full Front Tower: 24″W; 24″D; 52″, 65½"H
Vertical Drawer Tower: 24″W; 24″, 30″D; 52″, 65½"H
Storage Cabinet: 30″–42″W; 18″, 24″D; 28″–83½"H
Overhead Storage
Overhead Storage Bin (sliding door, flat, radius): 24″ –72″W
Screens
Universal Privacy/Modesty Screen: 26″H; 42″–66″W
Universal Privacy Screen: 13.5″, 19.5″H; 24–72″W
Universal Boundary Screens: 15″–54″H; 24″–72″W
Divisio Side Screen
Global Availability
Global Availability
This product is available in the following regions:
Asia Pacific
Central America
South America
North America
Europe
Middle East
Not available in your region?
If you're interested in purchasing a product that's not available in your region, please contact your local dealer for purchasing options.