The Pocket mobile worksurface supports connected care, from task to task and space to space.
Work on the Move
CONNECT ANYWHERE
As care becomes more complex, patients and clinicians are often unable to do the one thing that could help them most – connect.
Pocket is the mobile worksurface that supports connected care, from task to task and space to space. It moves with clinicians to bring people, tools and technology together, wherever they're needed.
Small in scale with smooth gliding casters, Pocket moves easily and quietly, even in tight spaces.
Design Insights
Simple, flexible, adaptable and smart, Pocket mobile carts respond to the realities of mobile clinician work – letting clinicians get close to their work and their patients, without the discomfort.
Insights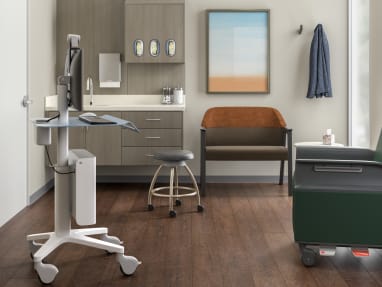 CONVENTIONAL CARTS STOP SHORT
With increased mobility, there is an ever-rising need for spaces to support a new way of work. Impromptu workstations are available as needed, and team-based care requires collaboration that is supported by technology. Meanwhile, conventional carts are complex, intimidating and noisy, and do not support this work.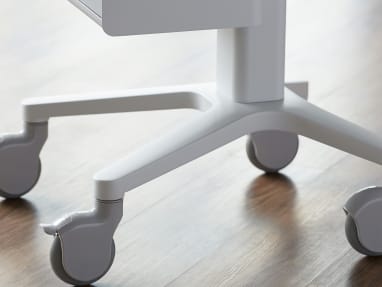 LESS IS MORE
Pocket is intentionally simple so that it works with changing technology and procedures for a long, useful life.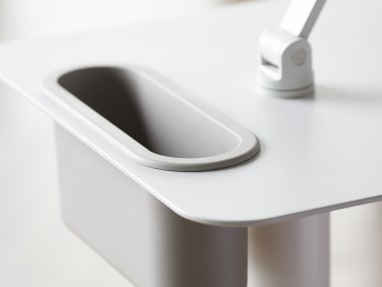 Flexible
Clinicians can make pocket their own, even as technologies and procedures change, with magnetic accessories and fixed or adjustable height options that enable both sitting and standing work.
Sustainability
Overview
Overview
Designing for Sustainability
We believe the only way to provide the best office furniture solutions is to ensure they're the best products for the environment. That's why every step of the way – through design, manufacturing, delivery and product lifecycle – we consider the impact of our work on people and on the environment and uncover opportunities to make things better.
35 %
Up to
recycled content
Life Cycle
Life Cycle
Materials
Up to 97% recyclable
Made with up to 35% recycled content
LEED Contribution
LEED Contribution
Steelcase supports the U.S. Green Building Council's LEED certification system with products that can contribute to LEED Building Design + Construction (BD&C), LEED Interior Design + Construction (ID&C), or LEED Operations + Maintenance (O&M) certification criteria.
Since the USGBC and its certification partner, GBCI, evaluate each project individually, the role our products play in achieving LEED certification is unique to each project.
Pocket Contribution
Recycled content
Regional materials
Sustainable purchasing
Furniture and medical furnishings.
Specifications
Standard + Optional Features
Standard + Optional Features
Standard + Optional Features
Fixed-height column for standing and collaborative work
Smooth gliding casters lock and unlock with the press of a foot
Handle is easy to grasp to pull or push
Pocket where needed
Magnetic accessories allow for clinician personalization
Optional technology bay, articulating arm and monitor mount provide convenient access to care information and equipment
Surface Materials
Paint
Plastic
Dimensions
Dimensions
| | | |
| --- | --- | --- |
| | Fixed-Height Models | Adjustable-Height Model |
| Width | 18″ | 18″ |
| | 22″ | 22″ |
| | 25″ | 25″ |
| Depth | 21 1/2″ | 21 1/2″ |
| | 22 1/2″ | 22 1/2″ |
| | 24″ | 24″ |
| Top Surface Height | 36″ | 31 3/8″ – 41″ |
| | 36″ | 31 3/8″ – 41″ |
| | 36″ | 31 3/8″ – 41″ |
Global Availability
Global Availability
This product is available in the following regions:
Central America
South America
North America
Middle East
Not available in your region?
If you're interested in purchasing a product that's not available in your region, please contact your local dealer for purchasing options.