Steelcase and Frank Lloyd Wright Foundation Launch New Collaborative Collection
Drawing on a connection that began over 80 years ago, the two organizations debut a collection for living and working at home.
Grand Rapids, MI, Jan. 25, 2023 – Steelcase will launch a new work from home collection as part of their relationship with the Frank Lloyd Wright Foundation. Celebrating an icon of modern work, the Frank Lloyd Wright Racine Collection by Steelcase reintroduces, reinterprets and reimagines the classic furniture designs of Wright, originally produced by Steelcase for the SC Johnson Administration building in Racine, Wisconsin in 1939.
Merging beauty and function in his philosophy of organic architecture, Wright's unique furniture for the SC Johnson building's Great Workroom pioneered a new way to work. As part of the Frank Lloyd Wright Racine Collection, select Signature pieces will faithfully match the style and finishes of the original furniture, with subtle adjustments to the collection's proportions and scale to support modern living.
"From its beginnings over 80 years ago, Steelcase's relationship with Frank Lloyd Wright has helped to revolutionize design for work," says Meghan Dean, General Manager, Ancillary Merchandising and Partnerships at Steelcase. "Now, we continue that mission into the home, as there's never been a better time to revisit design principles that have always been ahead of their time."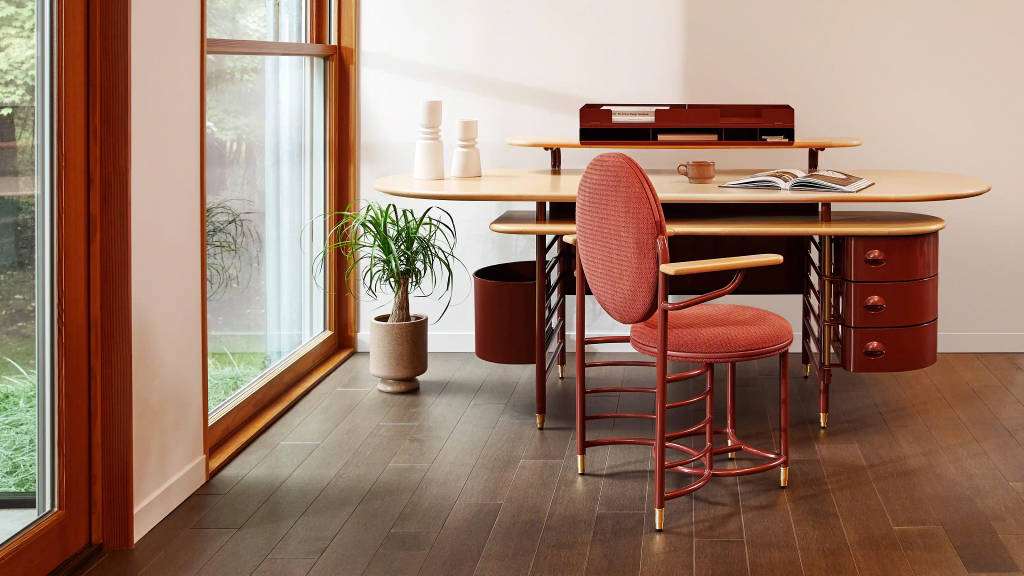 Guided by Wright's design principles, the modern Frank Lloyd Wright Racine Collection reinterprets the original line of furniture for use across a wider range of spaces and settings while capturing the spirit and groundbreaking look of his designs. This expanded collection translates Wright's clear aesthetic for today's work life, with new desk and guest chair sizes that feature broader dimensions and proportions; an expanded material palette to provide more design choice; and the first-ever public introduction of a lounge chair that Wright designed for the SC Johnson building in 1939.
"Frank Lloyd Wright used design as a means of deepening the relationships between people, nature and place," says Stuart Graff, President and CEO of the Frank Lloyd Wright Foundation. "With the Frank Lloyd Wright Racine Collection and our collaboration with Steelcase, we're excited to expand his vision of an architecture for better living."
The Frank Lloyd Wright Racine Collection is the first of Steelcase and the Frank Lloyd Wright Foundation's new creative collaboration, which is expected to be sweeping in scope as the organizations reflect on the past to continue Wright's legacy and inspire future collections for a new generation. Steelcase draws on the Foundation's archives and Wright's organic design principles for aspiration and inspiration, and together they intend to establish ongoing collections of fine furnishings, textiles and wall coverings that evolve from the legendary to the unexpected.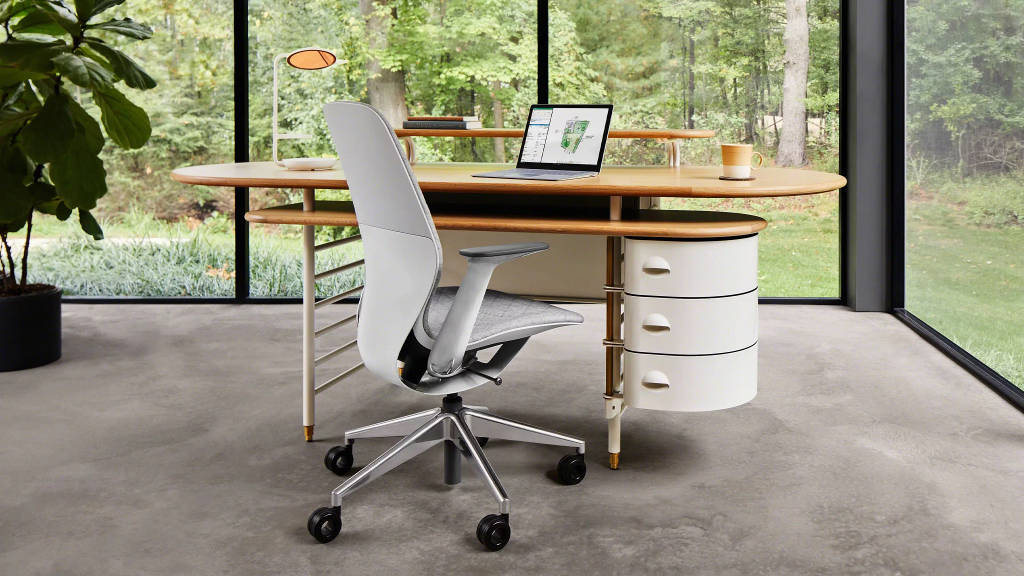 The Frank Lloyd Wright Racine Collection by Steelcase will be exclusively available at launch on Jan. 25 at store.steelcase.com with free shipping as part of Steelcase's Professional Installation offering. For more information: steelcase.com/franklloydwright.
About Steelcase
Established in 1912, Steelcase is a global design and thought leader in the world of work. We help people do their best work by creating places that work better. Along with more than 35 creative and technology partner brands, we design and manufacture innovative furnishings and solutions for the many places where work happens — including learning, health and work from home. Our solutions come to life through our community of expert Steelcase dealers in over 800 locations, as well as our online Steelcase store and other retail partners. Founded in Grand Rapids, Michigan, Steelcase is a publicly traded company with fiscal year 2022 revenue of $2.8 billion. With our more than 11,000 global employees and dealer community, we come together for people and the planet — using our business to help the world work better. For more information, visit steelcase.com.
About the Frank Lloyd Wright Foundation
The Frank Lloyd Wright Foundation, established by Wright in 1940, is dedicated to preserving Taliesin and Taliesin West, both World Heritage sites, for future generations, and inspiring people to discover and embrace an architecture for better living through meaningful connections to nature, the arts, and each other. The Foundation continues the Frank Lloyd Wright legacy by broadening access to his ideas, works, and designs — considered more relevant today than in his own time — and provides new pathways for audiences to create beauty and connectedness in their own lives. Taliesin West was recently named among the top 10% percent of attractions worldwide by TripAdvisor. Visit FrankLloydWright.org for more information on tour schedules, cultural and educational experiences and events. To shop the latest Wright-inspired home, design and lifestyle products, visit FrankLloydWrightStore.com