Pod Tent is a freestanding enclosure that limits distractions in the open office by providing individuals with a comfortable and private space to do their best work.
-
Reimagined Retreats
Designed in collaboration with a world-class tent designer, the concept of Work Tents is rooted in the human desire to seek shelter and protection from natural elements. Recreational tents provide safety and a haven of security in uncertain outdoor conditions, and now Work Tents provide people in the office with the same shelter and protection they crave.
With tensile construction at the core of the design, Work Tents pair light and airy organic shapes with tent-like and sheer textiles to create a range of flexible and captivating privacy solutions. Steelcase Work Tents challenge conventional privacy solutions by offering a novel and compelling way for people to work.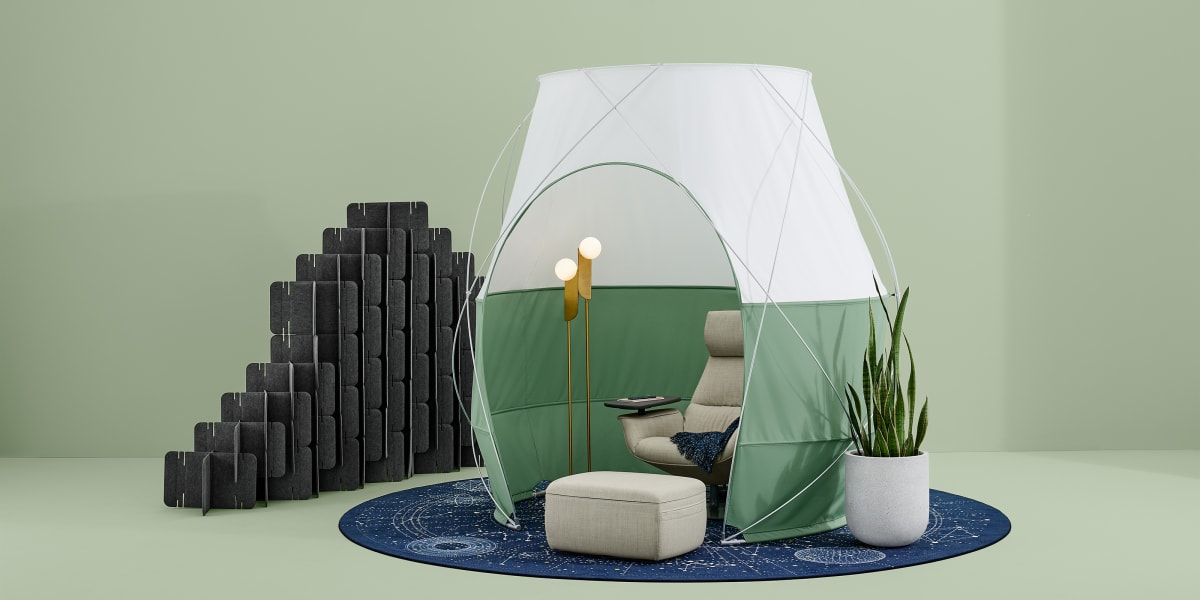 Modern Privacy
Pod Tent is the perfect retreat from common office distractions, providing a comfortable, private working environment for focus or rejuvenation. Its unique and organic shape adds a compelling and unconventional visual aesthetic to the modern workplace.
There are many benefits of adding a Pod Tent to the workplace:
Versatile: Pod Tent is roomy enough to support individual desking or lounge settings
Flexible: The lightweight Pod Tent is easy to move and supports a resilient workplace
Airflow: A standard open-air roof and door provides ventilation inside the tent
Cost Savings: Pod Tent is budget friendly and a fraction of the cost of traditional stand-alone pods and enclaves
Features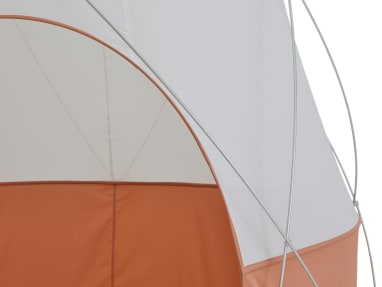 Aluminum Frame
An exposed and flexible aluminum frame provides the highly stable framework for the organic shape while adding a unique visual aesthetic.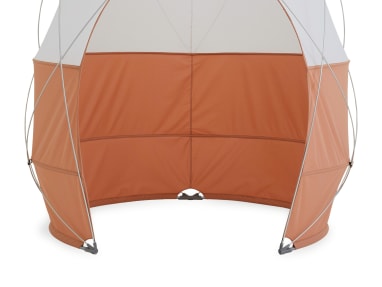 Easy Access
A wide-mouthed door ensures easy access in and out of the tent.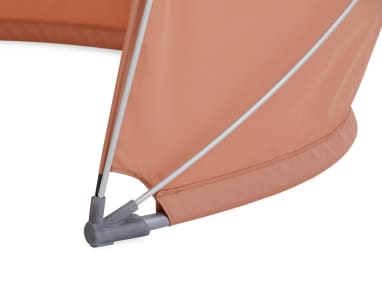 Simple Assembly
Intuitive and easy to set-up, Pod Tent can be fully assembled in under one hour with two people – no tools needed.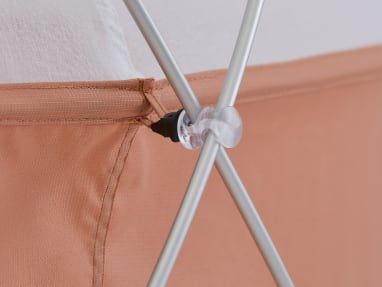 Connectors
Plastic or self-fastening connection points are strategically placed around the tent to secure the fabric to the frame, helping to keep the shape intact.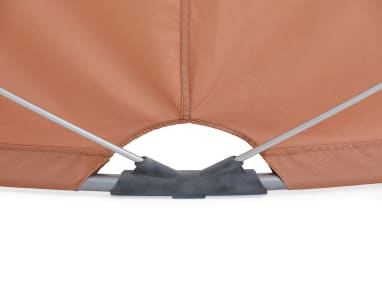 Power Integration
Cut-outs at the base of the frame allow for the routing of power cords to power up height adjustable desks, lamps or technology.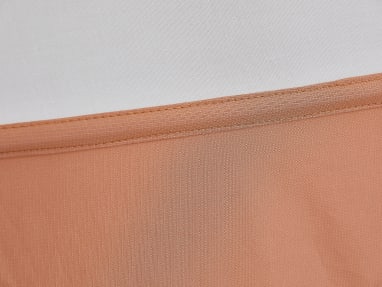 Materiality Options
Available in a wide array of sheer and opaque fabrics, Pod Tent can be specified in either one color or color-blocked to achieve just the look you want.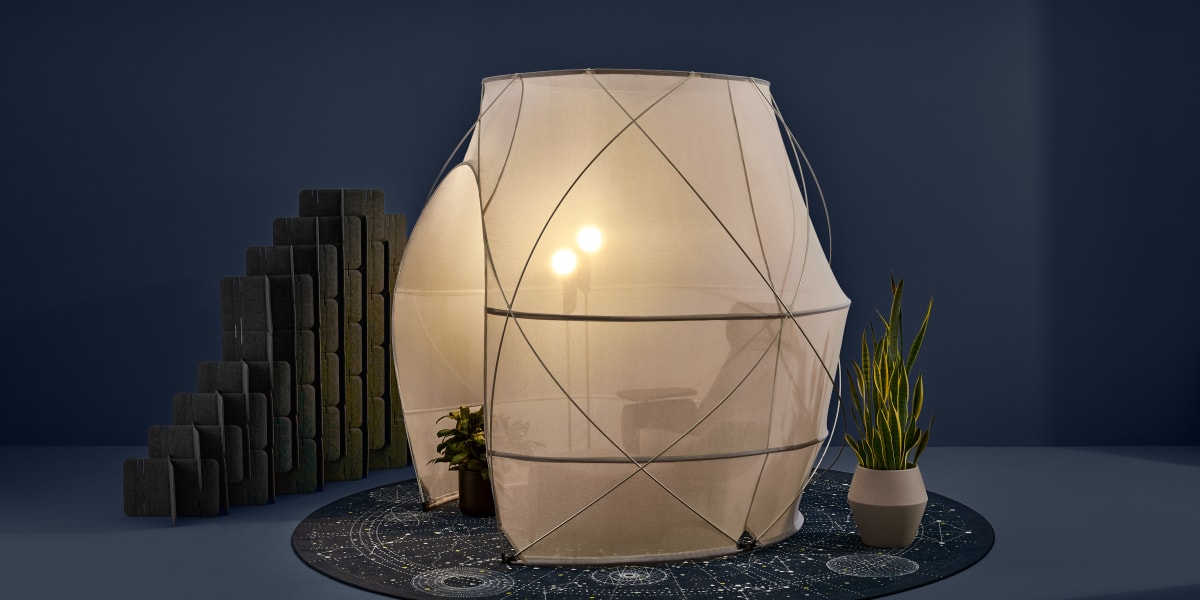 A New Materiality
As we started the adventure to bring Work Tents to the office, we realized that such an innovative concept needed a new materiality. Our focus on different layers of shelter and privacy brought us in the direction of opaque to semi-transparent options.
Our research in the outdoor realm brought us to a light-weight fabric that we called Ascent. This fabric provides a high level of visual privacy while remaining extremely light.
To complement the adventurous spirit of Ascent, Sheer came into being to bring a cocooning touch to the Work Tent experience. This trans-lucent fabric provides just the right level of visual privacy and comfort, while letting light coming in.
Steelcase Work Tents Family
Specifications
Dimensions
Dimensions
Base diameter: 1930 mm
Diameter at widest point: 2235 mm
Height: approximately 2337 mm
(Variation in heights related to tensile construction is expected.)
Standard + Optional Features
Standard + Optional Features
Surface Materials:
Available in 3 fabric families (Sheer, Ascent, Era) and can be can be specified in one solid color or in two color families:
Sheer/Sheer
Era/Sheer
Era/Ascent
Ascent/Sheer
Ascent/Ascent
Poles and Frame:
Aluminum (Standard in Silver, connectors in plastic platinum)
Global Availability
Global Availability
This product is available in the following regions:
Africa
Asia Pacific
Central America
Europe
Middle East
North America
South America
Not available in your region?
If you're interested in purchasing a product that's not available in your region, please contact your local dealer for purchasing options.