Features
Overview
The Vale Sofa system is a collection of contemporary modular units, which can be combined to create dynamic layouts suitable for busy work, public or hospitality spaces.
Vale is available as a generous armchair, as a two, three or four-seat sofa, and as a more expansive combination of linking units.
Vale's visual character comes from its slim seat cushion, which discreetly tucks underneath the arm to create an understated yet elegant design signature. Vale has been meticulously designed so that adjacent units share a central leg when linked together, creating a simple, clean and uncluttered impression.
Vale also has its own range of tables. These are available in three sizes, with two top types offered in a variety of melamine and real wood veneer finishes.
surface materials
This product is available in the following surface materials:
Legs: RAL 9006, Stone, Black, White, Chrome, Gold, Taupe, Industrial Silver, Bronze, Copper.
Table Tops — Melamine: Walnut, Grained Oak, Artisan Oak, Beech, Graphite, Grey, White.
Table Tops — Laminate: White Fleetwood, Grey Bardolino, Fenix Grigio Londra, Natural Davos, Fenix Piombo Doha, Fenix Titanio Doha, Grey Arizona, Fenix Nero Ingo, Fenix Grigio Efeso, Fenix Bianco Alaska, Tobacco Charleston, Fenix Grigio Bromo.
Table Tops — Veneer: Cherry, Beech, Oak, Walnut, Maple.
Global Availability
The product is available in the following regions:
Europe
Middle East
Africa
Asia Pacific
Central America
North America
South America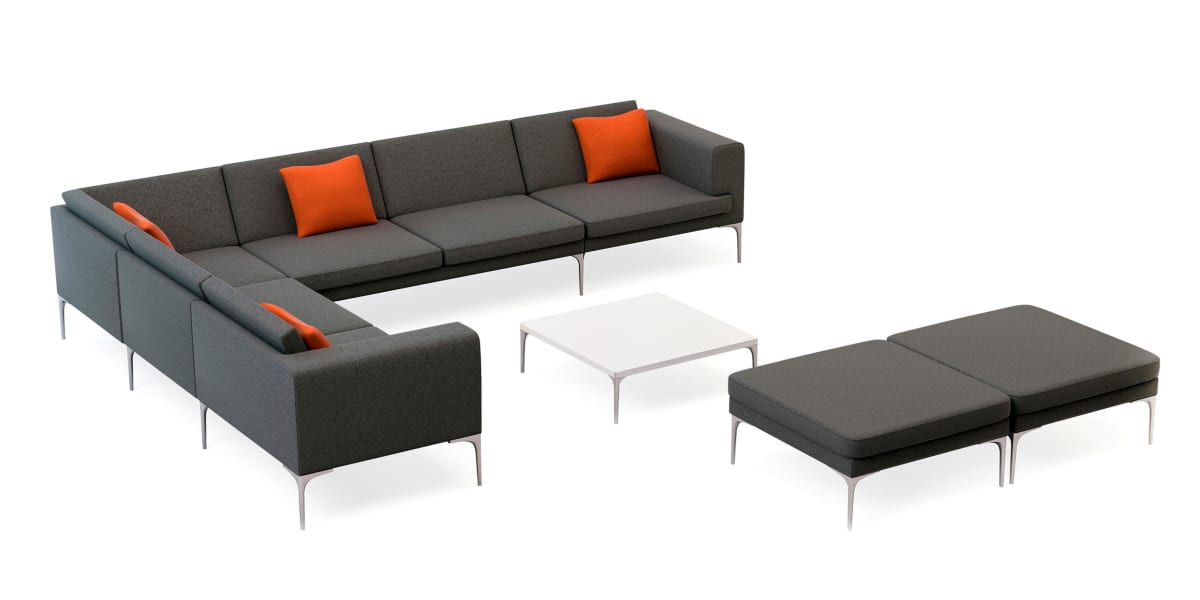 Single Seater Unit With Right Arm and Left Arm
Height: 770 mm
Width: 1020 mm
Depth: 840 mm
Seat Height: 425 mm
Seat Depth: 540 mm
Single Seater Unit With No Arm
Height: 770 mm
Width: 820 mm
Depth: 840 mm
Seat Height: 425 mm
Seat Depth: 540 mm
Two Seater Unit With No Arm
Height: 770 mm
Width: 1640 mm
Depth: 840 mm
Seat Height: 425 mm
Seat Depth: 540 mm
Single Seater Bench
Height: 445 mm
Width: 820 mm
Depth: 840 mm
Seat Height: 425 mm
Seat Depth: 540 mm
Corner Unit
Height: 770 mm
Width: 840 mm
Depth: 840 mm
Seat Height: 425 mm
Seat Depth: 540 mm
800 x 800 mm Table
Height: 285 mm
Width: 800 mm
Depth: 800 mm