Lighting
Steelcase Eclipse Light
by Steelcase
Steelcase Eclipse is an innovative, beautiful and elegant LED lamp that seamlessly integrates the functionality of a video and task light. It is designed by the Steelcase Design Studio.
Illuminate your new way to work and collaborate
Steelcase Eclipse transforms both residential and commercial environments and helps people look better in remote collaborations.
Repositionable and with superior color performance, the Steelcase Eclipse Light illuminates the new ways to work and collaborate.
Features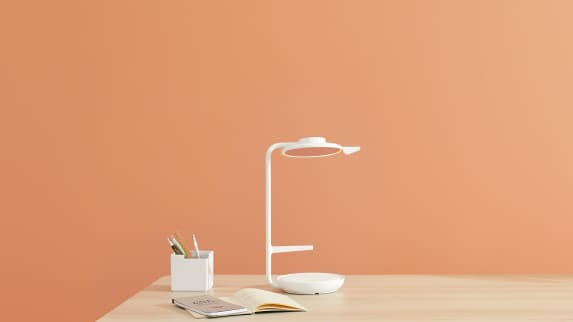 Mixed presence supported by dual-function
Mixed presence meetings through remote collaboration is the new normal. As users collaborate remotely, Eclipse LED in video or task orientation enhances the users experience with .14% Flicker-Free technology and superior color performance that mimics daylight to make shadows disappear all while reducing eye-strain.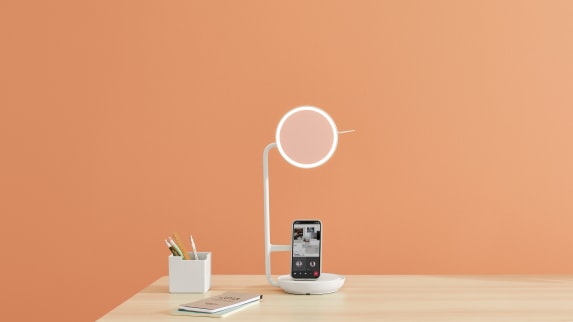 Innovative, multi-functional and highly adjustable LED
The Steelcase Eclipse Light invites everyone to personalize how their desk is lit so they can feel good and be their most productive at work, either virtually or in person.
The kickstand supports mobile devices in landscape or portrait and the cooper-tinted mirror illuminates the user.
Specifications
Standard + Optional Features
Standard + Optional Features
Options
Steelcase Eclipse Light is available in Matte Black, Pearl Snow and Pewter.
Dimensions
Height: 45,72 cm
Width: 15,24 cm
Depth: 17,78 cm
Global Availability
Global Availability
This product is available in the following regions:
Not available in your region?
If you're interested in purchasing a product that's not available in your region, please contact your local dealer for purchasing options.