Features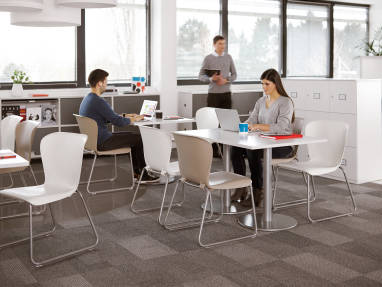 In the Office
Westside's ergonomic shape and high-quality finish are good for short meetings, training and teaming.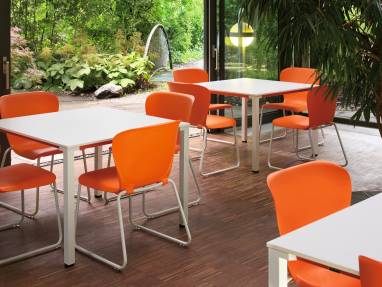 Out of the Office
Westside works well in spaces like canteens, universities, medical facilities and welcome areas because it's easy to clean, store and move around (for indoor use only).
Sustainability
Overview
Overview
Designing for Sustainability
We believe the only way to provide the best office furniture solutions is to ensure they're the best products for the environment. That's why every step of the way – through design, manufacturing, delivery and product lifecycle – we consider the impact of our work on people and on the environment and uncover opportunities to make things better.
14 %
Up to
recycled content by weight
97 %
Up to
recyclable by weight
Life Cycle
Life Cycle
Materials
Westside contains no hazardous materials (i.e. no Lead, Mercury, Cadmium, Chrome VI, (seating) or CFC or HCFC in the foam, no dangerous materials such as PVC, and no hazardous flame retardants such as halogenated flame retardants. Westside contains 14% recycled materials, by weight. The packaging consists of cardboard, PE foam and LDPE film (Low Density Polyethylene), both containing at least 30% recycled material. The Westside chair weighs only 4.9 kg and is made with only 2 main low energy materials (steel and PP). The use of gas injection in the plastic shell is an innovation. Paper and packaging use water based inks without solvent.
Production
The production site in Sarrebourg has an ISO 14001 certified environmental management system. Westside was designed to be made with minimal waste, energy consumption and environmental impact. Powder-coat painting is VOC-free and free of heavy metals; unused paint that does not attach to the product can be directly reused in the process.
Transport
Westside is lightweight and stackable. Minimised packaging weight and volume also help us improve filling rates and thus require less energy for shipping..
Use
Westside was designed for a long product life, with replaceable elements.
End of life
Westside is 97% recyclable by weight. The cardboard, PE foam and LDPE film used for packaging are 100% recyclable. Westside is quick and easy to disassemble using normal hand tools. It contains only a few different materials, making sorting for recycling easy. Plastic parts are clearly labelled for easy sorting and an effective recycling.
LEED Contribution
LEED Contribution
Steelcase helps customers seeking LEED certification to identify products and programs that can contribute to LEED criteria in the categories of Materials and Resources, Indoor Environmental Quality and Innovation (Ergonomics Training, Sustainability Training, Product Innovation).
Learn about Steelcase's direct and indirect contributions to a project's pursuit of LEED certification across LEED's three categories:
Building Design + Construction
Interior Design + Construction
Operations + Maintenance
Since the USGBC and its certification partner, GBCI, evaluate each project individually, the role our products play in achieving LEED certification is unique to each project.
Certificates
Certificates
Certifications can help you choose products that are environmentally sustainable and just right for your project. has achieved the following certifications:
Environmental Product Declaration (EPD)
With Westside we can provide an Environmental Product Declaration (EPD),an environmental declaration according to the objectives of ISO 14025, based on Life Cycle Assessment (ISO 14044). The purpose of an EPD is to communicate clear and transparent information about a product's impacts on the environment at all stages of its life cycle.
NF Environnement
Westside complies with the French environmental certification "NF Environnement" (ISO 14024).
Indoor Advantage™ Gold certification
Westside is certified with the Indoor Advantage™ Gold certification, a high level certificate for indoor air quality.
Specifications
Options + Dimensions
Options + Dimensions
Main options
Cushion, ganging, raw spacer in option
Global Availability
Global Availability
This product is available in the following regions:
Africa
Europe
Middle East
Not available in your region?
If you're interested in purchasing a product that's not available in your region, please contact your local dealer for purchasing options.
Resources + Support
Download 2D and 3D CAD models for use in your design application.

View and save brochures, certificates, and other documents.

Browse, save, and download beautiful images for use in presentations or inspiration boards.