Together with Microsoft, we intentionally designed each of these spaces to support the needs of individuals and teams as they move through the different stages of the creative process.
Design Principles for Creative Spaces
Create emotional connections
Thoughtful design elements that inspire thinking and foster team culture
Nurture creative confidence
Equal access to spaces, tools and technology encourages equal participation
Build a fluid ecosystem
A variety of spaces support individuals and teams as they cycle through the creative process
Ideation Hub
An Ideation Hub is a high-tech destination that encourages active participation at a Surface Hub with stool-height seating that provides equal opportunity to contribute as people co-create, refine and share ideas with co-located or distributed teammates. These settings support generative collaboration sessions and promote the fluid interaction between people, ideas, tools and technology.
Focus Studio
A Focus Studio supports the alone time required for creative work, enabling focus while also allowing quick shifts to two-person collaboration with the use of a height-adjustable desk. It's a place to let ideas incubate before sharing with the support of a Microsoft Surface Studio. These spaces can be owned or shared within a team and offer a controlled environment to get into flow and focus, free from distractions.
Duo Studio
Working in pairs is essential for creativity. The Duo Studio is a shared space designed for paired co-creation at a Surface Hub as well as individual work on individual devices, such as a Surface Studio. The space and technology are designed for quick reviews and rapid iteration. Here, users can work side by side in a place that is comfortable, private and free from distractions.
Maker Commons
Socializing ideas and rapid prototyping are essential parts of creativity. These spaces encourage quick switching between conversation with lounge and perch seating, experimentation at standing-height tables and concentration in cocoon-like settings. People are naturally drawn to social spaces with appealing attributes such as comfortable seating, central gathering spaces, inspiring architectural elements and rich materiality. A range of fixed and mobile technologies support individual and group work.
Respite Room
Creative work requires many brain states, including the need to balance active group work with solitude and individual think time. A Respite Room offers a place for the brain to rest, form new connections and access spontaneous thoughts. These spaces are designed to offer a relaxed posture with a personal Surface Book or Surface Pro4, lounge furniture and modular power distribution for charging devices within an environment that is private, protected and absent of stimuli.
Learn more
Download the Creativity Report
The Steelcase Creativity at Work Report explores the attitudes of employees towards creativity in the workplace. The findings provide unique insight into how employees feel about the meaning of creativity, their own creative skills and aspirations, and the barriers to creativity.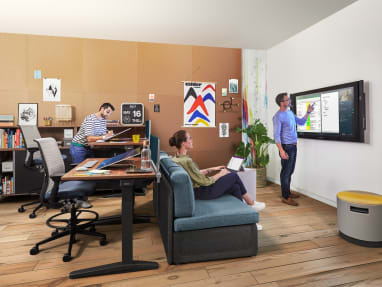 Contact us about creative spaces
Steelcase and Microsoft can help you develop a unique ecosystem of creative spaces that is tailored to the needs of your organization.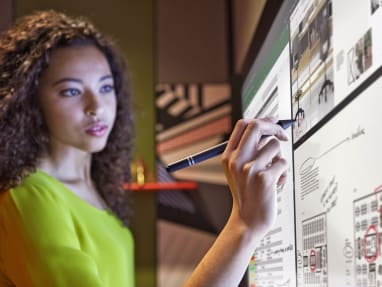 Buy a Surface Hub
Built for teamwork, Microsoft Surface Hub is a multi-touch, cloud-enabled collaboration device. Select Steelcase dealers are authorized to sell the Surface Hub and can help your organization integrate this modern technology into your workplace.