Steelcase partners with Logitech to seamlessly integrate enhanced cameras, audio and room control into a range of open and closed collaboration spaces.
Dynamic Project Room
Encourage active collaboration while allowing everyone to stay on camera to brainstorm or solve complex problems.
Design Considerations:
Logitech Rally Bar Mini and large monitor support this Zoom® Room, allowing people and content to easily be seen simultaneously.
Moveable markerboards maximize the content captured on the Logitech Scribe Whiteboard Camera.
A standing-height table lets people easily transition to the markerboards and stay on camera.
Huddle Room
An informal setting encourages open dialogue and comfortable conversations with both virtual and in-person participants.
Design Considerations:
Logitech Rally Bar Mini and Tap Controller let people start a Microsoft Teams® meeting with one touch.
Curved lounge seating offers in-person participants a direct line of sight to each other and remote teammates.
The room can easily be scheduled ahead of time or in the moment with Logitech Tap Scheduler.
Hybrid Collaboration Front Row
This hybrid space flips the traditional conference room configuration. The curved Ocular™ table faces the long wall to leverage Microsoft Teams® Front Row experience, allowing participants to be eye-to-eye.
Design Considerations:
Logitech Rally Bar Mini below the ultrawide display supports eye-to-eye contact.
Logitech Rally Mic Pods allow everyone to be heard.
People can easily see meeting details and reserve a room with Logitech Tap Scheduler.
Everwall™ provides acoustic privacy, while drapery minimizes visual distractions and helps absorb sound.
Open Team Space
This open plan space features seamlessly integrated technology. Storage and moveable screens provide visual privacy and acoustic absorption.
Design Considerations:
Logitech Rally Bar Mini, Tap Room Scheduler and Tap Controller make it simple to join a Zoom® meeting.
A media:scape table integrates technology and furniture to create a more productive and collaborative space.
Swivel seating lets people easily shift to conversations in the room or on the digital display.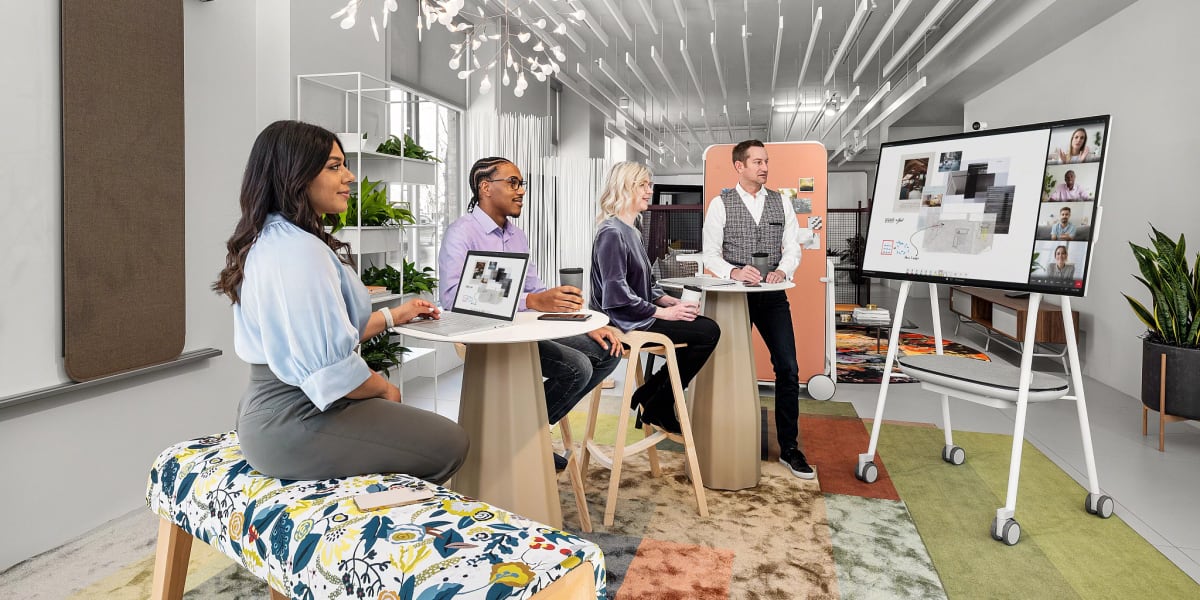 Making Hybrid Work Better
Steelcase is working alongside tech leaders to provide hybrid collaboration solutions today and to prototype, iterate and evolve for tomorrow.