The Lexicon modular workspace system makes it easy to create a variety of workplace applications for both individual and collaborative work.
Features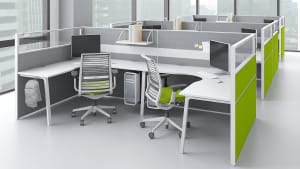 Personalized space
Lexicon systems enable the shaping of spaces with the ideal balance between privacy for task work and visual connection for collaborative teamwork.
A range of layouts, integrated cable management, and worktools enable the personalization and organization of individual tools, resources, and personal items in the workspace to support the task at hand and the way you like to work.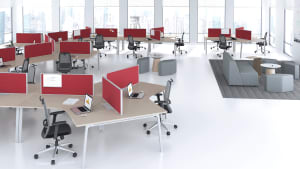 Flexibility
Lexicon provides the core infrastructure for shaping workspace, defining privacy and connection, and optimizing productivity. Integrated cable management solutions support plug-and-play at the worksurface.
Thoughtful features help individuals to organize their personal gear and keep it close at hand. 120-degree workstation with screens provides visual privacy for task intensive work, yet enables easy connectivity for communication and collaboration with immediate team members.
Supporting Management Styles
Lexicon standalone units enable the creation of workspaces to support different management styles, whether open management for easy interaction with team members and workers, to spaces that provide visual and acoustic privacy for confidential work.
Standalone units enable the shaping and reshaping of space to meet changing needs, such as workstations for individual work and one-on-one meetings, and small tables for close collaboration and sharing.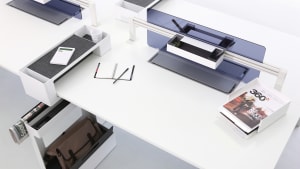 Accessories
Tailor Lexicon to the needs of individual workers and the work at hand with adjustable privacy components, flexible storage, versatile computer support and an innovative collection of worktools.
Insights
PEOPLE WANT PRIVACY FOR FOCUSED TASK WORK, BUT VISUAL CONTACT FOR COLLABORATING.
People want privacy when they need to do focused work to really concentrate but visual contact with their workspace colleagues when they are talking and working together. Having the flexibility to quickly change your work environment to move between task and teamwork is critical.
PEOPLE WANT TO KEEP THEIR PERSONAL ITEMS CLOSE.
As work and life continue to integrate, people are bringing more and more personal things to work to comfort the body and soul. They like to keep them close at hand, and put them wherever is convenient at the time. Dropped on the desk, slipped into a drawer, or even piled on the floor.
WHEN PEOPLE FEEL GOOD ABOUT THEIR WORK THEY ARE MORE PRODUCTIVE.
As work and life outside work merge, they like to show their individuality and character, customizing their workspace and tools to suit the way they work and the individual tasks they do as well as to reflect who they are and their personal interests.
Sustainability
Overview
Overview
Designing for Sustainability
We believe the only way to provide the best office furniture solutions is to ensure they're the best products for the environment. That's why every step of the way – through design, manufacturing, delivery and product lifecycle – we consider the impact of our work on people and on the environment and uncover opportunities to make things better.
Certifications
Certifications
Certifications can help you choose products that are environmentally sustainable and just right for your project. Lexicon has achieved the following certifications:
Lexicon Desks
SCS Indoor Advantage certified for indoor air quality
China Environmental Labeling Product Certification
lexicon panel
ANSI/BIFMA X5.6
AFRDI Green Tick Product Certification
SCS Indoor Advantage Gold certified for indoor air quality
China Environmental Labeling Product Certification
Specifications
Global Availability
Global Availability
This product is available in the following regions:
Not available in your region?
If you're interested in purchasing a product that's not available in your region, please contact your local dealer for purchasing options.