News
Compared to the global averages, Japanese employees lack engagement, trust and a sense of feeling valued at work. So, what can be done?
Steelcase Launches Navi TeamIsland in Asia Pacific today, the latest solution designed with small details that make a big difference. See how Navi TeamIsland can make for a happier day at work.
Steelcase was recognized today as one of the most community-minded companies in the nation as a part of the Civic 50, an initiative of Points of Light. The company's expansive involvement in community programs led to the recognition.
The article, "Team Spirit" by The Economist points to the fact that that as work teams and collaboration, so does the complexity of managing those teams. The article states that a key factor in keeping employees engaged is providing to proper tools. Pointing to Steelcase research, one key tool is to give employees more control over where and how they work.
The article, "A Super Simple Way to Be Happy at Work," by Huffington Post highlights that allowing employees to choose where they work ork can have greater benefits than once believed. Pointing to Steelcase research, the article states that not only does changing workplaces increase energy, choice and control may ultimately affect an employee's passion.
Brody WorkLounge won a Silver award in the 2016 Edison Awards, which honor innovators and innovation across industries. The honor was announced on April 21, 2016 at a gala in New York.
Steelcase opens new WorkLife Center in Delhi
Gurgaon, Delhi, 1st July, 2016 – Reinforcing its commitment to India, Steelcase, the global leader in office furniture industry and innovative workspace solutions, today announced the opening of its new Steelcase WorkLife Centre (WLC) in Delhi. This innovatively designed centre will be the fourth WLC in India, post Mumbai, Bengaluru and Hyderabad. With the launch of the Work life Center in Gurgaon, Steelcase will provide an extended range of Steelcase and Coalesse products and services that help organizations boost their performance.
Spanning across 6,682 square feet, the Steelcase WorkLife Centre in Delhi is located in the heart of Gurgaon. It is designed around the application of Steelcase's insights, products and services. It displays a series of Steelcase products artistically designed for the Indian work culture. As Delhi is one of the fastest growing city in India, Steelcase with its unique offerings and global expertise is looking to recognize and meet the needs of the constantly varying work culture and optimize efficacy at workplace.
"Ever since we started our operations in 2007, we realized that India is a high caliber market and has an immense growth potential. In India the kind of work done is evolving rapidly, therefore it is extremely critical to design a workspace which is flexible and adaptable to the changing dynamics. With the launch of Worklife center we aim to leverage our global knowledge through our products, services and expertise which is best suited for Indian workplace environment." said, Uli Gwinner, President, Steelcase APAC.
"Organisations are now focusing on workplace design as a means to attract and retain talent in an increasingly competitive market. Therefore, business leaders should place emphasize on creating employee experience that will inspire and motivate employees to work. Steelcase recommends that, workplace can be designed as a catalyst for change that will help foster efficiency and creativity of employees, unleash their potential and help organizations amplify employee performance." said Mr. Michael Held, Design Director, Steelcase APAC.
As per Steelcase Growth Market Research, burgeoning middle-class growth will pose the biggest challenge for Indian workplaces by 2030. India's middle-class growth is expected to accelerate and reach 475 million by 2030. This number consists of mainly India's Gen Y post 80s and 90s who mix traditional values with a Western outlook. For this younger generation, the work they do is as important as the reputation of the company and the salary paid. Hence, to retain the younger generation, progressive workplace plays a key role, in helping to retain and attract these valuable workers. These findings came from Steelcase Growth Market Dilemma Report which is conducted on eight growth markets including India.
Steelcase works with the world's leading organizations like Google, IBM, Accenture, Deloitte etc. to help them create great experiences wherever work happens, by studying the way people work – in social, spatial and informational contexts – and translating those insights into products, applications and services. Steelcase also participated in the recently concluded Make in India conclave in association with India Design Forum showcasing its commitment to India.
The Business Roundtable (BRT) released its 2016 Sustainability Report. Steelcase's sustainability vision and achievements were highlighted by Jim Keane alongside fellow BRT members that include some of the top U.S. companies. The BRT companies represent nearly one-third of the total value of the U.S. stock market.
Jim Keane joined editor-in-chief of Greenbiz, Joel Makeower in an interview to discuss how Steelcase uses the lens of sustainability and circular economy to drive growth.
Fortune has recognized Steelcase Inc. as one of its 2016 "World's Most Admired Companies" in the Home Equipment and Furnishings industry sector.
Steelcase announced a new 12-year power purchase agreement (PPA) with Apex Clean Energy for 25 megawatts of wind power. This latest investment will make up nearly half of Steelcase's 100% renewable energy purchases, directly support the construction of a new clean energy facility set to begin operations in 2016, and further diversify the company's renewable energy portfolio.
Steelcase shares its 2015 Corporate Sustainability Report outlining the company's sustainability promises to its stakeholders and spotlights resulting social, environmental and economic performance indicators.
New Products
Navi TeamIsland integrates thoughtful design details that can enhance the wellbeing and performance of individuals and teams.
Navi TeamIsland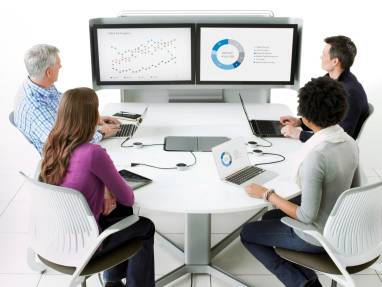 media:scape integrates technology and furniture to bring people, space and information together for greater collaboration and productivity than ever before.
media:scape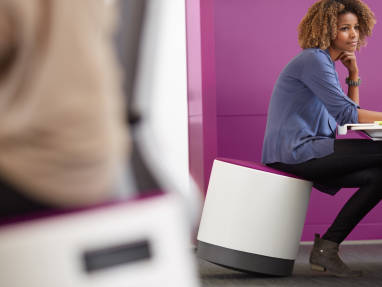 Designed for today's movers and shakers, Buoy is a seat that's as active as you are. Choose from six bold colors and a cap that you can personalize.
turnstone Buoy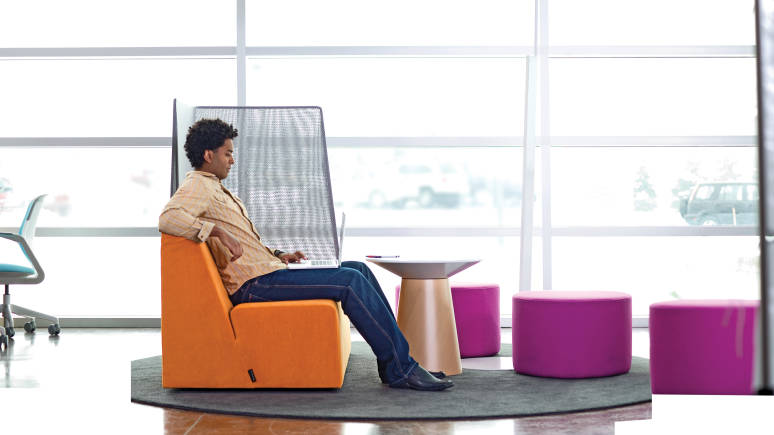 The turnstone campfire collection is a flexible collection that allows you to create personal, intimate spaces, with the capability of becoming engaging collaborative spaces.
turnstone Campfire