Design Tips for New Classrooms
Pedagogy
Design to support fluid transitions among multiple teaching modes: lecture, team project, discussion, etc.
Design for peer-to-peer learning.
Allow freedom of movement for the instructor, enabling frequent interactions and ongoing assessment.
Support the implementation of professional development to increase adoption of new teaching strategies.
Set expectations for what an active learning environment looks like— learning is messy, things move.
Expose students to how these environments enable, support and allow them to take ownership of their learning.
Support individual learning
Technology
Design for sharing, leveraging both vertical and horizontal surfaces for display; use projection and interactive surfaces.
Integrate, use and allow access to BYOD and instructional technology tools and devices.
Allow for displayed information to be persistent over time.
Ensure thoughtful planning occurs when selecting technology so the tools are used as intended to enhance outcomes.
Be intentional about what technologies should be used and how to support pedagogical strategies.
Incorporate tools that support synchronous and asynchronous learning and collaboration.
Support learning styles with both analog and digital means to co-creat
Space
Design for visual and physical access, giving every student the best seat in the house and allowing the instructor and student access to each other.
Facilitate social learning by designing spaces where students can easily connect and collaborate.
Design to support quick reconfiguration among multiple modes: from lecture to project work, discussion, test taking and back again.
Include wall protection for table and chair movement.
Support a range of postures to enhance wellbeing.
Integrate the design to support and reflect the educational goals and mission of the institution.
Related Products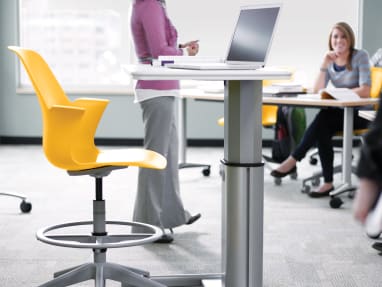 Steelcase
The Node school chair is mobile and flexible. It's designed for quick, easy transitions from one teaching mode to the next. With Node, a classroom can transition from lecture mode to team mode and back again, without interruption.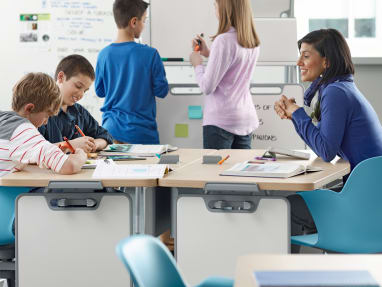 Steelcase Learning
Verb™ is an integrated collection of classroom furniture including tables, whiteboards, and instructor lectern and desk stations designed to support a full range of teaching and learning styles.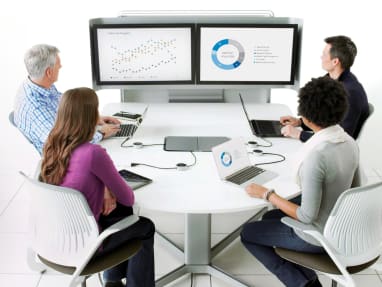 Steelcase
media:scape integrates technology and furniture to bring people, space and information together for greater collaboration and productivity than ever before.
Additional Resources
Insights + Applications Guide
Students prepare for a future no one can predict and jobs that, in many cases, haven't been invented yet. Educators are responding to these diverse forces with a refreshing openness, adopting active learning and embracing new technology. Our Insights and Applications Guide provides the latest thinking on classroom design and learning spaces.
360 Magazine: Education Edition
This Education Edition is a compilation of 360 stories that explore design principles, product ideas and applications with the goal of improving student success. The stories demonstrate how new active learning environments improve student engagement and outcomes and help prepare them for success in the creative economy.
Steelcase Learning
Steelcase Learning is focused on helping schools, colleges and universities create the most effective, rewarding and inspiring active learning environments to meet the evolving needs of students and educators. We have a passion for understanding how learning best takes place and how smarter, active learning spaces can help.