Tables
FlipTop Twin
by Steelcase
FlipTop Twin ™ is a clever and flexible table for meeting or training rooms. Very intuitive, the top can be flipped from both sides. Once the top is flipped, the tables can be stored to save space.
Features
Speed Up Configurations
Speed Up Configurations
Intelligent products can significantly reduce the costs associated with conference rooms by increasing their rate of use.
Users need facilities to be flexible; they need to be able to set up different configurations quickly and easily and to handle speedy changeovers between training sessions, group meetings or conferencing.
FlipTop Twin has been specifically conceived for this purpose and offers a multiplicity of uses and simple mechanisms.
Why FlipTop Twin?
Why FlipTop Twin?
Quick and easy installation
Space efficiency
Integrated cable management solution
The pre-assembled electrification allows quick installation and easy user access  to power and data.
Some handles have a double click function to avoid unintentional use.
Quick + Easy Installation
Quick + Easy Installation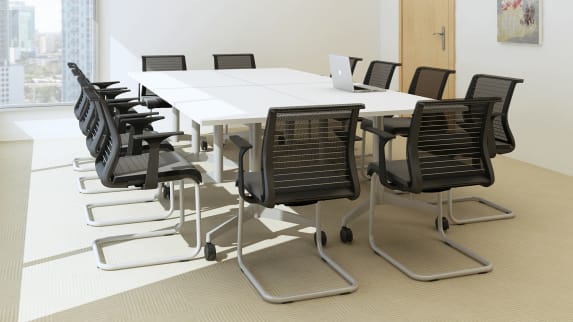 Quick + Easy Installation
FlipTop Twin is 100% symmetric. The top can be flipped to both sides either by hand or foot and it can be used from both sides. A tested safety mechanism ensures stability and is easily accessible from any angle.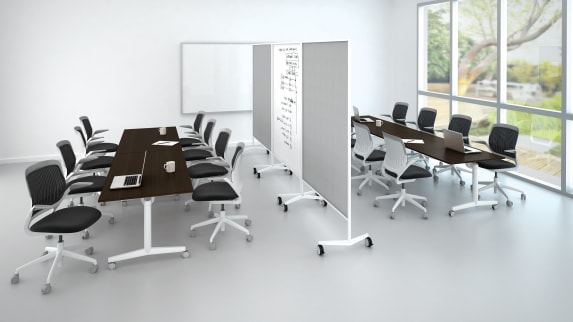 Space Efficiency
Due to its flexibility and modularity, FlipTop Twin guarantees efficient use of meeting space. Unused elements can be stored neatly to clear surface areas.
Insights
Teaming in Small Groups
Having a dedicated team area in which people are located for the duration of a project, can double productivity according to research conducted by the University of Michigan.
Supporting collaboration for small groups is about creating spaces that:
Are dedicated to impromptu meetings.
Provide small areas where two or three people can gather close to their workstation.
Use vertical surfaces to support a variety of media (digital and paper).
Provide efficient technology so that anyone can project and share data equally.
Sustainability
Overview
Overview
Designing for Sustainability
We believe the only way to provide the best office furniture solutions is to ensure they're the best products for the environment. That's why every step of the way – through design, manufacturing, delivery and product lifecycle – we consider the impact of our work on people and on the environment and uncover opportunities to make things better.
32 %
Up to
recycled content by weight
99 %
Up to
recyclable by weight
Life Cycle
Life Cycle
Materials
32% recycled content by weight. PVC free. 90% recycled cardboard and 30% recycled LDPE fi lm (Low Density Polyethylene) in packaging. Water-based inks without solvent on packaging.
Transport
Minimised packaging weight and volume to improve filling rates and save energy for shipping.
Use
Designed for a long product life. Replaceable parts. Maintenance information available on Steelcase.com
End of life
Up to 99% recyclable by weight. 100% recyclable cardboard and LPDE fi lm for packaging. 40% of the EPP corners used for packaging are reused. Plastics parts clearly labelled for easy sorting and effective recycling.
LEED Contribution
LEED Contribution
Steelcase helps customers seeking LEED certification to identify products and programs that can contribute to LEED criteria in the categories of Materials and Resources, Indoor Environmental Quality and Innovation (Ergonomics Training, Sustainability Training, Product Innovation).
Learn about Steelcase's direct and indirect contributions to a project's pursuit of LEED certification across LEED's three categories:
Building Design + Construction
Interior Design + Construction
Operations + Maintenance
Certificates
Certificates
Certifications can help you choose products that are environmentally sustainable and just right for your project. FlipTop Twin has achieved the following certifications:
Product Environmental Profiles (PEP)
With FlipTop Twin we can provide three Product Environmental Profiles (PEP), an environmental declaration according to the objectives of ISO 14021.
SCS Indoor Air Advantage Certified
SCS IAQ Gold
China 10 Circle Environmental Label
China Ecolabel is a type I Ecolabel certification following International standard ISO 14024.
"E0 Standard"
The particle boards comply with the low emission "E0 Standard".