Steelcase Introduces Flex Perch Stool
100% recyclable seating solution made with electronics production waste
boosts wellbeing and collaboration for dynamic teams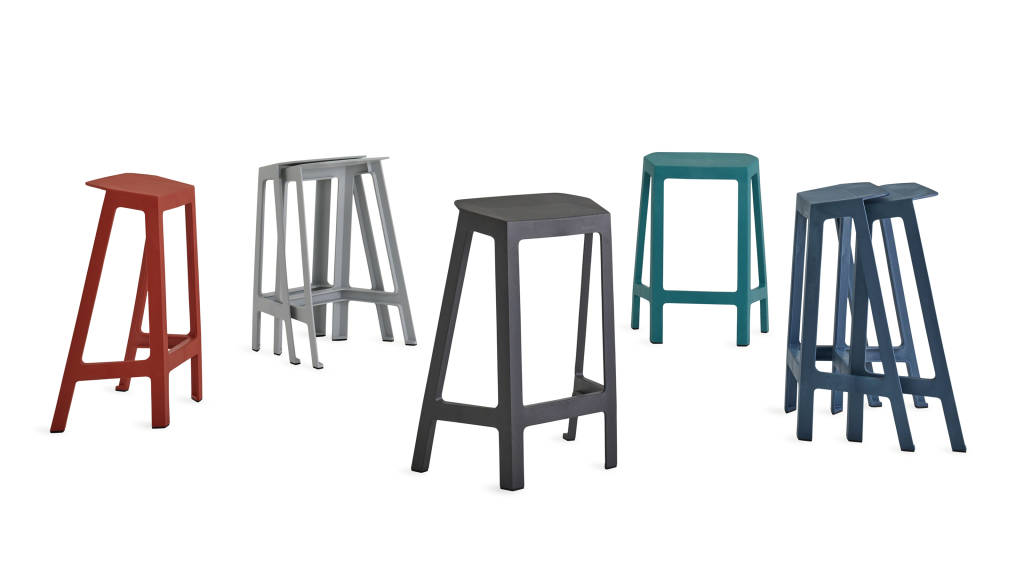 [Asia Pacific, 22 April, 2022] Today, Steelcase Asia Pacific presented Flex Perch Stool, the latest addition to its Flex Collection, a series of mobile furniture that gives users greater control over how and where they work. Thanks to Steelcase's partnership with material chemistry innovator BASF, the nestable seating solution is made of Ultramid® B3EG6 Ccycled™ nylon, a 100% recyclable material from a waste stream generated during electronics production, setting a new benchmark for sustainable furniture material usage and recycling.
"Typically speaking, we don't imagine that waste from manufacturing electronics can be effectively recycled, and typically it's not. In this case, they can actually be remade into high performance, high quality product materials and formed into products like the Steelcase Flex Perch Stool," says Bruce Smith, director of Global Design at Steelcase, "It's truly remarkable. It's using waste instead of virgin fossil fuel. We eliminate our reliance on fossil fuel resources and lower our carbon footprint in the process."
Designed with wellbeing and productivity in mind, Perch encourages a comfortable leaning posture at an ideal angle of 7.2 degrees, helping users stay fully engaged in both mind and body, for improved ideation and collaboration.
With rising expectations for safety, comfort, control and belonging at the workplace, people long for office environments that support their physical and mental wellbeing, whilst allowing them to connect and collaborate with their colleagues effectively. Consequently, transitional, in-between spaces that allow people to huddle and energise their mental focus and physical energy have become an essential component in office design. The Steelcase Flex Perch Stool was created specifically for this purpose. It offers users a place to briefly pause for fluid, spontaneous collaboration; a perfect resting point between standing and being fully seated, promoting an open pelvic angle that discourages slouching. The leaning stance relieves pressure, engages the core and promotes healthy posture and better breathing.
A perching posture also helps activate the mind, promotes collaborative participation, and improves productivity and learning. Flex Perch helps create an active environment that invites movement and dynamic posture to optimise co-creative behaviours and ideation.
Uli Gwinner, president of Steelcase Asia Pacific said: "Steelcase is committed to designing for people and our planet. We are very proud to introduce Flex Perch Stool, which advances our mission towards creating healthier, more productive and agile work environments. Derived from our collaboration with BASF, the stool is 100% recyclable at the end of its lifecycle, making it a revolutionary innovation for circularity, contributing to a sustainable system that converts pre- and post-consumer waste streams into high-value materials that are put back into the value chain."
Steelcase Flex Perch is available through Steelcase's distribution network across Asia Pacific. For more information: https://bit.ly/38dn0sh.
About Steelcase
Organizations around the world trust Steelcase to help them create places that help people work better, be inspired and accomplish more. The company designs, manufactures, and partners with other leading organizations to provide architecture, furniture, and technology solutions – accessible through a network of channels, including over 800 Steelcase dealer locations. Steelcase is a global, industry-leading, and publicly traded company with fiscal year 2022 revenue of $2.8 billion. For more information, visit steelcase.com.
Resources
Download Media Kit