We Believe that Change Can Come from Truly Enriching the Moments that Matter Most.
Healthcare is experiencing rapid change that can often feel overwhelming. At Steelcase Health, we look for the changes that are possible.
Changes that are meaningful.
Changes that are personal.
Changes that can be pivotal for the people involved.
We study the places that support health and then deliver insights, applications and solutions designed to create moments that can lead to change. Moments that enhance the wellbeing, empathy and connection of clinicians, patients and families.
We believe in the power of place.
Featured Products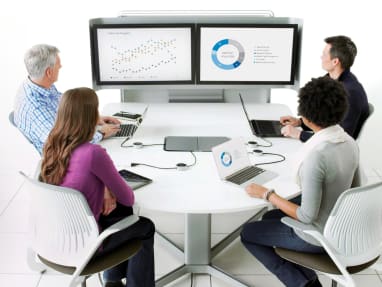 Steelcase
media:scape integrates technology and furniture to bring people, space and information together for greater collaboration and productivity than ever before.
Insights
Radical Transformation in Healthcare
A Radical Transformation Is Taking Place in Healthcare
Healthcare is evolving at a rapid pace and changing on almost every front. As changing dynamics add complexity to an already complex industry, the challenges that healthcare organizations face are greater than ever. Addressing high-priority issues is key to developing a strategy for sustainable success.
Our seminal Healthcare: Time for Change Insights and Applications Guide combines insights and practical solutions yielded from 18 studies and 15,000 of research.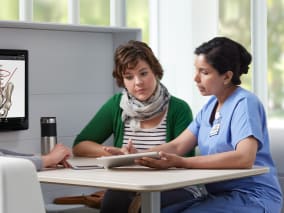 Clinician Privacy
Prescribing Clinician Privacy: Taking care of the caretaker
In fast-paced healthcare work environments, the need for privacy is evident – and it's hard to come by.  Steelcase Health offers an innovative new approach for improved clinician efficiency, accuracy, satisfaction and overall wellbeing. It's designed to empower clinicians, connect them to technology and to each other and, ultimately, to create more connected patient care. And privacy is a very important part of the story.
Clinician Safety
Supporting the Safety + Wellbeing of Nurses and Clinicians
As the wave of change shifts our healthcare system from diagnosis and treatment to prevention and wellness, clinicians and nurses play a key role in shaping the healthcare environment and the patient experience.
Clinicians and nurses are highly susceptible to workplace injuries. While we look to advance our healthcare model, experience and environment, it's important to also consider the professional caregiver.
Steelcase Health conducted a survey of U.S. and Canadian clinicians to understand the challenges clinicians and nurses face while at work and to quantify and evaluate perceptions of potential risks to both their and their patients' wellbeing.
Services
Helping You Create a Connected Healthcare Solution
Steelcase offers a number of programs to provide you with the best solutions – right when you need them. We can help you explore your options, apply the right products, and ensure your investment is delivered, installed and maintained.