Flow is a full-height writing system available in both framed and frameless options that brings limitless writing freedom to any workspace.
Features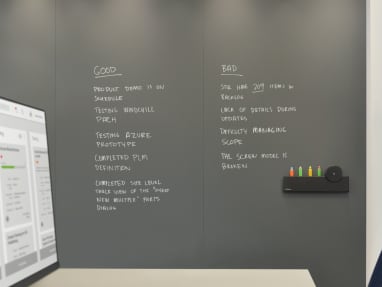 Adapt Vertical Real Estate
When people work together, innovation happens. Today's workers and students are collaborating more than ever. And the way space performs, is just as critical as how it looks or feels. CeramicSteel Flow eliminates the need for multiple boards, providing an uninterrupted workspace.
CeramicSteel Flow is a modular system that is easy to install and configure, making it simple to integrate into any environment. With no vertical joint covers, the system delivers a seamless design.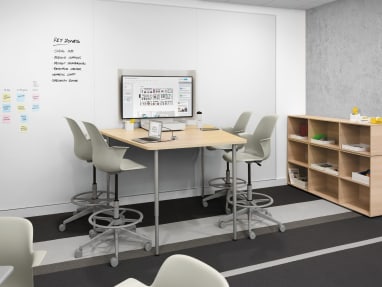 Features + Benefits
Concealed vertical joints
Highly durable
Surface made from inorganic materials
Easy to clean
Colorfast – will not fade
Scratch, bacteria, chemical and fire resistant
No made-to-order components
Smooth, inert surface
Sophisticated aesthetic
Long Lasting
CeramicSteel is one of the most durable surfaces available, combining the best qualities of porcelain and steel to create a surface that is unmatched in the industry. Strong, consistent and enduring, it will neither scratch nor corrode. It refuses stains and is colorfast. As a result, cleaning is easier, maintenance is minimal and life cycle costs are dramatically reduced.
Its ultra smooth writing surface enables dry erase markers to glide easily across the surface, eliminating ghosting and improving erasability.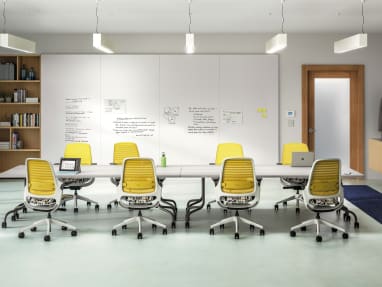 Choose Your Look
CeramicSteel Flow is available in White Gloss, Chalk or with graphics through surface imaging. Flow can set the tone within a space and complete the overall design. The frameless option offers a modern aesthetic that looks like a canvas ready to be filled, while the framed option creates a "built in" appearance.
Specifications
Standard + Optional Features
Standard + Optional Features
Available in 2 heights
Two standard finishes (white gloss, grey chalk)
Magnetic
Add a custom image, logo or design to the surface
Clear anodized aluminum trim and mounting hardware included
Marker tray included
Framed and Frameless Options Available
Dimensions
Dimensions
Standard Vertical Sizes
Dimensions (W x H)
Thickness
Weight
1185 mm x 1830 mm /
47 in x 72 in
13 mm /
0.51 in
28 kg /
61.7 lbs
1185 mm x 2420 mm /
47 in x 95 in
13 mm /
0.51 in
37 kg /
81.5 lbs
Standard Horizontal Sizes
Dimensions (W x H)
Thickness
Weight
1120 mm x 1185 mm
/ 48 in x 47 in
13 mm /
0.51 in
25 kg /
55.1 lbs
1830 mm x 1185 mm
/ 72 in x 47 in
13 mm /
0.51 in
28 kg /
61.7 lbs
2420 mm x 1185 mm
/ 95 in x 47 in
13 mm /
0.51 in
37 kg /
81.5 lbs
Global Availability
Global Availability
This product is available in the following regions:
Asia Pacific
North America
Not available in your region?
If you're interested in purchasing a product that's not available in your region, please contact your local dealer for purchasing options.
Colour Options

Markerboard
Hygienic White Gloss

Purchasing Options
In the Asia-Pacific Market, PolyVision Collaborative Worktools are available through Steelcase Authorized Dealers.
For technical questions Asia-Pacific, please contact APACsupport@polyvision.com for assistance.