Connect in privacy, carry out focused work or simply think for a while, On the QT modular office phone booths strive to strike the balance between efficient space and workable comfort.
Places for privacy
Access to private spaces is more important than ever, especially as more work happens on video. Try out On the QT phone booths in person by sending us a showroom visit request below.
One archetype... Two typologies
By combining short and tall office privacy pods, you can intuitively communicate the different function and occupancy lengths.
Stand… is a 'tall' office phone booth with a simple lean pad option that creates a soft ergonomic corner to hunker into for short calls or impromptu work.
Sit… is a 'short' seated focus booth, typically used for longer virtual meetings or for head down focus work. Comfortable enough to sit in for 2-3 hours, it provides a sanctuary for users looking for alternative quiet spaces.
Purposeful destination
From a tall to short booth, On the QT provides a quiet sanctuary for users toggling from collaborative to focus mode.
The selection of tall and short modular work pods offer flexibility providing users with the choice and control to create their own unique applications.
Undisruptive privacy
Inspired by the recording studio, the internal angled wall – the Kink bounces sound down and away to minimize audio reverberation, ensuring clear, crisp sound in your virtual meetings.
Stay comfortable for longer
From the plush upholstery of the seat and armrest, to the ergonomic lumbar support integrated in the backrest, the "Sit" version of On the QT keeps you working in comfort.
The angled wall tapers at the top minimizing the space profile of the booth while creating extra leg room at the base for increased comfort.
Product Features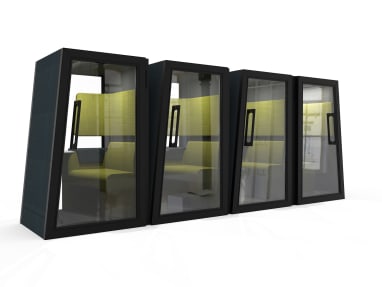 "KINK" AIR GAP
The angled or "kinked" air gap between booths allows sound to bounce down and away—minimizing reverb and the distance sound travels.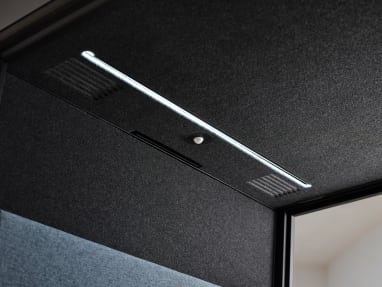 VENTILATION
With intuitive air flow to reduce pressure buildup as well as fully integrated ventilation, On the QT is made for long-lasting comfort.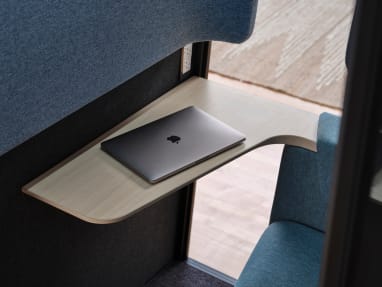 BUILT-IN POWER
Easily accessible dual-power outlets are available, so you can sit and focus for as long as you need.
LIGHTING
Automatic and intuitive in-booth lights are positioned to illuminate work surfaces, while an optional occupancy light is available on the exterior of the booth to signal use at a glance.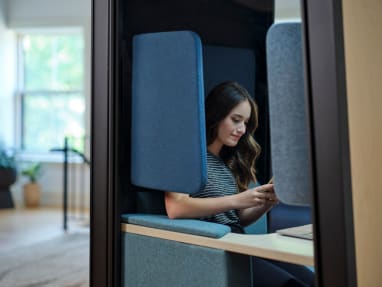 ACOUSTICS
Innovative sound-blocking baffles, absorbent cassette walls, acoustic laminated glass and a super-rigid door frame help keep conversions discreet.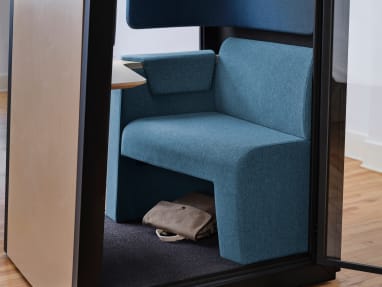 LOUNGE SEATING
Left- or right-handed lounge seating with storage for personal belongings gives you the option to get comfortable and stay longer.
Specifications
Standard + Optional Features
Standard + Optional Features
Surface Materials
Front & Rear Exterior Cladding
Laminate
White Fleetwood
Natural Davos
Grey Arizona
Thermo Oak
Grey Bardolino
Fenix 2630 Piomba Doha
Fenix 0720 Nero Ingo
Fenix 0724 Grigio Bromo
Fenix 0718 Grigio Londra
Fenix 2638 Titanio Doha
Fenix 0725 Grigio Efeso
Fenix 0030 Bianco Alaska
Painted Textured Steel
White RAL 9003
Grey RAL 7038
Black RAL 9005
Shelf / Writing Tablet
Plywood Clear Matt Lacquer
White – Melamine Laminate
Fenix 0720 Nero Ingo Laminate
Fenix 0725 Grigio Efeso
Fabric Options
Outer Cladding ( Front & Rear), Baffles (Front Privacy Screen & Rear Lean Pad) and Seat Unit
Camira
Armadillo / Blazer / Mainline Flax / Oceanic / Silk / Synergy / X2Plus / Track / Yoredale
Gabriel
Capture / Europost / Luna 2
Kvadrat
Clara2 / Colline / Divina 3 / Divina Melange 2 / Divina MD / Field 2 / Glow / Melange Nap / Cribs / Melange – Re-wool / Remix / Rime / Steelcut Trio 3 / Tonica 2
Svensson
Balance / Rock / Semi
Vescom
Deans / Hestan / Lani
Vinyl & PU (For Seat Unit Only)
Valencia C5
Global Availability
Global Availability
THIS PRODUCT will be AVAILABLE IN THE FOLLOWING REGIONS:
Asia Pacific
North America
Europe