Design Tips for Transition + Waiting Spaces
Create Inviting Spaces That Reduce Stress11
Provide comfortable settings and hosting amenities, including a space for items such as bags, personal devices or beverages.
Accommodate people's preferences for varying levels of noise and other stimuli, creating quiet zones where people can retreat from sources of noise.
Create conversation areas where families can be together without the distraction of strangers.
Incorporate soothing materials, textures, colors, lighting and views.
Provide for Productive Transitions
Provide a range of settings appropriate for varying activities and durations
Balance organizational needs for seating density with people's desires for diverse settings and various levels of privacy while they wait.
Provide seating with clear sightlines to doorways, clinician entrances and information desks.
Use modular furniture to divide the floor plate into smaller settings that support a range of activities.
Select furniture that supports activities and postures appropriate for the duration of the wait: work settings, lounge options, caf. tables, etc., for longer waits.
Optimize the real estate with flexible spaces that can accommodate after-hours learning sessions, health-related support groups, etc.
Leverage Technology
Include well-placed wall monitors to display information about the organization, health-related information and/or waiting updates.
Provide media settings for self-directed or group learning.
Support use of personal devices with easy access to power throughout the space.
Anticipate new and emerging technologies with an adaptive infrastructure.
Related Products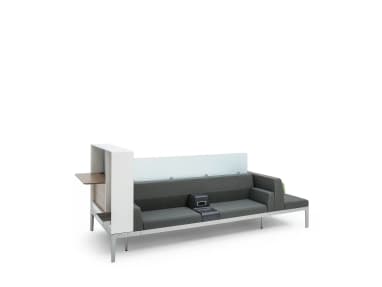 Steelcase Health
The Regard modular lounge system supports times of transition to make every moment more meaningful.
Additional Resources
Insights + Applications Guide
Healthcare is evolving at a rapid pace and changing on almost every front. As changing dynamics add complexity to an already complex industry, the challenges that healthcare organizations face are greater than ever. Addressing high-priority issues is key to developing a strategy for sustainable success. Our seminal Healthcare: Time for Change Insights + Applications Guide combines insights and practical solutions yielded from 18 studies and 15,000 hours of research.
360 Magazine: Healthcare Special Edition
This Healthcare Edition of 360 is a compilation of 360 stories that explore the healthcare industry and the spaces where healthcare experiences occur. The stories demonstrate how space can be used to humanize the health experience in waiting rooms, exam rooms, patient rooms, clinician spaces and infusion therapy environments to create places that deliver greater connection, empathy and wellbeing for everyone involved.
Steelcase Health
Healthcare is experiencing rapid change that can often feel overwhelming. At Steelcase Health, we look for the changes that are possible. We study the places that support health and then deliver insights, applications and solutions designed to create moments that can lead to change. Moments that enhance the wellbeing,empathy and connection of clinicians, patients and families.