Steelcase Roam Collection, for the Microsoft Surface Hub 2S family of devices, allows teams to come together – even when working apart. Co-developed with Microsoft, the Roam system of mobile stands and easy-to-install wall mounts support large-scale collaboration – anywhere, anytime, any way.
Designed to Roam
The Steelcase Roam mobile stands move easily on 360° smooth-rolling casters for on-the-go transitions between spaces and locking caster options provide added stability and safety. The wall mounts include seismic locking system that allows the device to be easily placed, and automatically lock into place while keeping the Microsoft devices close to the wall (ADA-compliant).
Make Any Space a Collaborative Space
Easy-to-install wall mounts and mobile stands allow organizations to increase meeting and collaborative spaces without remodeling or building new rooms. The minimal design integrates seamlessly into any workspace, is easy to clean and intentionally designed to support the Microsoft Surface Hub 2S family of devices.
Activate Innovation
The Roam Collection and Microsoft Surface Hub 2S family of devices support large-scale collaboration, on-the-go. Whether you are together or apart, teams have more room for ideas, content sharing and opportunities to physically and emotionally engage in the creative process.
Steelcase Roam Collection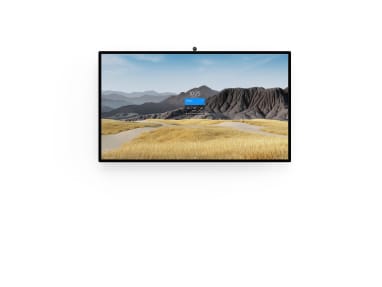 Wall Mounts
The Roam Collection of easy-to-install wall mounts makes any space more flexible, from small huddle spaces and conference rooms to private offices. It's building code and ADA-compliant, keeping the large-scale screens close to the wall – unobtrusive and inviting for a team to work together naturally.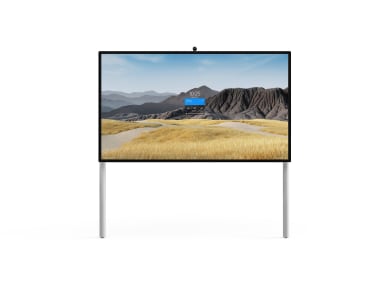 Floor Supported Wall Mount
The free-standing wall mount provides the option to safely and easily integrate the Microsoft Surface Hub 2S 85" into any room – without worries of wall reinforcement and access to power and data. Mounting brackets allow legs to rest away from the wall allowing any space to become a collaborative space without remodeling or new construction.
*Available for the Microsoft Surface Hub 2S 85"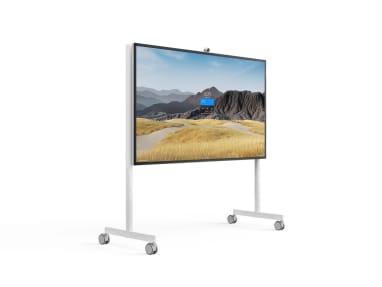 Mobile Stands
The Roam Collection of mobile stands moves easily on smooth-rolling casters for on-the-go transitions throughout any space. Locking casters provide added stability and safety. The mobile stand was thoughtfully designed to help teams work effectively. The legs are designed to be the ideal circumference for hands to easily grip. The storage tray keeps cables hidden and the back panel is useful to house various assets or presentation needs.
Learn More
Steelcase is committed to empowering active, engaging collaboration sessions. Learn more about how we can help you grow your business by offering your customers solutions that transform their offices into modern workplace environments.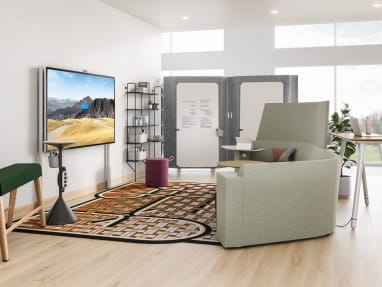 Steelcase introduces Roam for the Surface Hub 2S family: large-scale, mobile collaboration tools to bring teams together.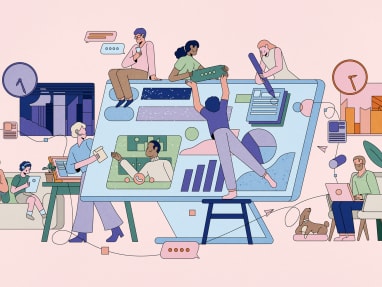 Working remotely presents a new world full of unique challenges and opportunities. Learn how to create the best conditions for your remote teams.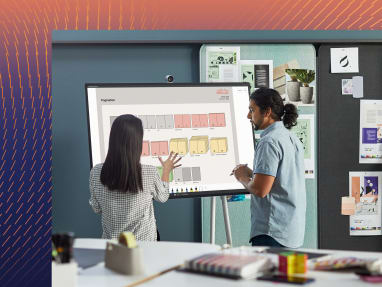 Learn more about the science behind collaboration.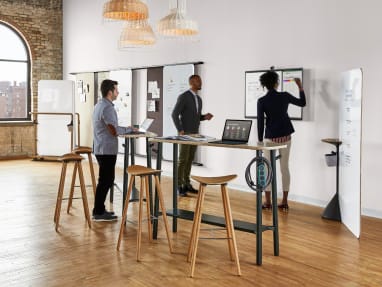 Learn more about Steelcase and Microsoft's partnership working to help people at work.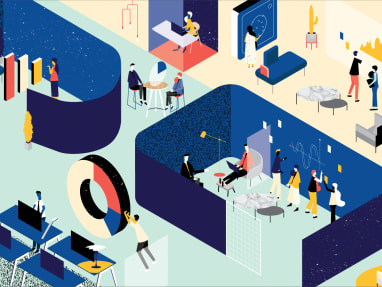 Learn how hyper-collaboration is redefining teamwork and me work.
Sales Tools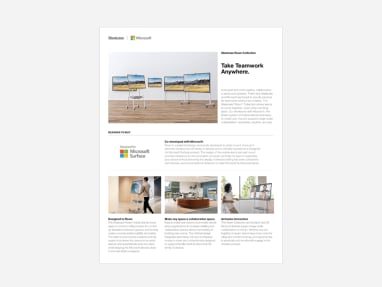 Print out our 2 page battle card for a high level summary of the Roam Collection, our partnership with Microsoft, reasons to buy, FAQs and technical specs.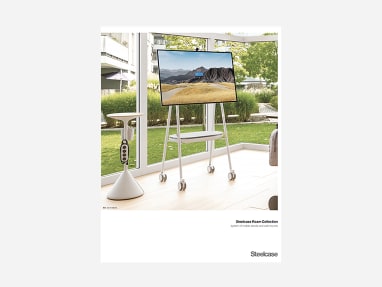 View our brochure to find out how the Roam Collection empowers teamwork to happen wherever ideas do: anytime, anywhere any way.
Download the sales presentation to help best position the Roam Collection with your customers.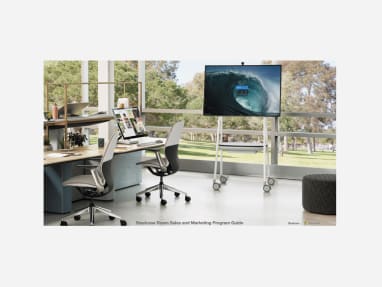 Check out our all-encompassing sales and marketing guide giving you easy access to everything you need to drive awareness, win customers and close deals.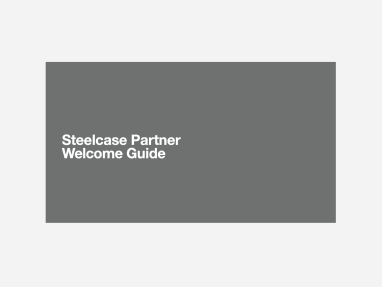 Find out about our organization and how to partner with us in our Partner Welcome Guide.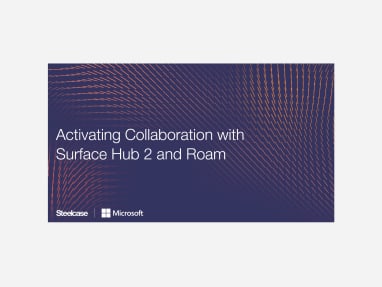 Use this guide to share how space and technology can enhance your customers workspace.
Videos
Innovative Mobility
Unplug and make any place a teamwork space when using the APCTM mobile battery.
Thoughtful Attention to Detail
Check out how Roam's smart cord management system allows different power and data cords to easily and neatly be secured on each leg.
Seamless Integration
See how the storage tray can hold an optional APC ChargeTM Mobile Battery and integrates with the smart cord management system.
Exclusive Design for Microsoft
Find out more on Roam, the only patented design exclusively for Surface Hub 2S and will also seamless support the landscape and portrait rotation of Surface Hub 2X.
Cart Installation
Check out how easy it is to install the Roam mobile stand. All you will need is a screw driver to screw in or unscrew four key screws, plug in or unplug your cords and go.
Wall Mount Installation
The Steelcase Roam wall mount is easy to install and remove on almost any surface. You do not need additional support brackets see for yourself.
–
Roam 85" Mobile Cart Installation Video
Jason Los demonstrates how to assemble the mobile cart for the Microsoft 85″ Surface Hub 2S.
Related Partner Products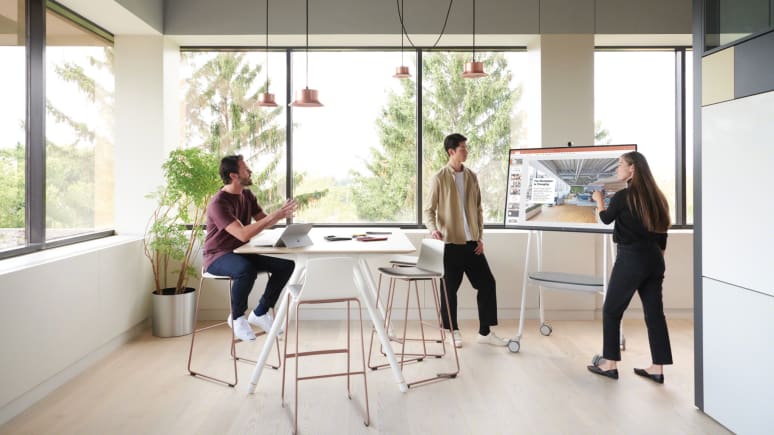 Enable teamwork anywhere with a modern, all-in-one collaborative canvas and meetings platform that brings the power of Windows 10 to teams. Wherever your teams go, Surface Hub 2S can go, too.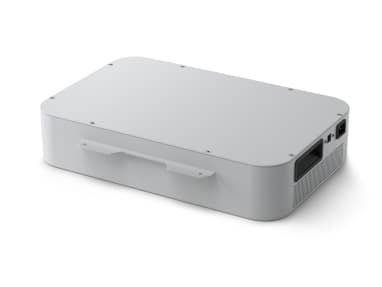 APC™ Charge Mobile Battery powers Microsoft Surface Hub 2 on-the-go and seamlessly integrates with Steelcase Roam for a truly mobile experience.