The New I.Q.
Space matters. It shapes the behavior of people and creates the 'stage' on which innovation can be propelled.
Amplify your innovation quotient
Innovate or die. In 1997 American business writer Tom Peters coined this famous phrase. It was true then and rings even more true now. For CEOs worldwide it's obvious: Innovation is critically important to an organization's success, and it is imperative that it remains a key corporate strategy.
To move beyond survival and actually thrive, leading organizations know that innovation is the way to supercharge an organization and shift it to growth. In fact, 33% of global business leaders rank "the innovation of new products and services" as their companies' top focus in the next three years, according to a recent study by McKinsey. But the reality these organizations confront, notes McKinsey, is that innovation faces ongoing challenges, such as increasing global competition, short-term priorities, and the need to integrate it into key organizational objectives. As a result it remains elusive, and leading organizations are looking to uncover every possible way to boost their I.Q.—i.e., their innovation quotient.
IBM's recent Global CEO Study found that 69% of leaders believe they need to look outside their own organizations to prime the innovation pump. "Companies in all sorts of industries and markets are struggling to understand innovation, and looking for ways to drive more disruptive thinking," says Sara Armbruster, vice president, Steelcase WorkSpace Futures and corporate strategy. "External partners can be a catalyst for new ideas, but organizations also need to build an internal culture of innovation."
Innovation: A Physical Activity
As organizations seek to amp up their innovation quotient their biggest challenge is more likely information overload rather than a dearth of data on the process itself. There are over 55,000 books on the subject listed on Amazon, written by innovation gurus such as Clayton Christensen, Chip Heath, Tom Kelley, Larry Keeley and Roger Martin. Articles, speakers, consultants and workshops abound. Little wonder leaders feel daunted by the prospect of developing the right strategy to increase their innovation.
Despite the plethora of information about the how, what and why of innovation, one topic that gets far less attention is where.
"Ideas get even better when we have a team that is not only diverse professionally or ethnically, but also geographically."
"Many organizations overlook the connection between the physical environment and innovation," notes Armbruster. "But space matters. It shapes the behavior of people, and creates the 'stage' on which innovation can be propelled."
"Innovation is a physical activity," notes James Ludwig, Steelcase vice president of global design. "It's dependent on human interaction, exploration and experimentation. That means the places that bring people together, physically and virtually, are critical to innovation outcomes."
As a result of the synthesis of over 15 years of multidisciplinary global studies, Steelcase has found that the physical environment has the power to augment–or undermine—the human interactions essential for success.
Sir Ken Robinson, an internationally recognized leader in the development of creativity, innovation and human resources in education and business, agrees. He asserts that culture is a driving force of innovation and everyone in the organization needs to be involved. "If you want a culture of innovation, there are certain conditions for it," Robinson says. "The culture of an organization is about habits and habitats—creating a habitat where people feel their ideas are welcomed, empowered and rewarded, and creating a physical environment that develops new ideas."
Steelcase researchers, designers and marketing professionals explored these habits and habitats in a series of in-depth explorations. They also collaborated with leading think tanks to study innovation as the driving force of the 21st century from multiple perspectives. Partnering with the Berlage Institute in Rotterdam, they explored how physical environments can augment creative thinking. The company also conducted primary research in its corporate development center by staging a range of behavioral prototypes in which real working spaces were built out and employee behaviors were observed and evaluated using a variety of ethnographic techniques. Additionally, the team benchmarked six powerhouse organizations—Apple, Nike, IDEO, Stanford d. school, Nokia and Gravity Tank—top brands known around the world as leading innovators.
"Space matters. It shapes the behavior of people and creates the 'stage' on which innovation can be propelled."

Sara Armbruster,

Vice President, Steelcase WorkSpace Futures and Corporate Strategy
The Steelcase team studied a variety of innovation models, from internally focused to external partnerships. Throughout these diverse explorations they observed that most organizations approached innovation spaces with the bias that teams need to work in the same physical space. "That was a key takeaway from our studies—other organizations had defaulted to the position that innovation can happen in only one place, with co-located teams," notes Steelcase Director of Design Cherie Johnson. "But our experience at Steelcase has been quite different: We feel that in a global economy, ideas get even better when we have a team that is not only diverse professionally or ethnically, but also geographically. People who come to the innovation process immersed in the sights and sounds of other cultures bring a deeper layer of insight to the problem at hand."
The team went on to challenge the conventional belief that innovation happens almost exclusively among teams working in the same location. Instead, they embraced a belief that the physical environment can be designed to bring global teams together, and with greater results. "We think of our global teams as nodes on an innovation network," observes Steelcase Vice President of Marketing Allan Smith. "The physical environment can be designed to enhance the capabilities of each node, regardless of location." Ultimately, an intentionally designed workplace can amplify the performance of individuals, teams and the global enterprise, and lead to sustained innovation.
An Innovation System
The desire to innovate is universal across business and industries, and, in many ways it's become the critical issue of our time. One important idea Steelcase has embraced is that innovation is a system, not a linear process. You can't just come up with a good idea and pass it over to another team to keep it moving forward. Innovation is more like a complex adaptive system that's based on relationships, patterns and iteration. All of the pieces of this system interact and connect with one another, sometimes in unpredictable ways, and we believe that the physical environment is one node on a global innovation system.
A really important attribute of innovation spaces is to encourage cross-pollination, sharing of ideas and making thinking visible across different disciplines in the system. Sometimes people get really passionate about an insight or project and they're so focused on their content that it's hard to step back and say, "How do I share this? How do I make this visible? How do I get other people equally passionate and excited about these rich insights?" Because, no matter how important the idea might be, if we can't interact within the system, communicate and help other people engage around those insights, then innovation can't happen.
For an innovation system to flourish, people need to live in their content and be immersed in it. So we intentionally create spaces that that make it easy for people to swim and play in their own content, as well as content that may be evolving around them. Because a system can be unpredictable, you never know where connections may occur, or where there's a really interesting question that one person is working on that might spark an idea in someone from a different discipline who's working on a totally different issue. It may seem like a paradox, but we want to be very intentional about designing spaces that create serendipity—unplanned interactions, so people will understand their own content but also have a larger sense of the whole.
Many organizations struggle to figure out how to bring the right people together in their innovation process. Our bias is that a system is healthier when it is diverse, and so we are committed to bringing global teams together in spaces that are enabled with human-centered technologies, that minimize distance. Gender, ethnic and professional diversity are all important. But geographic diversity allows a team to connect with an even greater range of experiences and insights. That ultimately makes the innovation system stronger and better able to respond and adapt to a changing world.
Insights on Innovation
In the synthesis of its research, the Steelcase team identified five overarching insights about the physical nature of innovation and the human behaviors that foster it:
Innovation is a direct result of creative collaboration. Creative collaboration is about forging something new—an innovation—and requires a team with a wide range of professions, diverse backgrounds and experiences whose economic function is to create new ideas, new technologies or creative content. Human interaction drives creative collaboration, and the physical environment has the power to augment and enhance those interactions, making them more valuable.
"Creative collaboration is a high-order process that helps foster innovation, and collaboration is about creating a shared mind," says Frank Graziano, part of the Steelcase team exploring innovation.
Innovation is ultimately about learning, and it's predominately a social process. People learn by working with others in a variety of capacities, and co-creating new things together is the highest form of learning and the highest form of collaboration.
Innovation requires a connection between sociology and technology. Technology is a powerful configuring force in the ways we work because we use it to drive information and knowledge. When it becomes unobtrusive and intuitive for users, technology allows people to share information equally and democratically, improve transparency and more rapidly gain a shared understanding and alignment.
"In the past we thought of technology as a way to free us up for more leisure time," notes Ludwig. "Today, instead of it freeing us from work, it's freeing us to work. It enables people to do more, and frees us up to think big."
Innovation is a team sport that, paradoxically, requires focused individual work to fuel collective creativity. With so much focus on the social aspects of innovation, organizations sometimes forget about the power of individual, concentrated work. In order to be a strong contributor to a team, individuals need the time and place to think and let ideas germinate. Physical environments that foster innovation provide a balance or both "WE" spaces that support creative collaboration as well as "I" spaces that support individual, focused work.
"As we began to understand the rituals of collaboration, we saw that contemplation and collaboration are codependent," explains Graziano.
Collaboration today is both physical and virtual. To truly take advantage of the diverse backgrounds and experiences of a distributed team interactions should be real-time for the team to be most engaged and productive. It's not just about passing work back and forth between time zones to take advantage of time differences and speed up development. Creative collaboration requires trust, which is built by teammates working together in real-time. The challenge is to eliminate "presence disparity"—those moments that occur when communication and collaboration are drastically reduced during conference calls or in poorly designed videoconference experiences.
Creative, generative collaboration happens in small groups. It often takes place in one-on-one or three-person subsets of the larger team. Even the larger team size should be carefully managed. The trick is to get the right set of skills and inclusion on the team, without weighing it down.
"It's important to balance diversity and scale. While a diverse set of experiences and skills is important, teams that are too large choke on their own complexities," says Graziano. "We have a general rule of thumb for the ideal team size—6-8 people—and we're also big believers in the power of dyads and three-person teams. We say, go for the most diversity you can get with the smallest scale."
From Smokestacks to Ideas
After years of extensive research Steelcase embarked on creating its own innovation center. Armbruster, along with co-sponsors Ludwig and Smith welcomed their teams to a former manufacturing facility, which was reimagined and redesigned to reflect the insights gleaned from their research.
The adaptive reuse of an underutilized manufacturing space is a metaphor for the changes Steelcase and other legacy industries have faced. "In the industrial revolution, one of the signs of corporate pride was the number of smokestacks rising from its buildings. Today it's the number of new ideas," notes Ludwig. "It's ironic that innovation in manufacturing enabled us to free up this space for a different kind of innovation."
The creation of a new innovation center was driven by the organization's need to effectively compete in an interconnected and interdependent world. "Like every other mature industry we have a business need to accelerate innovation," explains Smith. "We need to generate more creative ideas faster and bring them to market quickly. We decided we needed a physical destination that would foster the behaviors of an innovation culture and engage top talent in the process."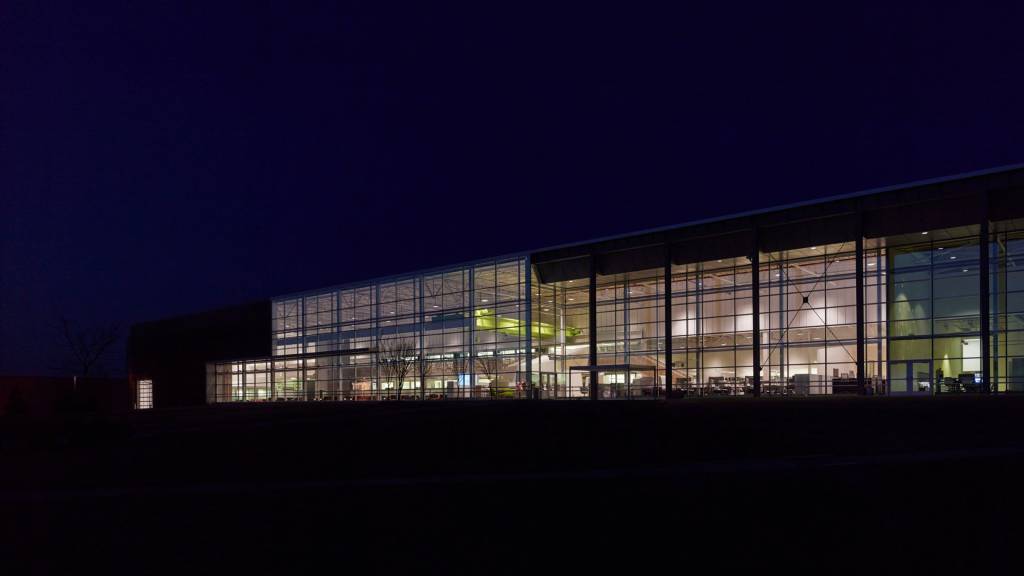 "We needed a physical destination that would foster the behaviors of an innovation culture."
"It was very intentional that we had just celebrated our 100 year anniversary," explains Ludwig, "and we asked ourselves, what will be the parameters for innovation in the next 100 years? "
"Innovation is a core business strategy for us," adds Armbruster. "We are asking people to embrace behaviors that lead to innovation, and that is hard work, especially in a globally integrated enterprise when teams who need to work together are not all located in the same place. It's important to balance the social aspects of innovation with the spatial and informational. The 325,000-square-foot/30 200 meters squared space is home to 267 people at the company's Global Headquarters in Grand Rapids, Mich., and also serves teams who are distributed around the globe. "Another key business strategy is to become a more globally integrated enterprise which means we have to leverage our talent around the world. We need our spaces to enable distributed teams to collaborate in real time," adds Smith.
Follow up on What is Your Organization's Innovation Quotient?