Capture where, when, and how often space is utilized to assist in making data-driven workplace decisions as employees return.
Return to the Office with Confidence
Make confident decisions about how to manage occupancy, direct cleaning strategies, and adapt the workplace with our Data-Driven Workplace Return solution.
What's Included

Sensing
Hardware
Capture the utilization of all workstation and collaboration spaces to better understand which are favored when the office re-opens.

Workplace Advisor Floorplan Map
Access your digital floorplan to gather the crucial spatial relationships and visual density cues that help uncover where employees are working & congregating.

Weekly Workplace
Report
Set thresholds and receive weekly updates that illustrate density and space usage breaches occurring in your workplace

Workplace Advisor Dashboard
Monitor workspace density & occupancy day-by-day, hour-by-hour, and space-by-space to make data-driven decisions about how the workplace needs to adjust.
How It Works
90-Day Engagement – The Data-Driven Workplace Return is a 90-day engagement, allowing time to learn and adjust as employees return to the workplace.
Easy Install + Management – All sensing hardware is battery operated and Bluetooth connected. Installation is provided by Steelcase Dealers and set up off-network using LTE cellular connectivity.
No hardware purchase necessary – All sensors, gateways, & modems are provided as part of this 90-day service.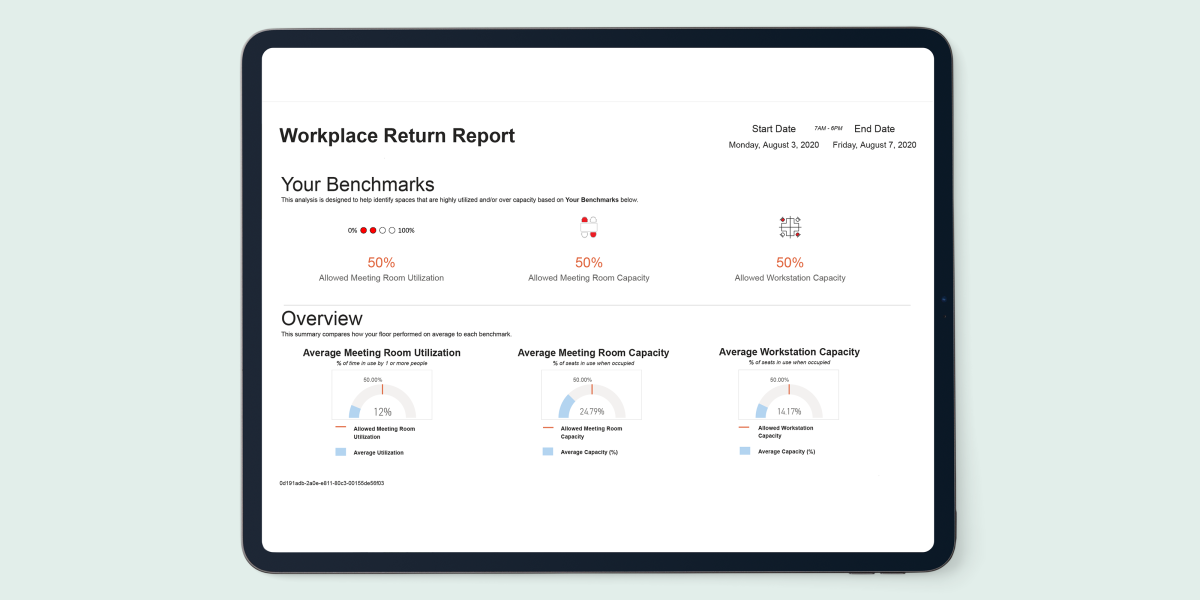 Additional Services
Combine the power of Steelcase Workplace Advisor quantitative data with the depth of Applied Research + Consulting services for a more comprehensive point of view on how your workplace is supporting a safe return.
Learn more about our optional consulting services here.
Frequently Asked Questions
What powers Steelcase Workplace Advisor?
Workplace Advisor is powered by Steelcase sensors and gateways, a dashboard that is hosted on the Microsoft Azure cloud, and reports generated by Steelcase Data Scientists. These combine to provide world-class technology with insights that lead to better performance.
What's included in the dashboard?
The Workplace Advisor dashboard provides an overview of space occupancy (was the space used) and efficiency (how full was the space when used) for all spaces you are monitoring.
What are the benefits of the Floorplan Map?
A map of each floor can be added to your dashboard so that utilization data can be viewed in the context of your space.
What's included in the Workplace Return report?
The Weekly Workplace report contains a floor-by-floor floor-by-floor analysis that enables an understanding of the daily and hour-by-hour utilization of your spaces in order to assist you in delivering a safer workplace for your employees.
Do I have to purchase the hardware?
No, all hardware is included as part of the cost of the 90-day service
Does this service require access to your network?
No, all platform connectivity can be managed off-network using LTE cellular connectivity.
Make Impactful Decisions Based on Data
Talk to an expert to learn more about how you can leverage data and insights to understand how well your space is performing and inform your workspace decisions.
Related Solutions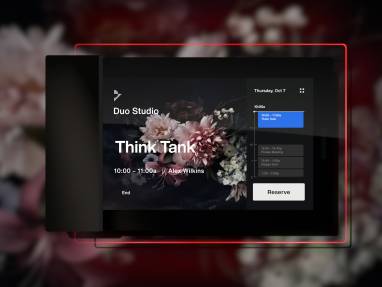 Steelcase
Find and reserve space with confidence. RoomWizard is a room scheduling solution that makes it easier to get where you need to go.