Features
Overview
Aspect is a distinctively elegant high back sofa solution designed to provide private places in any busy workspace or public space. Available as a beautifully intimate high back sofa or an enclosed semi-private booth, allowing for the integration of work surfaces, power, and panel-mounted monitors.
Create privacy within open plan environments.
Available in a variety of configurations.
Optional power/data capability and large-format monitor mounted panel.
Tilting Monitor Bracket available on media units.
The contrasting seam detail allows designers a subtle play with colour contrast.
Two-tone upholstery available.
surface materials
This product is available in the following surface materials:
Legs + Feet:
Media Units Table Tops:
Cherry
Oak
Walnut
Maple
White
Upholstery
Orangebox upholstered furniture can be transformed through the use of different colours, textures and patterns. Learn more on the Orangebox Website.
Global Availability
The product is available in the following regions:
Asia Pacific
Central America
South America
North America
Europe
Middle East
Africa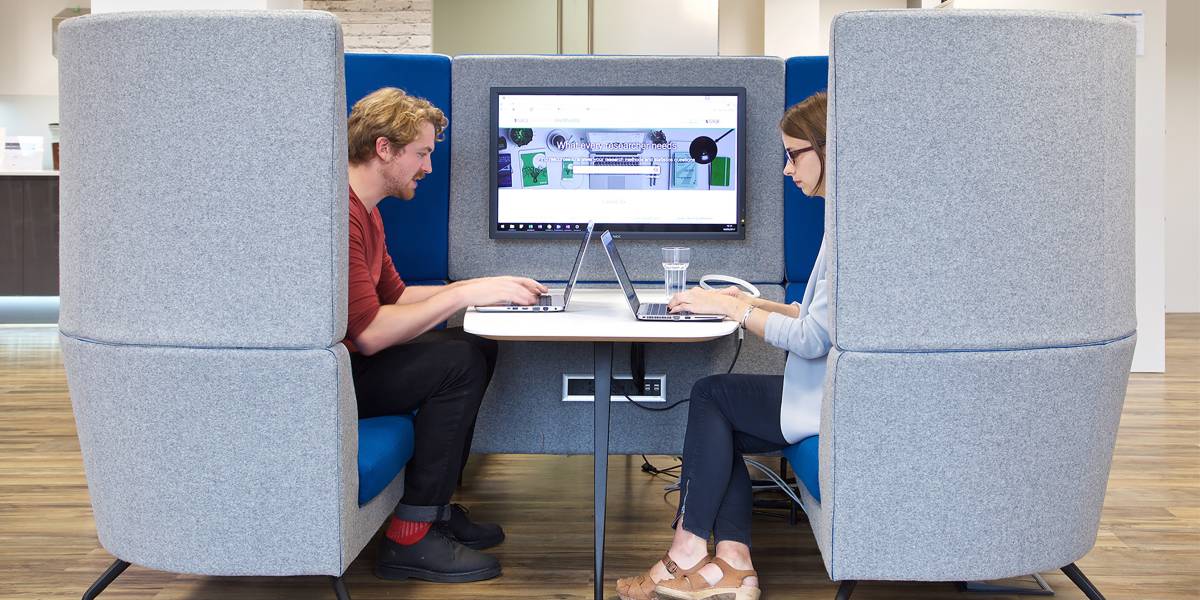 Enclosed Booth Units
Six Seater Work Screened Unit with Fixed Table
Overall Dimensions: 87″W x 97″D x 54″H
Seat Height: 17″
Seat Depth: 19″
Four Seater Work Screened Unit with Fixed Table
Overall Dimensions: 64″W x 97″D x 54″H
Seat Height: 17″
Seat Depth: 19″
Two Seater Work Screened Unit with Fixed Table
Overall Dimensions: 41″W x 87″D x 54″H
Seat Height: 17″
Seat Depth: 19″
Freestanding Units
Three Seater Work
Overall Dimensions: 87″W x 29″D x 54″H
Seat Height: 17″
Seat Depth: 19″
Two Seater Work
Overall Dimensions: 64″W x 29″D x 54″H
Seat Height: 17″
Seat Depth: 19″
Single Seater Work
Overall Dimensions: 41″W x 29″D x 54″H
Seat Height: 17″
Seat Depth: 19″