Clipper is a portable, user-deployable screen designed to provide on-demand privacy for teams and individuals. To create an environmentconducive to concentration, Clipper's tackable fabric panels help absorb sound while maintaining visual privacy.
Applications
Designed with collapsible wings and a magnetic closing system, Clipper opens in seconds and folds flat for easy storage. Line them up for multiple havens, arrange several together for small group work spaces or place individually for added privacy.
Features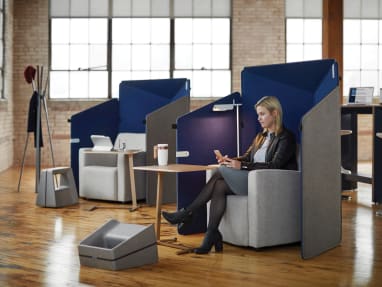 relax IN QUIEt COMFORT WITH CLIPPER.
Clipper solves the need for on-demand visual privacy in the midst of distracting environments. Use one Clipper alone for a quiet solo escape, or pair several together for group collaboration. With Clipper, it's easy to rearrange your space based on immediate needs.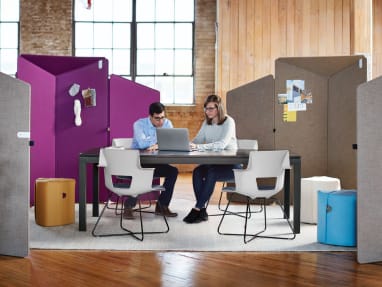 why CLIPPER?
Wireless technology has untethered an entire generation, and a renewed emphasis on creativity in the workplace has encouraged the development of reconfigurable spaces. But in our effort to design for flexibility, have we left privacy behind?
Clipper is designed to solve for three key user needs while maintaining aesthetic harmony in the office.
On-demand: Workers don't want to wait for choice and control.
Privacy: People need a place to focus with fewer distractions.
Teams + individuals: Creativity is fluid and demands places for solo and group work.
CLIPPER AT A GLANCE
Tackable material
Lightweight and portable
Folds flat for easy storage
Magnetic closing system
Two height options: 56″ or 72″
Available with or without wings
Optional contrasting interior and exterior fabric selections