Features
About RoomWizard
About RoomWizard
Reserve spaces, not just rooms
RoomWizard is a scheduling system that provides a solution that manages open and closed collaborative spaces far more effectively than first-come-first-serve.
Now users can book rooms and reserve meeting spaces knowing there won't be a hitch, making it easy to get the most out of their connected spaces.
media:scape and RoomWizard Applications + Technical Guide
Smarter Space Management
Smarter Space Management
A Smarter Way to Manage Space and Time
RoomWizard meeting room scheduling system keeps track of space utilization with the analytics console that measures and reports reservation patterns. For simple management of the system, the administrative console allows the system managers to configure, update, and monitor all of their RoomWizard from a single interface.
Adaptable
Adaptable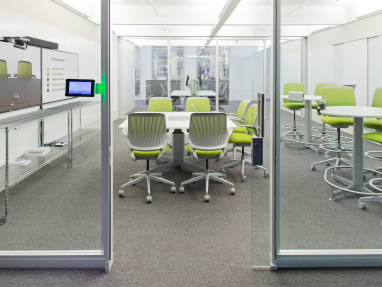 Corporate Spaces
Whether in the library or an in-between space, providing them with privacy from others and tools to create a collaborative work environment is imperative.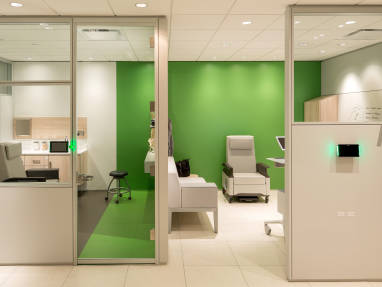 Health Spaces
Streamlined room scheduling saves time. Outside care rooms, screens display the RoomWizard room booking system, a welcoming touch for patients and their families and an efficiency enhancer for clinicians
and staff. Also a great solution for clinician workspaces creating a streamlined booking system for both work and respite.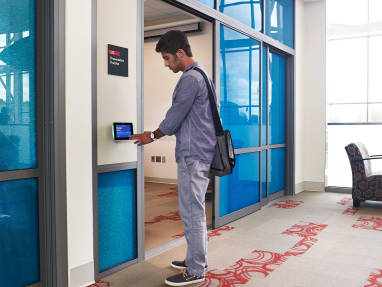 Education Spaces
Groups often meet to complete assignments. And individuals still need spaces for focused work. Whether in the library or an in-between space, providing them with privacy from others and tools to collaborate is imperative. RoomWizard extends a room booking system that supports different modes of learning.
Features + Benefits
Features + Benefits
The Ongoing Search for Meeting Space
The RoomWizard scheduling system works with a variety of scheduling software including Microsoft® Outlook®, Google Calendar®, Lotus Notes® and others.
Key Features
7″ capacitive touch screen with gorilla glass – adjust the room reservation or grab a room for an impromptu meeting
Red or green lights show availability
Automatically release a room if occupants do not show up
Insights
The Search for Space
The Search for Space
The Ongoing Search for Meeting Space
Confusion often begins before entering the meeting room.
An empty room doesn't always mean an available room.
Workers will start a meeting only to get bumped, which leads to a search for an alternative meeting space—a ritual that's as stressful as it is inefficient.
Scheduling space varies widely within organizations, between buildings and across individual spaces. Many processes – even corporate calendar systems – haven't proven effective with improving communication in the workplace.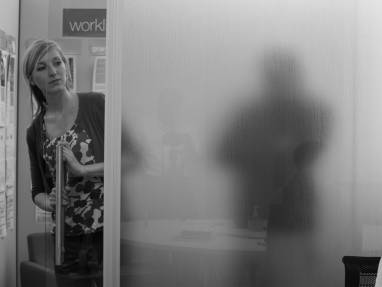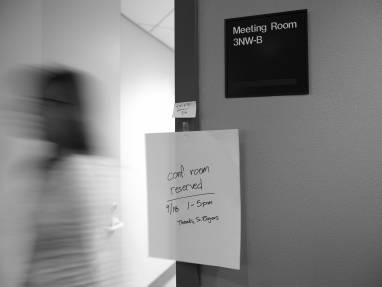 Collaboration Whitepaper
Collaboration Whitepaper
How to Workplace Can Improve Collaboration
In this paper, we provide an overview of the state of collaboration in offices today.
We explore the shift from work being primarily an individually focused enterprise to it's becoming a collaborative, "you and me" and "we" activity.
We discuss new understandings of what collaboration is, and what it isn't.
Finally, based on findings from the behavioral prototype space and the research conducted there, we offer new strategies for creating spaces that fully support today's collaborative work style preferences.
Resources + Support
Need help? Contact us at 800.334.4922
Download 2D and 3D CAD models for use in your design application.

View and save brochures, certificates, reports, white papers, case studies and articles.

Browse, save, and download beautiful images for use in presentations or inspiration boards.