Find and reserve space with confidence. RoomWizard is a room scheduling solution that makes it easier to get where you need to go.
Intuitive + Refined
Simple Navigation
RoomWizard is intentionally designed to display critical meeting information readable from a distance, assist with wayfinding and scheduling meeting spaces from your desk or at the device.
Clear Wayfinding
Simplified Interface
Easy Reservations
Visible cues at a distance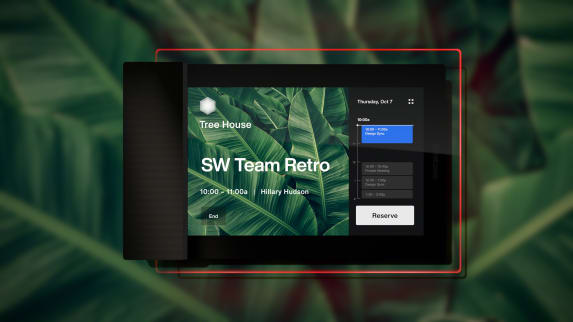 Easy Customization
Make it your own with customization options that fit your brand, reflect your culture, and define your team spaces all while adding an additional level of wayfinding and adding personality to your space.
Brand your space with logo customization
Infinite color options to define team space
Image upload capabilities to personalize a room
Smart + Connected
When everything works together, things are just easier. RoomWizard lets you search, find and reserve available spaces with a system that integrates into existing scheduling and calendar platforms. Built on the Microsoft Azure® trusted cloud infrastructure, RoomWizard is a secure, all-in-one enterprise room reservation system that's easy to use, manage and maintain from a single device manager web application.
Encryption for transfer of data
Simple, remote management from Steelcase IoT Admin Portal web application
Easy to scale
Global customer support
Existing scheduling and calendar platform integration
Enable meeting check-in at room, room will release if no check-in occurs
Powered and connected via PoE+
Functional + Beautiful
Front-and-center on every reservable space, RoomWizard can enhance and complement any office setting or brand aesthetic.
Specifications
Technical Features
Technical Features
Device details
Android operating system, 4 GB LPDDR3 RAM, 16:10 aspect ratio, 1920x1200 screen resolution
7" capacitive touch screen that supports up to 5 simultaneous points of interaction
Edge LED status lighting
Network connectivity and power via PoE (power over ethernet) - 1x10/100M, DHCP and static IP address support, IEEE 802.3at Type 2 PoE+ compliant
Standard Features
Standard Features
Key Features
Finding and reserving the right meeting space can be time consuming and frustrating. RoomWizard is designed to make it easier to get where you need to go.
LED status lights to show availability
Large fonts clearly display space availability and meeting information
Timeline displays room schedule for the day
Easy to navigate interface for reservations
Customization options
Single device manager web application
Microsoft Azure® trusted cloud infrastructure
Seamless calendar integration
Mounting Options
RoomWizard mounting options create key opportunities to turn both traditional conference rooms and even open spaces into dynamic collaborative spaces. The RoomWizard scheduling system can be mounted to:
Drywall
Glass
Architectural and Furniture Products
Global Availability
Global Availability
This product is available in the following regions:
Asia Pacific
North America
Europe
Not available in your region?
If you're interested in purchasing a product that's not available in your region, please contact your local dealer for purchasing options.
Frequently Asked Questions
Features
Features
Can I customize the device? Can I add my logo?
Yes, the device can be customized with a logo, background color, and/or background image.
Can it visually show availability from a distance?
Yes, RoomWizard uses innovative edge LED lighting to show green and red signaling of availability. RoomWizard also includes large font to show critical meeting information from a distance eliminating the need to walk up to a room to see availability.
Can RoomWizard release rooms from a reservation if no one shows up?
The meeting check-in feature on RoomWizard can be enabled and the room will release if no one touches the "Start" button.
How to make a reservation?
Calendar Integration: Simply invite the room resource (email address) to the meeting from your calendar and it will display at device.
At Device: Walk up and reserve directly from the device.
Technical
Technical
How is RoomWizard powered?
Each RoomWizard is powered by PoE. A power over ethernet connection run at each location.
What OS is on the device and how does it get patched?
The RoomWizard device has an Android operating system and supports over-the-air updates.
What is the frequency of updates?
Steelcase uses a continuous improvement, continuous delivery release practice to release updates as soon as new features are available.
Security
Security
How is it secured?
Steelcase uses encryption for transfer of data.
What kind of security features does it offer?
RoomWizard is built on the Microsoft Azure® trusted cloud infrastructure and includes all the security benefits offered by Microsoft.
How is the system updated?
RoomWizard can be easily updated through the Steelcase IoT Admin Portal. These updates can be automatic or scheduled.
Where can I find out about updates?
Updates will be pushed out through the Steelcase IoT Admin Portal.
Setup
Setup
Will RoomWizard work with my calendar?
Yes, RoomWizard integrates with Microsoft Office 365 and Google Calendar. Integration with other calendars is coming soon.
What types of surfaces can RoomWizard mount on?
RoomWizard offers mounting options for drywall, glass and VIA. RoomWizard can also be mounted on several Steelcase furniture applications.
What type of hardware do I need?
Steelcase provides everything you need to physically install the device all in one package.
Do you provide the hardware?
Yes