B-Free furniture forms neighborhoods within the workplace. Seating, desk, tables, and screens create spaces where people easily connect and collaborate.
x
Connect
A variety of casual seating and table options allows workers to quickly connect, while subtle screens promote concentration. Its modular and flexible design allows for spaces that support both individual and group work.
x
Collaborate
B-Free leverages ancillary spaces to create informal, convenient and inspiring workspaces where teamwork comes naturally and collaboration flourishes. Thoughtfully designed collaborative environments in proximity to resident workspaces allow for the possibility of focused privacy or generative teamwork.
Insights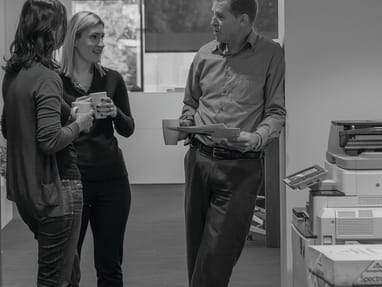 Encourage Innovation
Creativity blossoms in less formal, more casual places where it's easy to connect and collaborate with others. These spaces help foster new ideas and connections, the root of innovation.
In many offices, informal spaces offer limited seating and provide little privacy or support for technology.
To foster innovation, offer a palette of places: spaces where anyone in the organization can quickly find an ideal place for connections with colleagues and impromptu collaborations.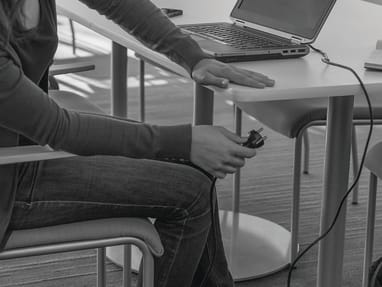 Personal Belongings
Personal belongings are not supported in informal spaces and yet, users need to access them if they wish to stay and work in these "in-between spaces"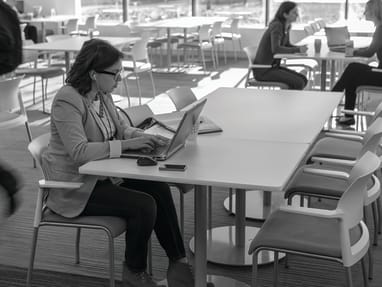 Privacy
Informal and open spaces are lacking of areas where privacy can help concentration, connection or/and collaboration modes yet users still need to be people connected and visible to others.
Sustainability
Overview
Overview
Designing for Sustainability
We believe the only way to provide the best office furniture solutions is to ensure they're the best products for the environment. That's why every step of the way – through design, manufacturing, delivery and product lifecycle – we consider the impact of our work on people and on the environment and uncover opportunities to make things better.
LEED Contribution
LEED Contribution
Steelcase supports the U.S. Green Building Council's LEED certification system with products that can contribute to LEED Building Design + Construction (BD&C), LEED Interior Design + Construction (ID&C), or LEED Operations + Maintenance (O&M) certification criteria.
Since the USGBC and its certification partner, GBCI, evaluate each project individually, the role our products play in achieving LEED certification is unique to each project
Since the USGBC and its certification partner, GBCI, evaluate each project individually, the role our products play in achieving LEED certification is unique to each project.
Specifications
Standard + Optional Features
Standard + Optional Features
Main options
Large cube lounges available with or without top block (in I and L-shape)
Large cube top block is sculpted to provide contoured comfort in multiple postures
Coffee and corner occasional tables nest alongside or in front of large cube lounges to complete the application
Knit screens offer subtle privacy and promote concentration; available in 2 sizes
Small cube can be a seat or an ottoman; available with castors or glides
Beam encourages postural changes ranging from sit, perch, and stand, promoting wellbeing through movement while boosting creative thinking and engagement
Beam available with solid beech wood or painted metal legs
Standing-height tables feature top in laminate or veneer in rectangle or pint shapes, wood or metal legs, with optional power solutions and module locations available
Global Availability
Global Availability
This product is available in the following regions:
Asia Pacific
Central America
South America
North America
Europe
Middle East
Africa
Not available in your region?
If you're interested in purchasing a product that's not available in your region, please contact your local dealer for purchasing options.