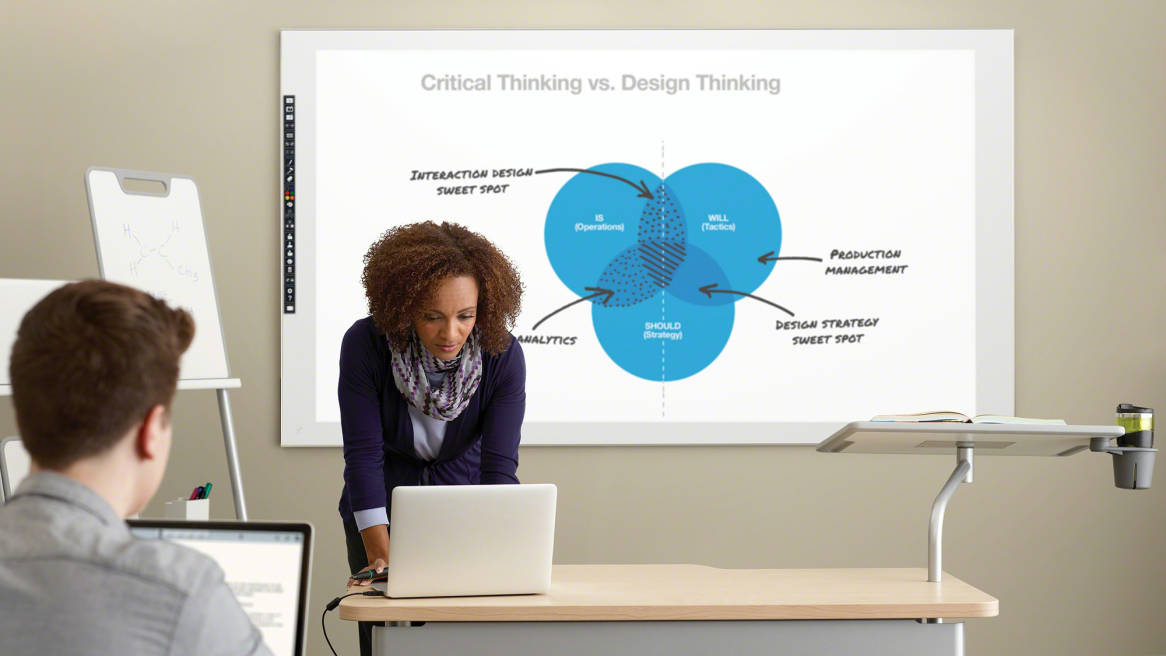 ēno blends the simplicity of a traditional whiteboard with the interactivity of a large flat panel display by combining both analog markers and digital multimedia into one surface.
Research + Insights
Active Learning
Active Learning
Encourage Student Involvement
ēno supports active learning by encouraging students to share content and build knowledge together, which leads to greater student engagement, comprehension and ownership of information.
The three types of collaboration — informative, evaluative and generative — depend on equal access to analog and digital information as well as the ability for all users to participate in the collaborative process, regardless of where they're located.
Insights
Insights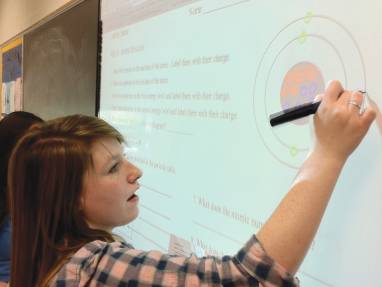 Closing the Achievement Gap with ēno
As enrollment has increased, the educational and socioeconomic needs of Upper Darby students have grown in complexity and severity. Almost 50 percent of district students meet the low-income standard set by the Free and Reduced Lunch Program, six schools receive Title I school-wide services and Upper Darby students represent an increasingly diverse population.
Sustainability
Overview
Overview
Designing for Sustainability
We believe the only way to provide the best office furniture solutions is to ensure they're the best products for the environment. That's why every step of the way – through design, manufacturing, delivery and product lifecycle – we consider the impact of our work on people and on the environment and uncover opportunities to make things better.
68 %
Made up of
recycled content
Life Cycle
Life Cycle
Materials
Up to 97% recyclable
Made with up to 68% recycled content
End of Use
Forever Warranty™ on the surface guarantees the longevity of the boards
Additional Notes
First and only environmentally certified interactive whiteboard
McDonough Braungart Design Chemistry (MBDC) Life Cycle Assessment
A complete Life Cycle Assessment has been completed for ēno, evaluating the chair's lifelong impact on the environment – from materials used through production, shipping, use and end of life.
LEED Contribution
LEED Contribution
Steelcase supports the U.S. Green Building Council's LEED certification system with products that can contribute to LEED Building Design + Construction (BD&C), LEED Interior Design + Construction (ID&C), or LEED Operations + Maintenance (O&M) certification criteria.
Since the USGBC and its certification partner, GBCI, evaluate each project individually, the role our products play in achieving LEED certification is unique to each project.
Certificates
Certificates
Certifications can help you choose products that are environmentally sustainable and just right for your project. ēno has achieved the following certifications:
Cradle to Cradle
Silver
ANSI/BIFMA level Certified
Level 2
SCS Indoor Air Advantage Certified
SCS IAQ
Specifications
Standard + Optional Features
Standard + Optional Features
ēno standard + Optional features
Standard Features
Durable PolyVision e3™ CeramicSteel surface with a Lifetime Warranty
Magnetic icon strip
Rechargeable, Bluetooth-enabled stylus with 2 replacement tips
Micro USB charging cable for Bluetooth stylus
ēno receiver with USB extender
Storage case for rechargeable stylus
ēno App (driver)
Optional Features
Projector kit*
Integrated speaker system* **
Magnetic mounts**
Additional e3 CeramicSteel surfaces
Tack rail**
Map hooks**
*ordered separately
**select styles only
Compare
Compare
ēno Flex
Provides the most usable vertical real estate with both interactive and dry erase surfaces, preserving precious real estate at the front of the classroom.
Includes an integrated marker tray, tack rail, and map hooks.
Ideal for both new school construction and renovations.
ēno Classic
The first interactive whiteboard to support analog markers and digital multimedia on the same surface.
Ideal for replacing failing, outdated interactive whiteboards.
ēno Click
Installs immediately to an existing whiteboard or chalkboard using magnetic mounts, no hardware or tools required.
Ideal for quick classroom renovations.
Global Availability
Global Availability
This product is available in the following regions:
Central America
North America
South America
Not available in your region?
If you're interested in purchasing a product that's not available in your region, please contact your local dealer for purchasing options.
Resources + Support
Need help? Contact us at 800.334.4922
Download 2D and 3D CAD models for use in your design application.

View and save brochures, certificates, reports, white papers, case studies and articles.

Browse, save, and download beautiful images for use in presentations or inspiration boards.