Bivi Freestanding Rumble Seat is Designed to blur the lines between work and home, this modern lounge alternative provides comfortable, durable seating, with finish options to complement any space.
Configure Now

Planning for the Workplace?
Uncover options to create an inspiring space.
Configure Now

Shopping for a Home Office?
See all the options for your work-from-home upgrade.
Buy Now
Freestanding
SIT DOWN, LEAN BACK, DIG IN.
Bivi Rumble Seat embodies modularity with options to suit any modern office space. Use with Freestanding Legs for show-stopping lounge seating. Bivi Rumble Seat's modern, simple design delivers all-day comfort with beauty to spare.
x
Privacy
BIVI RUMBLE SEAT HOODIE
Modern lounge seating in three sizes – designed to integrate with the Bivi desking system or stand alone. Add a Hoodie to your freestanding Rumble Seat to signal privacy for phone calls or quiet work.​
Bivi Benching
BIVI BENCHING INTEGRATION
Designed to integrate with Bivi benching systems, Rumble Seat 48″ or 60″ attaches directly to the desk frame, providing a range of postures within one modular desk application.
Materiality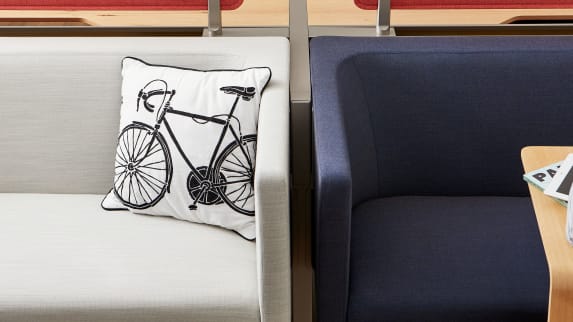 Fabrics
Available in a wide range of fabrics, including Customer's Own Materials, Bivi Rumble Seat is easily personalizable to match any modern office design.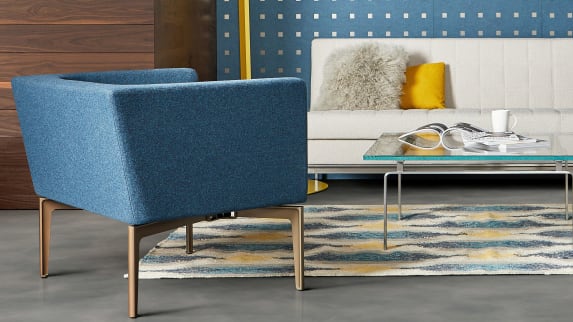 Paints
Coat Bivi Rumble Seat Freestanding Legs in gorgeous finishes that punctuate your individuality. Choose from standard Steelcase paints, Steelcase accent paints and an unlimited number of custom paints available through our PerfectMatch program.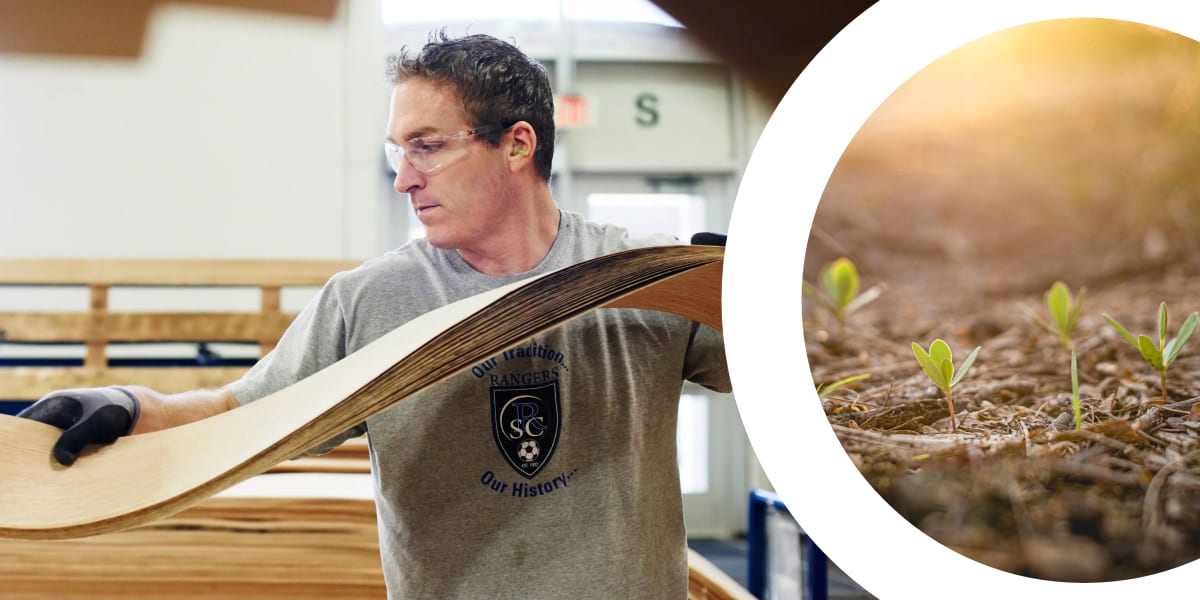 Sustainability
Designing for Sustainability
We create products that are good for people, and good for the world. Our products and operations are designed around a commitment to reduce climate change, reinforced by sustainable practices across our value chain.
Our Sustainable Design framework ensures our products are designed with consideration of life cycle thinking and cradle-to-cradle principles:
Source materials responsibly
Minimize global warming and other life cycle impacts
Ensure material health
Enable end-of-use strategies
Product Details
Features
Features
Casual comfort at lounge height
3 widths available: 36″, 48″ and 60″
Fully upholstered seat
Painted steel Freestanding Legs
48″ and 60″ sizes can be attached to Bivi frame in place of a Table Top
Hoodie accessory compatible with 60″ Rumble Seat with Freestanding Legs
Hoodie features fully upholstered top and sides with mesh back panel
Freestanding Rumble Seats ship fully assembled
Freestanding Rumble Seats ship fully assembled; Hoodie ships ready to install on Rumble Seat
Bivi frame mounted Rumble Seats ship ready to assemble
Dimensions
Dimensions
Rumble Seat
Width: 36″, 48″ or 60″
Height: 28 ½"
Depth: 28″
Seat Height: 13″
Seat Depth: 23 ½"
Freestanding Legs
Height: 12″
Depth: 28″
Width: 36″, 48″ or 60″
Hoodie
Overall Depth: 35″
Width: 57 ¾"
Height: 38 1/8″
Surface Materials
Surface Materials
Upholstery
Steelcase Price Group 1 through 10
Customer's Own Material program
Hoodie Fully upholstered top and sides: Cogent Connect 5S25 Graphite or 5526 Licorice
Hoodie Mesh back panel: T615 Sultry Smoke
Painted Legs
All Steelcase Standard paints
Steelcase Accent paints
Unlimited number of custom paints available through our PerfectMatch program