Powerful simplicity.
Bivi offers it all: a fully-loaded desking system minus the complexity. One frame. Two legs. One assembly tool. Countless work-flow options. Configure Bivi in minutes. For individuals or teams. Sitting or standing. Workstations or lounge settings. With its many colors, fabrics, and accessories, Bivi provides a palette of self-expression for every employee. And power is conveniently built in.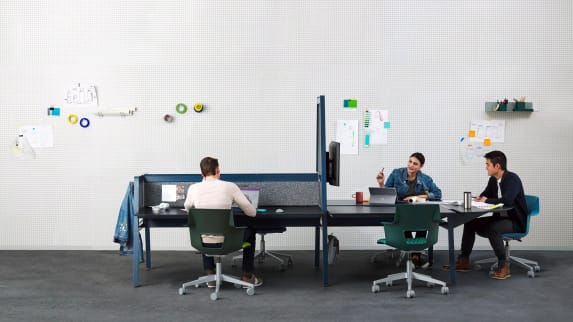 DESIGNED TO ADAPT FAST
Enterprises must adapt. Spaces must adapt to people and projects. Bivi fits every assignment. Like its namesake, bivouac, Bivi can be set up and taken down literally in minutes. And there's no need to call a technician. Change your mind then change your space.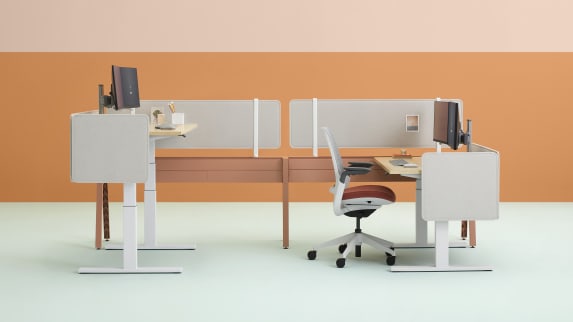 ELEVATE YOUR THINKING
People want to take care of themselves. Employers want to take care of their people. The Bivi Height Adjustable Desk adds another option for postural change to the Bivi collection. For those who want to sit less and stand more, it's a solid, smooth-flowing solution.
WHERE DOES TALENT WANT POWER? BUILT IN
One of Bivi's great strengths is built-in power and media options. Lots of them. One-, two-, and four-circuit power solutions. Table-top accessory powerways. Laptop and large-display mounting options. Integrated. Discreet. Convenient.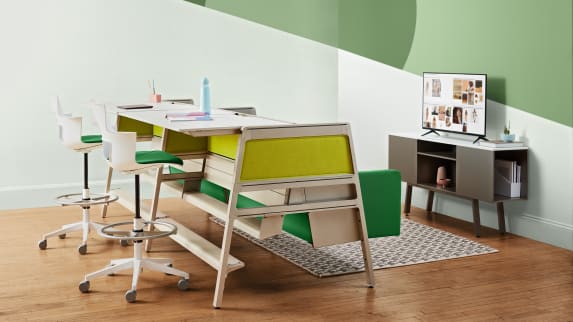 Bivi Team Bundles
Bivi Team Bundles simplify the system even further. The Bivi Team Table and Bivi Team Theatre are ready-made settings that create instant workflow. Choose the application. Pick the size. Specify surface materials and add optional power. Let the flow begin.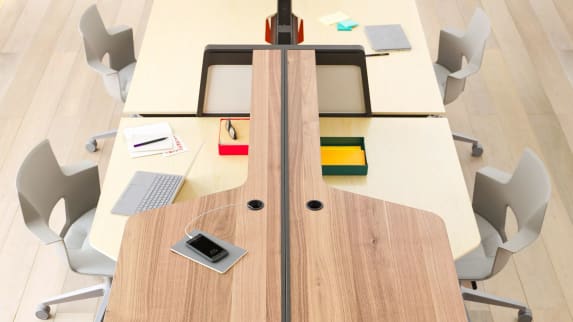 Dual Height Bivi
Dual Height Bivi gives your team workflow options. And as the team changes, Bivi can too. Effortlessly. With Bivi, it's always up to you. Or down.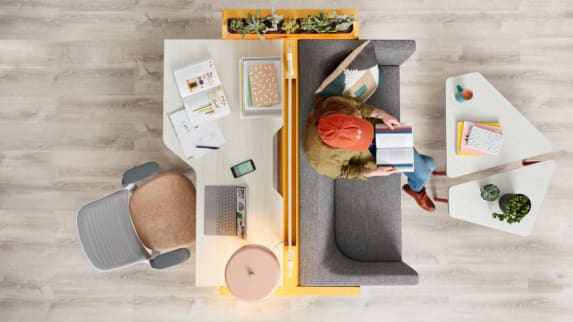 Make Your Space Your Own
When you find something that works, you want more. And there's so much more with Bivi. Panels for privacy. Storage for stuff. Racks for bikes. Cushioned seats. Arches. A planter. A foot shelf. A hood canopy. Step away from sameness. Into something distinctively yours.