ScapeSeries is a small table, incorporating a power outlets enabling, users to easily charge all mobile devices. Allows easy connection and screen and data sharing.
Features
ScapeSeries
ScapeSeries
Derived from the same design language as media:scape, the ScapeSeries table is the ideal complement to applications utilizing media:scape with HD videoconferencing. In this application, the ScapeSeries table allows for additional participants, further augmenting collaboration.
A Connecting Hub extension lead with two plug sockets is included. Additional sockets or data connections may be selected.
Foot ring is offered on standing-height table only.
Collaboration. Extended.
Collaboration. Extended.
Collaboration. Extended.
The table combines cornerless curves with straight sides allowing for seamless integration into any application.
From standing height to desk height, users are invited to collaborate formally and informally.
Power at the worksurface allows users to charge all of their mobile devices.
Specifications
Versions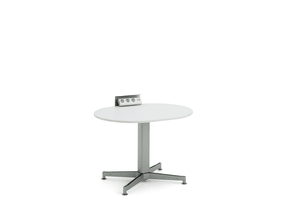 Open image tooltip
sitting height table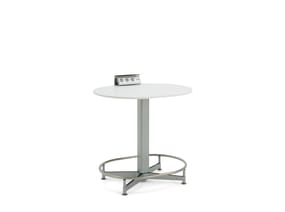 Open image tooltip
standing height table
Options + Dimensions
Options + Dimensions
Main options
Table available in 2 heights (standing and sitting height).
Available in 3 paint colors (black, white and platinum).
Tops are available in melamines and veneers.
Global Availability
Global Availability
This product is available in the following regions:
Asia Pacific
Central America
South America
North America
Europe
Middle East
Africa
Not available in your region?
If you're interested in purchasing a product that's not available in your region, please contact your local dealer for purchasing options.