Being outdoors with access to fresh air is not just good for our state of mind. Leveraging social, collaborative and personal outdoor spaces provides even greater choice for safer work environments.
Get Inspired
WORK CAFÉ
An outdoor oasis that supports users looking for a change of scenery and connection with nature. It provides a place for respite, socialization and connection with peers. Work tools like carts with markerboards can be used outside temporarily to support casual collaboration.
Design Considerations:
Control
Individual seats allow users to safely distance as needed, while umbrellas can help with shading, wayfinding and grounding the setting
Productivity
Mobile work tools allow users to bring collaboration outside and back in when they're finished
Social Lounge
A relaxed outdoor social setting that is ideal for building connections with colleagues and catching up on emails in a more laid-back setting. The overall environment provides adequate physical distancing and circulation. Varied postures give users choice of how they prefer to connect with others.
Design Considerations:
Belonging
Casual lounge settings can create a feeling of inclusion and trust amongst colleagues
Comfort
A canopy created with an umbrella can define space and provide a larger shaded zone
Work Café
A variety of postures from lounge to standing height extends user choice and control to the outdoors. Connect with a co-worker or enjoy a moment of respite while enjoying the fresh air and a change a pace.
Design Considerations:
Safety
Boundary elements can be moved if needed to provide privacy and enable safe distancing
Comfort
Umbrellas provide relief from the elements for physical comfort and shade screens on personal devices for better viewing
SOCIAL + COLLABORATIVE LOUNGE
An outdoor social space that can accommodate a range of group sizes and activities – from a single individual up to four people within each setting. Perfect for dining, a moment to refresh, connecting with colleagues, individual work or informal collaboration – all with access to fresh air. Screens and biophilic elements create soft visual boundaries. Tools for collaboration are readily available.
Design Considerations:
Productivity
Collaborative tools can make outdoor spaces work harder and double as space division
Safety
Staggered seating at shared tables provide the recommended distance between users and eliminates face-to-face orientation
Comfort
Architectural screening elements shield users and define individual spaces
Outdoor Seating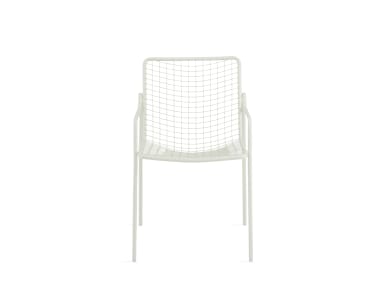 Coalesse
The EMU Rio Series is a modern refresh of a design icon for today's outdoor settings. Solid yet light, affordable yet enduring, the classic mesh and rod design features a unique folding gesture with a deeply drawn seat for modern comfort.
Outdoor Tables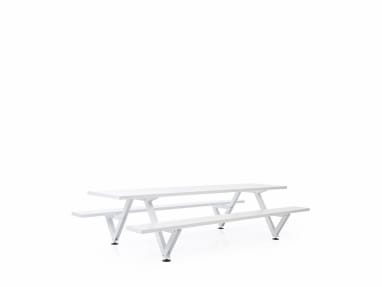 Extremis
The Marina long dining table and the Marina outdoor picnic table are designed to create unity and simplicity in your home or project. Whether you use them indoors or outdoors, these tables blur the boundaries between work and play and turn an individual space into a shared space.
Outdoor Accessories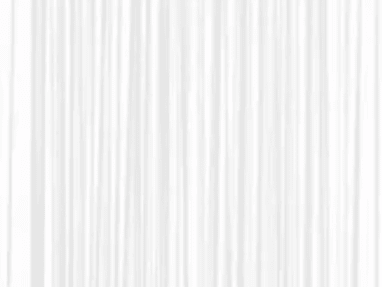 Extremis
Sticks from Extremis is a space divider ideal for creating privacy in a garden or on a balcony without losing the sense of freedom typical of open spaces.
Taking the Office Outside
Outdoor working is in high demand as employees begin returning to the office. As improved ventilation becomes a key strategy for mitigating COVID-19 transmission, outdoor work areas offer a way for people to have the human interactions they crave to be productive.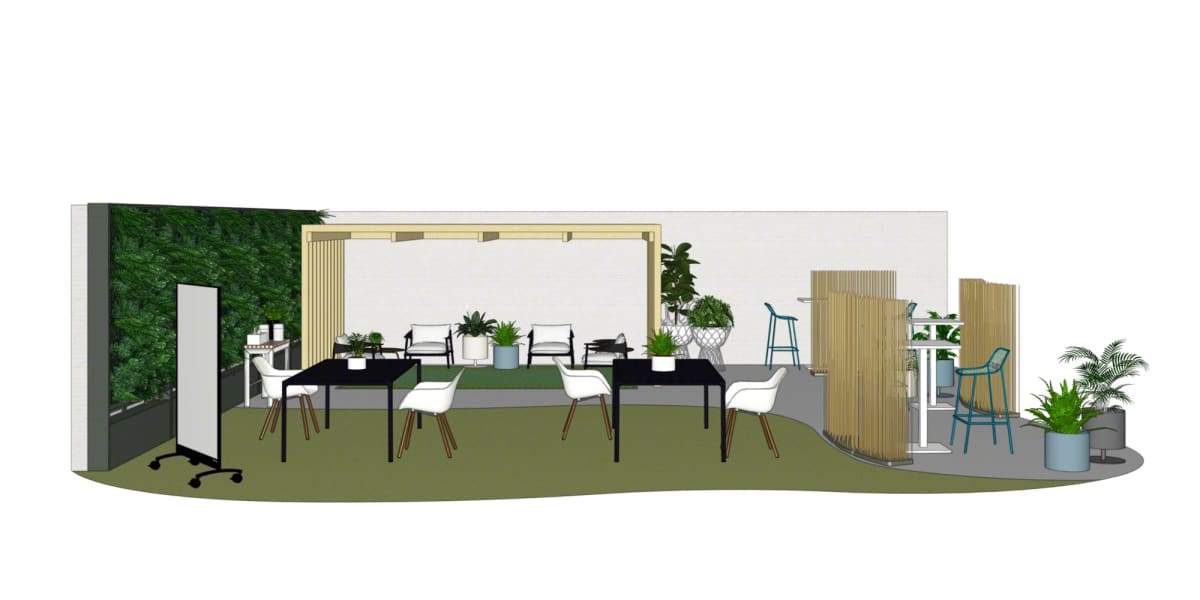 Space Planning Ideas
Looking for additional inspiration? Browse a library of application thought starters for outdoor spaces with Revit, SketchUp and AutoCAD files to help you get started on your next project.