Partito Screen brings structure to space. It successfully combines design and functionality and it is adjustable in height.
Features
Partito Walls and Screens
Partito Walls and Screens
Create an Effective, Open-Plan Layout
With their contemporary design, amazing flexibility and wide variety of connection possibilities, Partito Walls and Screens together optimise valuable square metres and promote harmony between people and their direct environment.
Space needs structure. Partito supplies it.
A Framework for Success
A Framework for Success
With one design and two solutions, you can create areas that make it easy for people to work together or that help them to concentrate and function independently. You can also facilitate communication, create the right ambience for learning, and even help in the decision-making process.
Partito Walls and Screens are simple to integrate into all our desks, so you can build a modern and attractive framework that meets the demands of today's office workers.
Partito Screen
Partito Screen
Successfully Combining Design +  Functionality
The clear, straight lines combined with the choice of materials and colours help maintain individuality.
Adjustable in height for extra convenience, it can incorporate accessories like a flat screen monitor support or other simple tools for efficient organisation of your workspace.
It is ideal for call centres configurations (allowing both visual and acoustic privacy).
Insights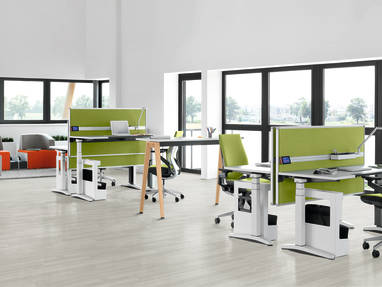 Since time immemorial, people have had an inbuilt need for their own personal space. In today's office environment, the situation is no different. That's why Steelcase created Partito, a flexible and ingenious system that optimises the way in which those valuable square metres are divided up.
Partito brings structure to open areas and offers support for the many different types of tasks carried out during the working day.
On average, 80% of your working time is spent with someone else. Partito is designed to enhance communication by encouraging and facilitating contact with others.
Studies reveal that most innovations occur through working with someone else. Partito gives you the opportunity
to do just that.
Everyone has to be able to concentrate. Partito contributes to business performance by giving people the peace and space they need to think clearly and work decisively.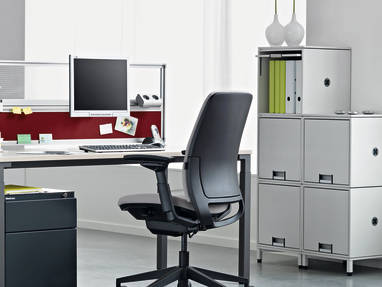 People can spend 30 minutes of each working day searching for information. Partito helps you organise better and find what you need quicker.
Add-ons like paper trays and binder holders – at whatever height you find most convenient – make many daily tasks go a lot smoother.
Sustainability
Overview
Overview
Designing for Sustainability
We believe the only way to provide the best office furniture solutions is to ensure they're the best products for the environment. That's why every step of the way – through design, manufacturing, delivery and product lifecycle – we consider the impact of our work on people and on the environment and uncover opportunities to make things better.
24 %
Up to
recycled content by weight
45 %
Up to
recyclable by weight
Life Cycle
Life Cycle
Materials
Partito contains 24% of recycled materials, by weight and no hazardous materials. Paper and packaging use water based inks without solvent. The packaging is made of 30% recycled cardboard and 30% recycled low density polyethylene (LDPE) film.
Production
All European Steelcase production sites are certified ISO 14001. The glue used to glue the wood and fabric is water based and releases no volatile organic compounds.
Transport
In order to save energy for shipping, we optimise the transportation distances, type and filling rate, and minimise packaging volume and materials.
Use
Partito was designed for a long product life, with replaceable elements. The chipboard meets the low-emission E1 standard (EN13986) for formaldehyde.
End of life
Partito is about 45% recyclable by weight. All packaging components: cardboard, polyethylene foam and low density polyethylene (LDPE) film, are 100% recyclable.
LEED Contribution
LEED Contribution
Steelcase helps customers seeking LEED certification to identify products and programs that can contribute to LEED criteria in the categories of Materials and Resources, Indoor Environmental Quality and Innovation (Ergonomics Training, Sustainability Training, Product Innovation).
Learn about Steelcase's direct and indirect contributions to a project's pursuit of LEED certification across LEED's three categories:
Building Design + Construction
Interior Design + Construction
Operations + Maintenance
Since the USGBC and its certification partner, GBCI, evaluate each project individually, the role our products play in achieving LEED certification is unique to each project.
Certificates
Certificates
Certifications can help you choose products that are environmentally sustainable and just right for your project. Partito Screen has achieved the following certifications:
"E1 Standard"
The particle boards comply with the low emission "E1 Standard" (EN13986).
 PEFC (Programme for the Endorsement of Forest Certification).
The wooden components of Partito are labelled with  PEFC (Programme for the Endorsement of Forest Certification).
Environmental Product Declaration (EPD)
With Partito we can provide an  Environmental Product Declaration (EPD), according to the objectives of ISO 14025, based on Life Cycle Assessment (ISO 14044).
GS Certification
Specifications
Options + Dimensions
Options + Dimensions
Main options
Available in many dimensions and multiple configurations
Available with 2 infill thicknesses, and several different infill options
Available in fabric, fabric  acoustic, wood veneer, melamine or acrylic
Available with either a white or an anodised aluminium frame
Global availability
Global availability
This product is available in the following regions:
Africa
Europe
Middle East
Not available in your region?
If you're interested in purchasing a product that's not available in your region, please contact your local dealer for purchasing options.