The H. System is a wall-mounted rail system with static and movable white boards and paper boards which allows the display and rearrangement of information easily.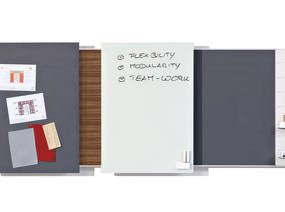 Open image tooltip
panels in modular dimensions, panels in different surfaces, different static accessories
Specifications
Options + Dimensions
Options + Dimensions
Main options
Panels in modular dimensions: 1480mm – 740mm – 370mm
Panels in different surfaces: Pinboard, Whiteboard, white lacquered glass and veneer
Different static accessories: Storage Element, Shelf Panels and a Slot Panel to hook in 1+1 Elements
Global Availability
Global Availability
This product is available in the following regions:
Africa
Europe
Middle East
Not available in your region?
If you're interested in purchasing a product that's not available in your region, please contact your local dealer for purchasing options.