Features
overview
Pars is a refined range of contemporary work, meeting and conference tables, available with three distinctive leg options and a broad range of top sizes, and with the ability to be combined with multiple power and data options.
The finishes for the tops include real wood veneer with solid wood edging, wood laminates and standard melamine, with all legs options available in our standard range of metal finishes.
With so many different potential combinations of table size, shape and specification, plus power and data options, please consult the fully updated details in our current price list.
SURFACE MATERIALS
This product is available in the following surface materials:
Table Tops – Melamine: Walnut, Grained Oak, Artisan Oak, Beech, Graphite, Grey, White.
Table Tops – Laminate: Whte Fleetwood, Natural Davos, grey Arizona, Tobacco Charleston, Grey Bardolino, Fenix Piombo Doha, Fenix Nero Ingo, Fenix Grigio Bromo, Fenix Grigio Londra, Fenix Titanio Doha, Fenix Grigio Efeso, Fenix Bianco Alaska.
Table Tops – Veneer: Cherry, Oak, Walnut, Maple, Beech.
I Frame Legs: RAL 9006, Stone, Black, White, Chrome/Polished.
Single Legs: RAL 9006, Stone, Black, White, Chrome, Gold, Taupe, Industrial Silver, Bronze, Copper.
Glides/ Frame & Column: Black, Chrome.
X Y Base/ Round Tables — Cruciform Base/ Feet: Chrome.
Round Tables — Column Base: RAL 9006, Chrome/Polished.
Cable Tray: Black
GLOBAL AVAILABILITY
The product is available in the following regions:
Asia Pacific
Europe
Middle East
Africa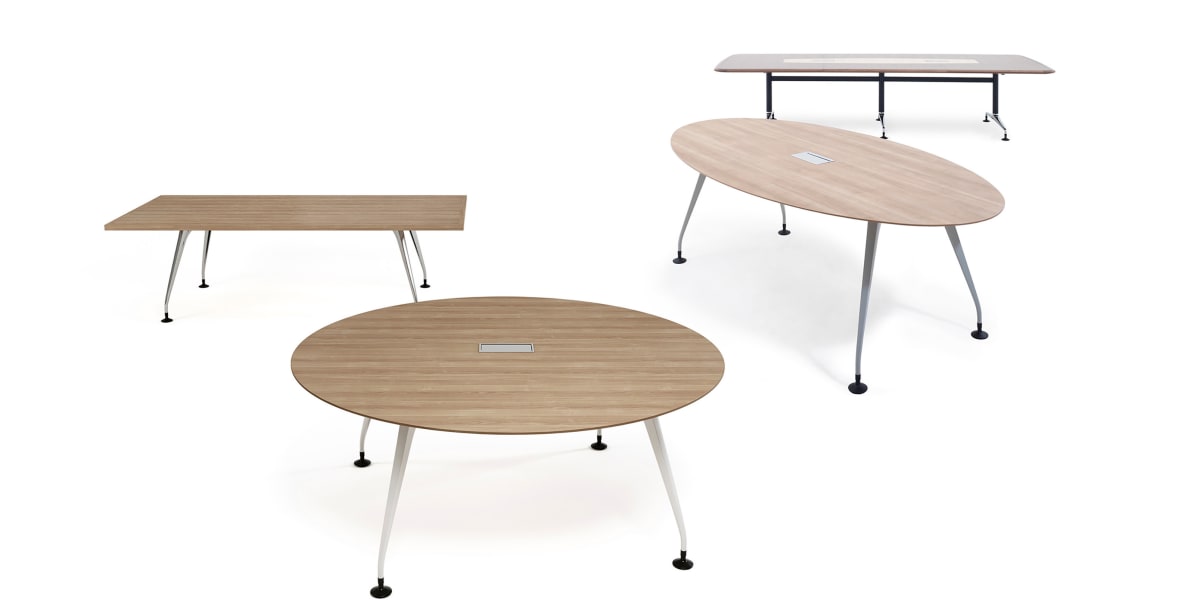 1600 x 800mm Rectangular table
(seats 4 – 6 people)
Height: 730 mm
Width: 800 mm
Depth: 1600 mm
Ø1200mm Round table
(seats 4 people)
Height: 730 mm
Width: Ø1200 mm
2000 x 1000mm Oval table
(seats 6 – 8 people)
Height: 730 mm
Width: 1000 mm
Depth: 2000 mm
1400 x 3200mm Rectangular table
(seats 12 – 14 people)
Height: 730 mm
Width: 1400 mm
Depth: 3200 mm