Forward Arm puts the user in control of the screen position, ensuring optimal workstation ergonomics.
Features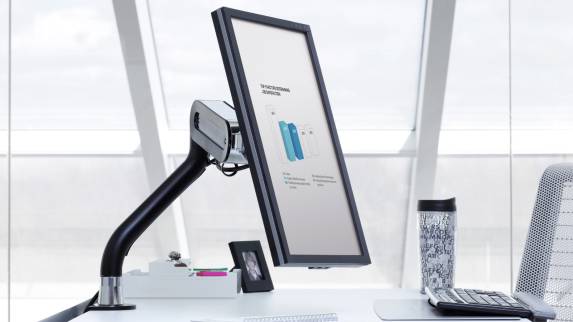 Enhanced Wellbeing
Just swivel, tilt, and reposition your Forward arm monitor to a position that is right for you. Having your monitor correctly positioned will encourage healthy posture and stress free movements while also reducing the glare caused by ambient lighting. It's all about getting the monitor to precisely the right height and focal length for easy viewing and comfortable computing.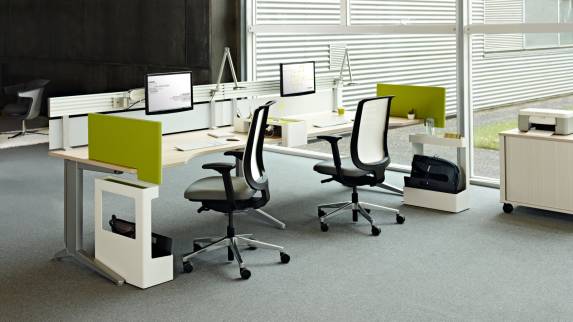 Instantaneous + Intuitive Adjustments
Built to handle any work scenario, the easily adjustable but sturdy arm supports monitors weighing 3,7 to 9kg, has 360° of upper arm rotation, tilts up to 30° and can rotate 90° to display information in both portrait and landscape configurations.
Insights
Eyestrain
Forward Arm helps to address a long-established workplace hazard: eyestrain. Adjusting the Monitor Arm is instantaneous and effortless, requiring no mechanical adjustments at all.
20% suffer from it everyday
59% at least once a week
The most frequent problem experienced at the workplace is visual fatigue*. Make sure that you are one arm's distance from your screen.
* Source: Steelcase Workplace Survey 2007
Field replaceable gas cylinder
Built-in counter-balance tool
Specifications
Options + Dimensions
Options + Dimensions
Field replaceable gas cylinder
Adapts to the weight of most screens
Built-in counter-balance tool
Tool free system
Easy and fine tension adjustment
Quick connect
Includes 75 and 100mm VESA compliant monitor brackets
Includes a secure lock to provide monitor security
Global Availability
Global Availability
This product is available in the following regions:
Africa
Asia Pacific
Central America
Europe
Middle East
North America
South America
Not available in your region?
If you're interested in purchasing a product that's not available in your region, please contact your local dealer for purchasing options.