Personal Console offers secure storage for bags, laptops, and other personal and professional items.
Personal Storage for today's workers
Storage needs are changing. The amount of paper files and physical reference materials are decreasing, while the number of personal technologies used for work is increasing.
With 2 configurations, Personal Console addresses a variety of workplace needs. In addition to personal and work storage, 1 charging option is available.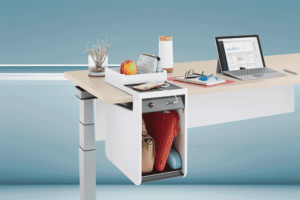 Features
Worksurface mounted
Mounts to fixed-, standing and adjustable height work surfaces, with the help of a c-clamp bracket, so users have their stored items always at hand as they change posture throughout the day.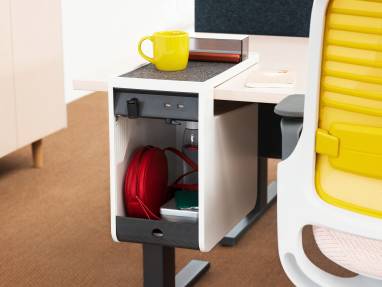 Keyed lock
With the integrated keyed lock feature, the Personal Console provides a secure place to store small personal belongings at the workstation.
With the smoothly running tambour door, the Personal Console can be opened and closed in an easy way. Power cables can be fed through the convenient hole to keep devices safely locked away even while charging.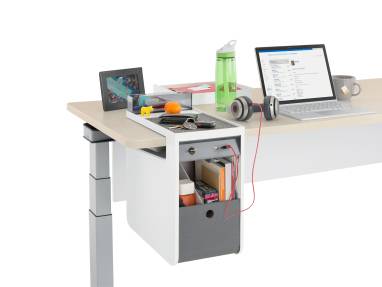 USB charging
The Personal Console features two 2.1 A USB ports that can simultaneously charge two devices quickly. The felt surface in the top tray is the perfect place to lay down personal devices, when charging via USB.
Sustainability
Designing for Sustainability
Designing for Sustainability
We believe the only way to provide the best office furniture solutions is to ensure they're the best products for the environment. That's why every step of the way - through design, manufacturing, delivery and product lifecycle - we consider the impact of our work on people and on the environment and uncover opportunities to make things better.
LEED Contribution
LEED Contribution
Steelcase helps customers seeking LEED certification to identify products and programs that can contribute to LEED criteria in the categories of Materials and Resources, Indoor Environmental Quality and Innovation (Ergonomics Training, Sustainability Training, Product Innovation).
Learn about Steelcase's direct and indirect contributions to a project's pursuit of LEED certification across LEED's three categories:
Building Design + Construction
Interior Design + Construction
Operations + Maintenance
Since the USGBC and its certification partner, GBCI, evaluate each project individually, the role our products play in achieving LEED certification is unique to each project.
Specifications
Standard + Optional features
Standard + Optional features
Basic with keyed lock
Keyed lock and USB
Global Availability
Global Availability
This product is available in the following regions:
Central America
Europe
Middle East
North America
South America
Not available in your region?
If you're interested in purchasing a product that's not available in your region, please contact your local dealer for purchasing options.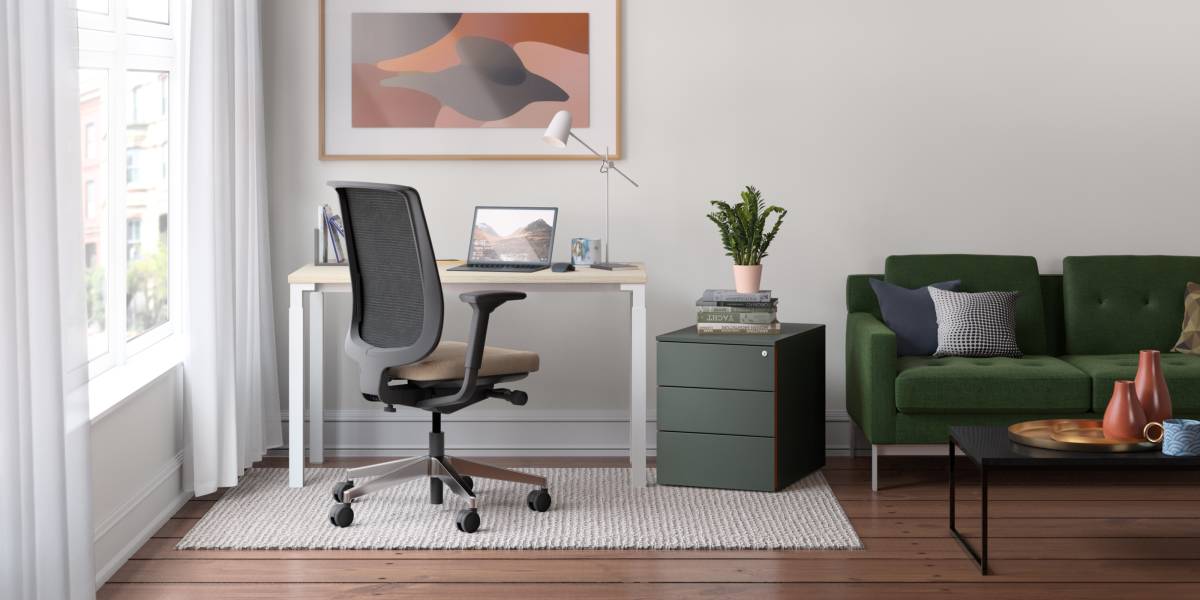 Work from Home
While teams are working from home, we're working to keep them comfortable. You can lean on Steelcase as your one trusted point of contact for products that blend performance with design.
Due to local regulations, select products are available in the UK.