Optimizing Your Real Estate to Give Employees Greater
Choice and Control
Although privacy is a universal need in workplaces, personal preferences, spatial contexts and cultural norms are key factors for successfully designing environments for privacy, say Steelcase Advanced Applications designers.
Highly differentiated settings ensure that users can choose their best place based on task, mood and personality, making the experience of privacy personal. Context is a key consideration; the same type of privacy setting can provide very different experiences depending on its adjacency, location and level of exposure to what surrounds it. Context determines what type of boundary will be most successful in any given location and, therefore, how much the spaces will be used. Cultural values and perceptions—both geography-based and organizational—must be respected and enabled within the design.
It's important to keep in mind that boundaries to private spaces can be open, shielded or enclosed, to support individuals working alone or together in teams. In addition to having spaces for personal retreat, being able to have private conversations or do focused work together are important dimensions of workplace privacy; meeting the full range of privacy needs requires providing for pairs or small groups as well as individuals. Planning should also recognize that, when supported by strong organizational protocols, personal privacy can be achieved in designated "together" spaces.
Privacy Distribution Framework
Inspired by our research, we have identified several different planning approaches that solve for privacy within a workplace floor plan. The best option for any organization depends on its culture, workforce mobility strategy, processes, protocols and real estate holdings: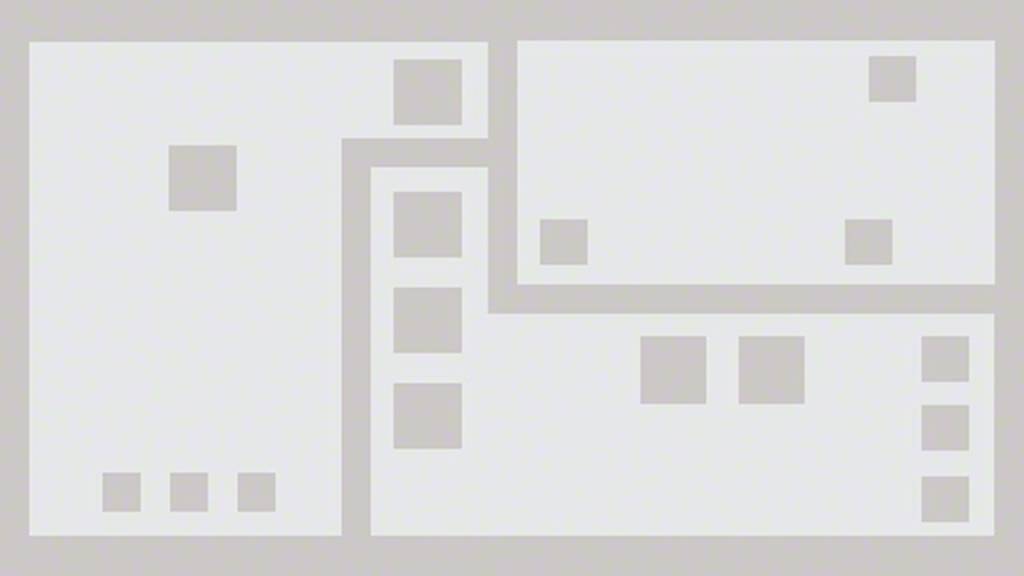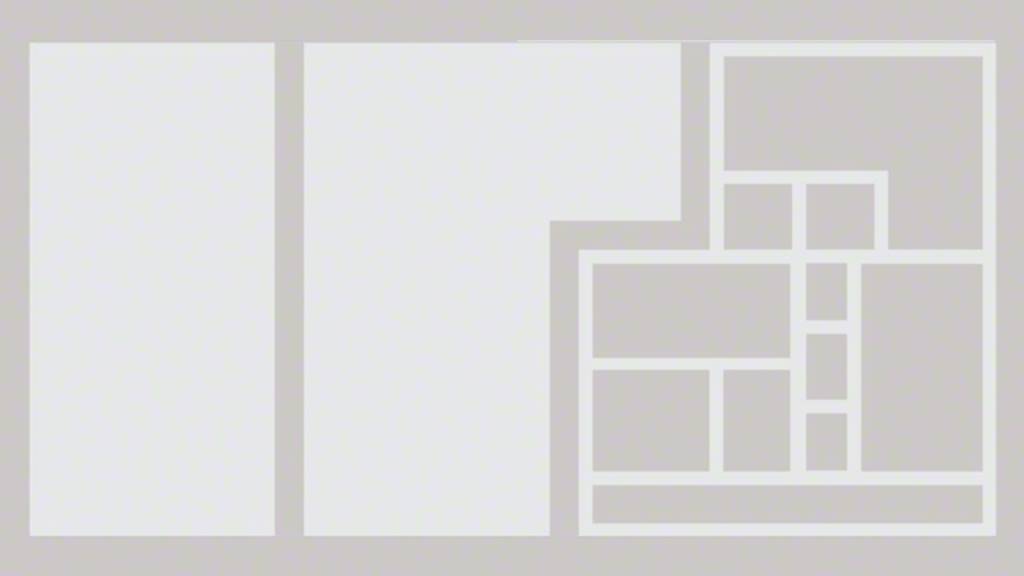 A combination of the distributed and zone models provides the best of both approaches: convenient access to on-demand privacy and the ability to plan ahead for guaranteed privacy as needed.
---
Private Enclaves
These three small individual private spaces provide a range of solutions that support the varied modal transitions in a worker's day. Intended for short-term use, they offer a place to get away for rejuvenation or to connect virtually with others. The adjacency to the work zone offers easy access to support spontaneous needs. The range of products provide a relaxed posture in the lounge settings with support for your personal device or belongings. And the media:scape Kiosk provides a high-tech connection and sharing capability.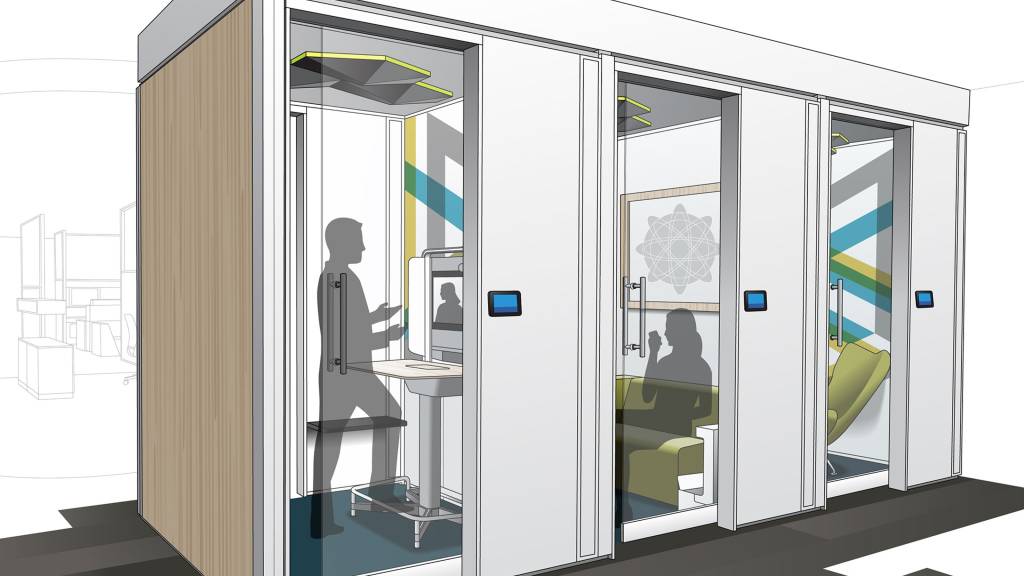 Boundary: Enclosed
Enclosed: Deep focus, Rejuvenation
Privacy Modes: Deep focus, Rejuvenation
Posture: Lounge/Prone, Stool/Stand
Privacy Principle: Selective Exposure, Entrusted Confidence, Intentional Shielding
Products Shown: c:scape slim storage, Gesture task, Gesture stool, media:scape kiosk, RoomWizard II
Project Space
A shared camp for dyadic work. With a quick switch between task focused work and informal lounge connection this space is very hard working and available when needed.
This space is shared and available for users to schedule for short or long durations. The users can own and manage their surroundings when needed with the technology to share seamlessly integrated.
The walls support amplification that optimizes sharing and team work while the lounge offers a place to extend the collaboration in a more informal way. The walls provide a boundary to protect the team while allowing connection to the open office space.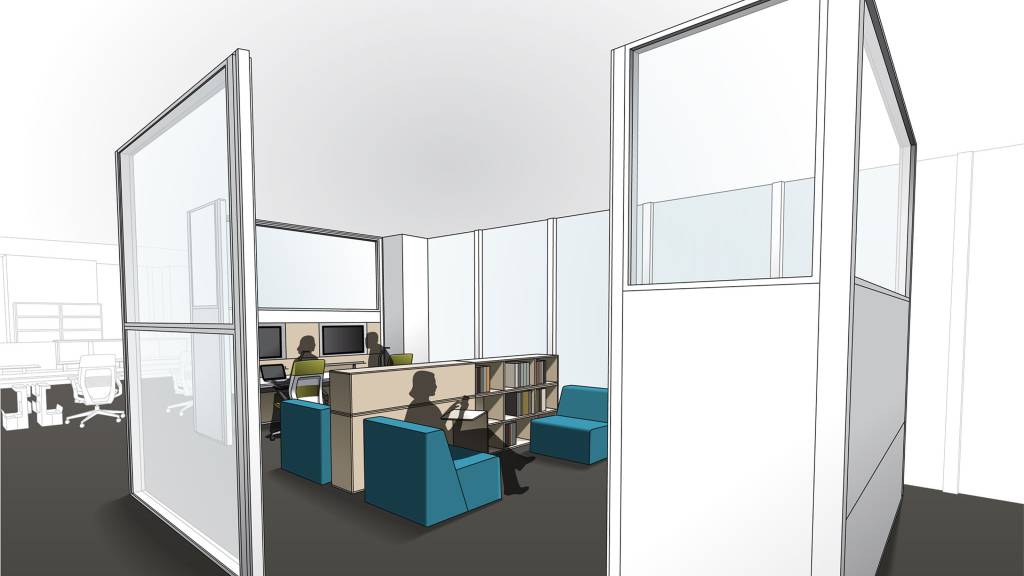 Boundary: Shielded
Privacy Modes: Deep Focus, Shallow Focus
Posture: Lounge/Prone, Task
Privacy Principle: Entrusted Confidence, Intentional Shielding
Products Shown: FrameOne, FlexBox, Gesture task chair, 1+1 worktools, B-Free cube and table-stool, Free Stand Table
Conference Enclave
A private place to connect virtually to one or many. This space is tailored to the individual and allows the user to be fully immersed in the meeting with easy access from the workspace.
The technology is optimized for 1-2 people to be on video. The posture and step in and out access supports meeting needs for short meetings.
The media:scape offers quick amplification and content sharing with power access. The work surface supports the users materials with a secondary surface for personal items. A stool could be included for longer duration of go without for quick connections. Lighting can be used as a signaling device.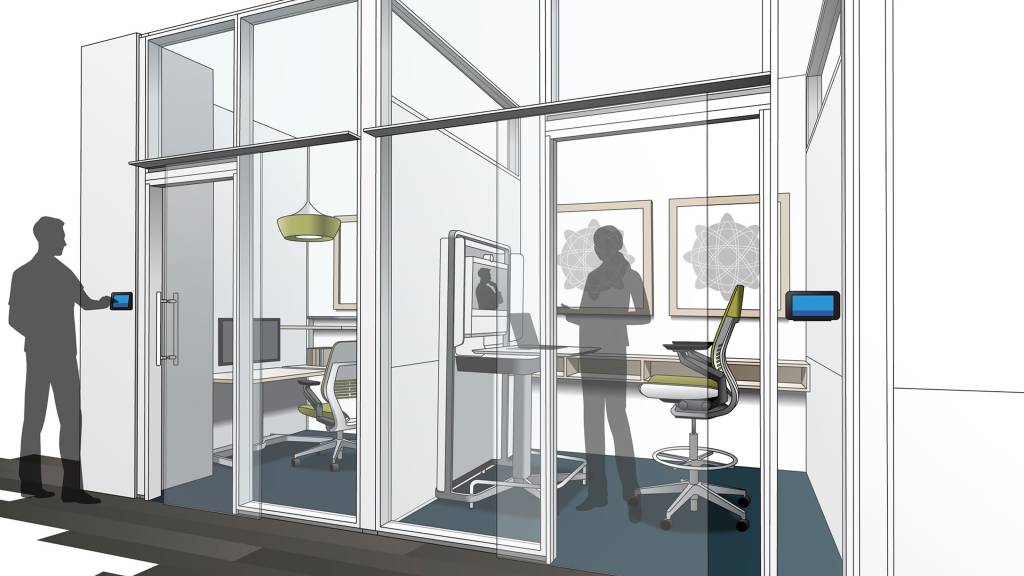 Boundary: Enclosed
Privacy Modes: Deep Focus
Posture: Task, Stool/Stand
Privacy Principle: Selective Exposure, Intentional Shielding
Products Shown: media:scape kiosk, RoomWizard II, B-Free Free Stand, Massaud Lounge chair
Personal Retreat
Inspiring I space that offers the ability to get away without going away, supporting mindfulness and authenticity for an individual.
With a shield to the adjacent nomadic camp the user can gain a quick reprieve, get comfortable and focus or allow the mind to wander. User has control over their visibility, access to others and choice of where to work, The space supports bringing your own technology, or simply unplugging for short term use.
The panels offer a boundary, screening interruption from adjacent work areas. The chair provides lounge posture, with a swivel base and storage in the ottoman. The storage is a place to drop your belongings with easy access and a wardrobe for coat storage. The lighting is adjustable for task use.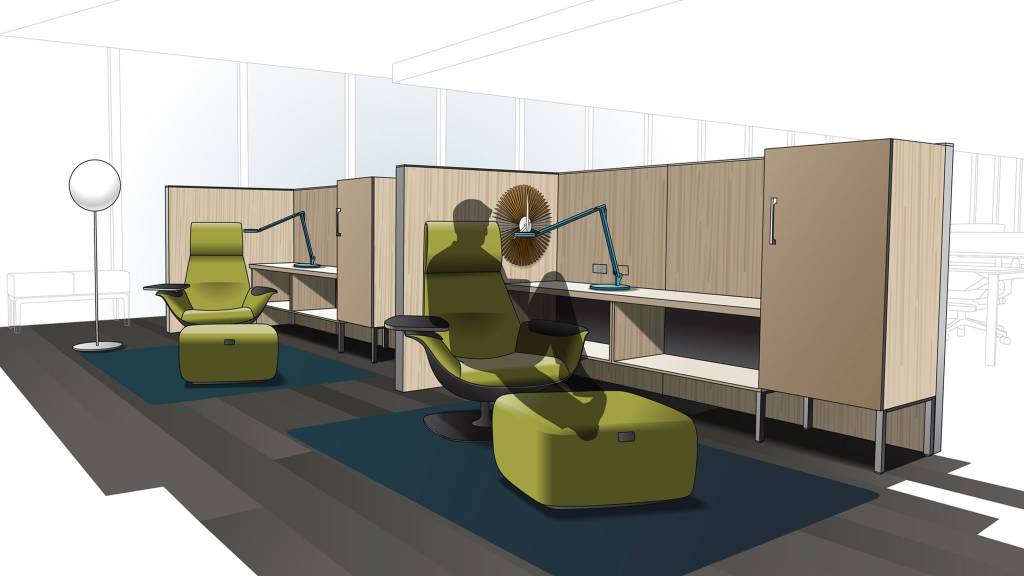 Boundary: Shielded
Privacy Modes: Shallow Focus, Rejuvenation
Posture: Lounge/Prone
Privacy Principle: Intentional Shielding, Purposeful Solitude
Products Shown: B-Free screens, Massaud Lounge Chair and Ottoman, c:scape low storage, Dash Lamp
Shielded Conversation Lounge
Easily accessible, this is a place for 2-6 people to have a quick conversation without disrupting others. The canopies help contain sound, plus create visual and territorial separation from the rest of the work group. Lounge seating is comfortable and informal, and tables support personal devices and other necessary items.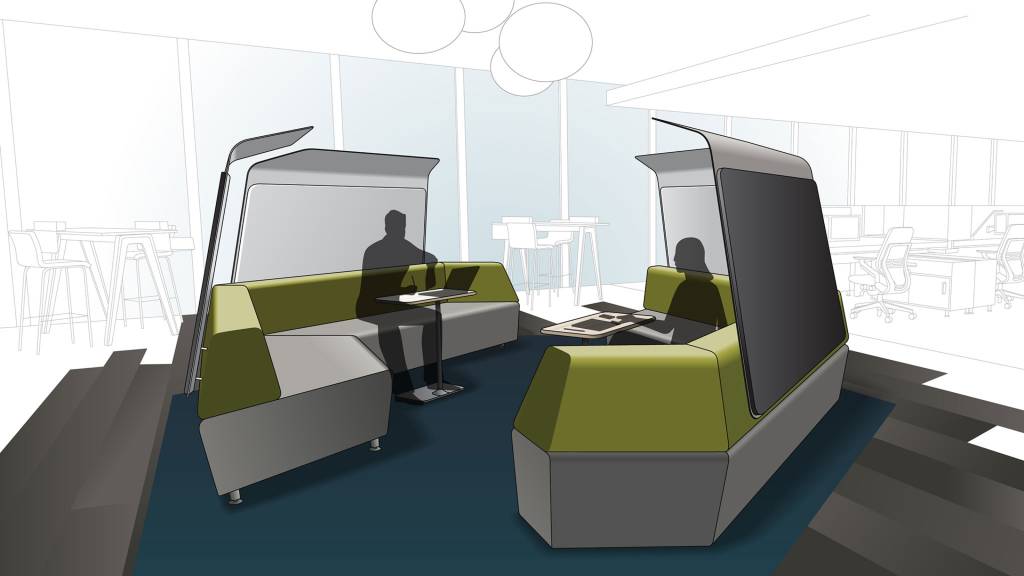 Boundary: Shielded
Privacy Modes: Shallow Focus
Posture: Lounge/Prone
Privacy Principle: Entrusted Confidence, Intentional Shielding
Products Shown: media:scape lounge, Lagunitas table
Connect Hub
Face-to-face conversation and confidential content-sharing are optimized in this enclosed enclave adjacent to a gathering space. Workers control the lighting and sound levels within the space. Integrated power in the lounge seating accommodates personal technology devices, and their digital content can be shared on a wall-mounted monitor.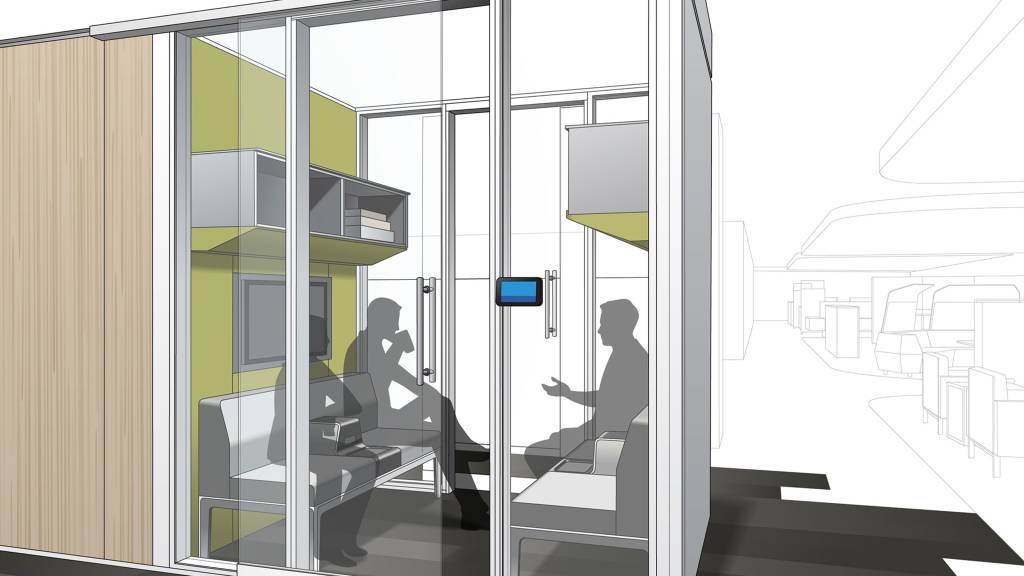 Boundary: Enclosed
Privacy Modes: Deep Focus, Shallow Focus
Posture: Lounge/Prone
Privacy Principle: Entrusted Confidence, Intentional Shielding
Products Shown: Millbrae Sofa, c:scape Storage, RoomWizard II
Privacy Zone 1
With a library vibe, this area provides spaces where workers can go to read, reflect, rejuvenate or do focused work. Informal spaces with lounge seating and wood storage create quiet retreats. Enclosed spaces offer even greater separation and privacy.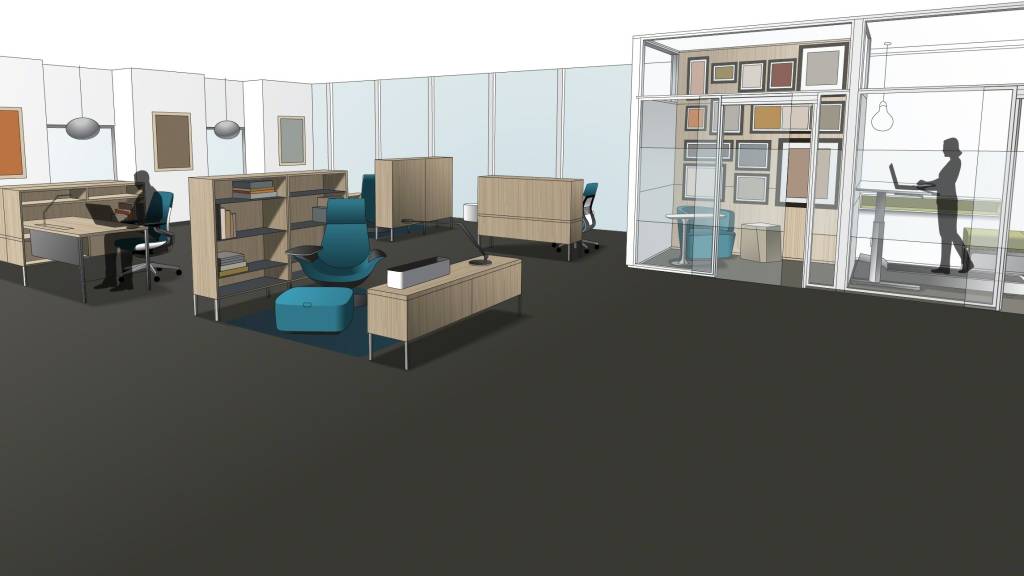 Products shown:
Open: Coalesse Lagunitas lounge and tables, B-Free desk, Gesture Massaud Lounge and Ottoman, FlexBox, Dash lamp
Shielded: SW-1 Lounge, Sebastopol Table, Coalesse Freestand table, Dash lamp
Enclosed: Ology, c:scape slim storage, B-Free Cubes and sit-stand stool, 1+1 Task Light
Privacy Zone 2
Spaces for focus and concentration retain a sense of energy through proximity and transparency to colleagues. Individual workstations with screens to minimize distractions are available for focused work. For greater privacy there are enclosed and semi-enclosed spaces for one or two people. A nearby lounge space supports more relaxed postures and contemplation.
Products shown:
Open: FrameOne Bench and Cobi chairs, Coalesse Lagunitas lounge and tables, FlexBox, 1+1, Mobile Caddy, RoomWizard II
Shielded: Millbrae Sofa, Coalesse Sebastopol tables, Hosu Lounge chairs, RoomWizard II
Enclosed: B-Free cubes,Bix Booth Table
Privacy Zone 3
Privacy is all about choice, and this zone offers a broad range of visual, acoustical and territorial privacy options. People can select from a variety of different spaces, including a fully enclosed Susan Cain Quiet Space (Green Room) and shielded nooks and individual workstations for deep focus.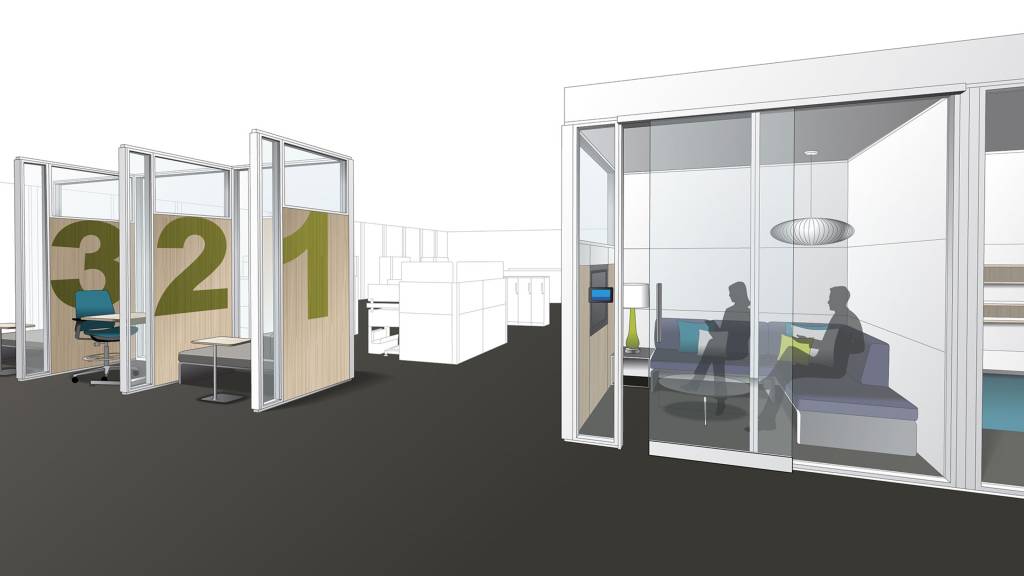 Products shown:
Open: Share It, FrameOne Gesture, Soto II, Dash lamp, Divisio, 1+1, Mobile Caddy
Shielded: Media:scape Kiosk & Gesture Stool
Enclosed: Coalesse Lagunitas lounge & tables
Organizations need more innovation—Most organizations know that they aren't achieving the full potential of their workforce day-to-day, but fewer have figured out how to achieve the level of engagement they need. Learn more about The Privacy Crisis.
---
Introducing New Research on Engagement
+ the Global Workplace
1/3 of workers in 17 of the world's most important economies is disengaged, according to new research from Steelcase. Working with global research firm Ipos, the Steelcase Global Report is the first to explore the relationship between engagement and the workplace.