We are passionate about helping architects, designers and real estate professionals develop great environments wherever work happens. We do this by being insightful, intentional, interactive, and inspirational.
Featured Products
Steelcase Series 1
Steelcase Series 1 office chair delivers on what's important — performance, style and choice. It retains everything that's valued in a chair, while making it attainable for everyone.
FrameOne Desk
FrameOne is a desk designed to be beautiful, functional and beneficial to your workday. Its clean, simple lines and neat design touches make people proud to own it.
Workplace Advisor – Study
An episodic workplace study that empowers facility managers with easy-to-understand data, giving them the information they need to make the most of real estate.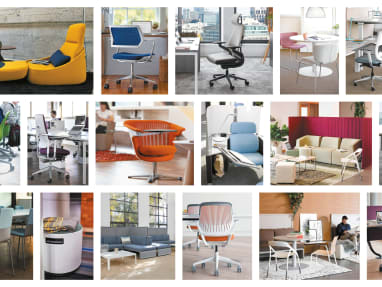 Steelcase Seating Difference
The Steelcase Seating Difference revolves around you. We've studied movement, health, and emotions to design innovative seating for workplace wellbeing.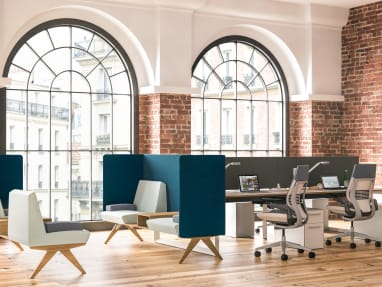 MN_K
MN_K lounge seating offers areas for collaboration, focus, connecting with colleagues and hosting guests. Modular and with a fresh design, it responds to all of the needs of today's workspaces.
Share It Collection
Share It Collection structures space into good neighbourhoods: places where individuals and teams feel comfortable to interact, share and focus.
Sustainability + Services
Sustainability is one of today's fundamental business challenges – and our inspiration. Everyday our team works to create maximum value from our available assets and be catalysts for good.
We know we are on a journey. Along the way, it is our responsibility to care for our planet and its people.  As we continue to study, learn and share insights, our commitments and accountabilities continue to grow in measurable and meaningful ways.
All of this leads us to deliver innovative products and increased value to our customers and stakeholders.
Commitment to Sustainability
Steelcase and Steelcase dealers offer clients a portfolio of workplace services. It's about understanding your needs, exploring options, applying the right products, and ensuring your investment is delivered, installed and maintained. Steelcase delivers products and services through a network of independent dealers in over 650 locations globally. Our dealer network is the most extensive and experienced in the world, delivering global experience with local service.
Our services include:
Workplace Surveys
Financial Services
eBusiness
Recycle + Reuse
Performance Management
Our Services