A Place to Stay Connected: Rethinking Family Support in the Patient Room
Eight days. For eight long days and nights last summer, parents Rob and Martha held vigil at four-year-old Naya's bedside after days of at-home care. The couple took up residence on the sixth floor, in a small but fairly comfortable corner of Naya's room. A pull-out couch served as a bed and visitors sat in a brightly colored upholstered chair. Trying to be as helpful as possible, they communicated changes in Naya's symptoms and learned all they could with Internet searches. Yet quality sleep was elusive, work demands began to pile up, and soon Rob and Martha found themselves physically and emotionally worn out.
In a nearby wing of the same hospital, Marcus spent several sleepless nights monitoring his 78-year-old mom's recovery after a complicated surgery. He kept his siblings informed through phone and video calls, but the day-to-day responsibilities were squarely on his shoulders. His mother's room wasn't as well-equipped for family members as nearby Naya's room — there was no place to sleep, no overstuffed chairs. The only place to charge his phone was behind his mother's bed or on the nurse's overcrowded work surface. When people came to visit, they had to pull in chairs from the nearby waiting room. Marcus' backpack was relegated to a corner on the floor. The overbed table served as eating space, work space, and storage space. The physical environment simply didn't serve his needs well — it didn't help him be an involved and supportive son when his mom was counting on him the most.
These stories are all too familiar for family members with loved ones facing multi-day hospital stays. Whether it's in the maternity ward or the intensive care unit, whether it's a case of pneumonia or a complicated surgery, family members can find their needs inadequately met as they help their relatives navigate life-altering events.
To gain insight and perspective on the role of family in the patient room, Steelcase reviewed the literature, completed numerous observations, conducted formal interviews and informal conversations with family members, and ran prototype evaluations including sleep studies and user simulations. Consistent with the literature, Steelcase researchers found that family members encounter many challenges across the stages of involvement as they adapt to living in patient rooms, most especially in overall wellbeing and receiving and sharing information.
In an effort to build upon existing research and harvest new insights, Steelcase Health researchers sought to learn how to promote involvement and overcome those barriers to fully integrate family members into the experience. We began our exploration with several key questions in mind. We asked, "How might we…"
Provide a solution that supports family members' needs without impeding clinical care?
Create an environment that encourages family involvement to promote positive outcomes
Enable family to feel welcome and hosted while also encouraging the patient's emotional and physical rest?
Improve information sharing between family members and clinicians while avoiding clinical flow disruption?
Enable family members to balance care participation and personal wellbeing?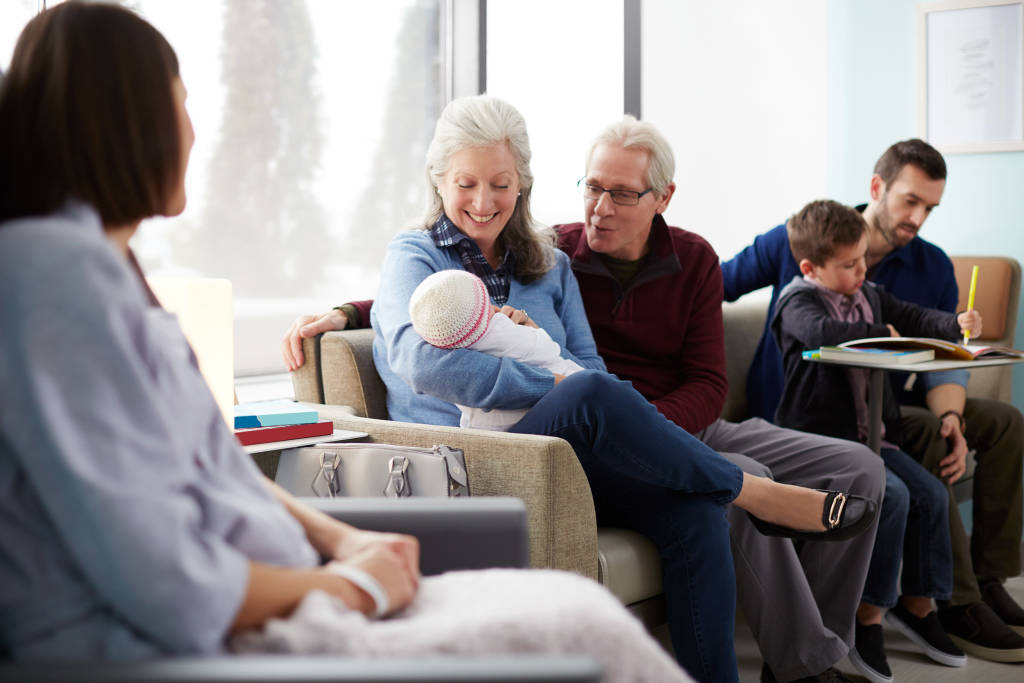 What we discovered is an opportunity for architects and designers, facility managers, health care administrators, clinician influencers and environmental services teams to provide an improved experience for stressed family members. The healthcare environment can be a tool to support family involvement.
"For patients, family members are a source of comfort and normalcy," says Patricia Wang, a Steelcase researcher. "For clinicians, family members can help the continuity of care — filling in knowledge gaps on the patient's medical history and experiences. While much design attention focuses on patient and clinician spaces, family space design is also critical. Families need to feel that they're supported as full and attentive participants in their loved one's care."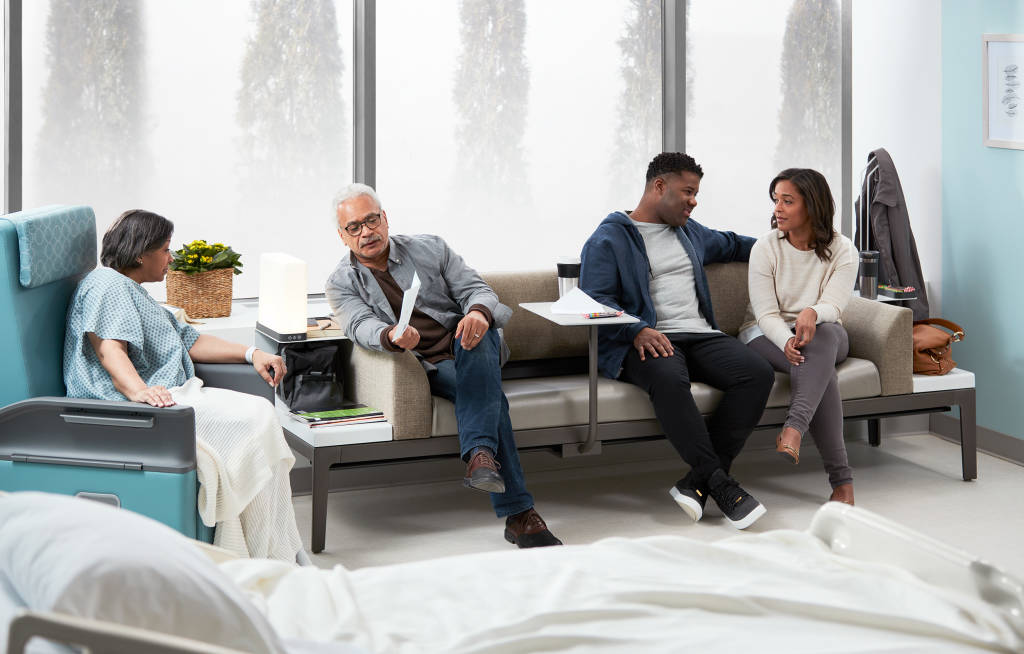 Grounded in Research
Formal notions of patient-and-family-centered care (PFCC) originated in the late 1970s, when family visits were often restricted to ten minutes. Today, it's widely recognized that family members are vital to the healing process and their continual presence is encouraged to promote involvement and partnership. Moreover, families are often invited to move beyond a visitor role, and participate in care as they are able, learning while assisting and getting a head start on post-discharge care. The evidence is such that the American Association of Critical-Care Nurses released a practice alert in 2016 supporting continual family presence based on patient preference unless there are safety or medical concerns.
Family involvement is thoroughly documented in nursing and medical literature under various terms — including participation, engagement, inclusion, and empowerment — and is often conceptualized as existing on a continuum. Some family members actively contribute to patient care; some simply wish to be close. From their 2015 review of patient-family involvement in intensive care settings, Olding and colleagues developed a framework depicting five stages of family involvement: presence, receiving care and having needs met, receiving and communicating information, making decisions, and contribution to care. This model reflects the family needs identified in the well-validated Critical Care Family Needs Inventory — support, comfort, information, proximity, and assurance. However families choose to engage, the benefits are clear:
When family members witness medical procedures and day to day care, anxiety levels decrease and confidence increases that their loved one is well-attended.
When patients can't express their own needs or preferences, family members often step in and communicate.
Family members can also share important information on medication history and usage, as well as changes in condition.
Clinicians better understand and respond to patient values, beliefs and preferences when family members are there to share that personal information.
Family member presence is often associated with improved satisfaction scores and patient experience.
Despite the known benefits of PFCC, the underlying contextual, organizational, and environmental factors that contribute to family involvement remain understudied. Olding and colleagues noted that while the built environment likely contributes to family involvement, environmental facilitators and inhibitors are poorly understood. That same year, Lavender and colleagues at The Ohio State University conducted focus groups and interviews to investigate medical-surgical patient room design and perceived job performance inhibitors across 23 stakeholder groups, including those involved in direct patient care, therapy, nutrition, imaging, housekeeping, and engineering. In addition to the time and effort required to move numerous items to access the patient, participants reported challenges such as competition for outlets, lack of a mobile work surface or place to sit for eye-to-eye conversations, and difficulty accessing whiteboards for communication.
Balancing Involvement and Self-care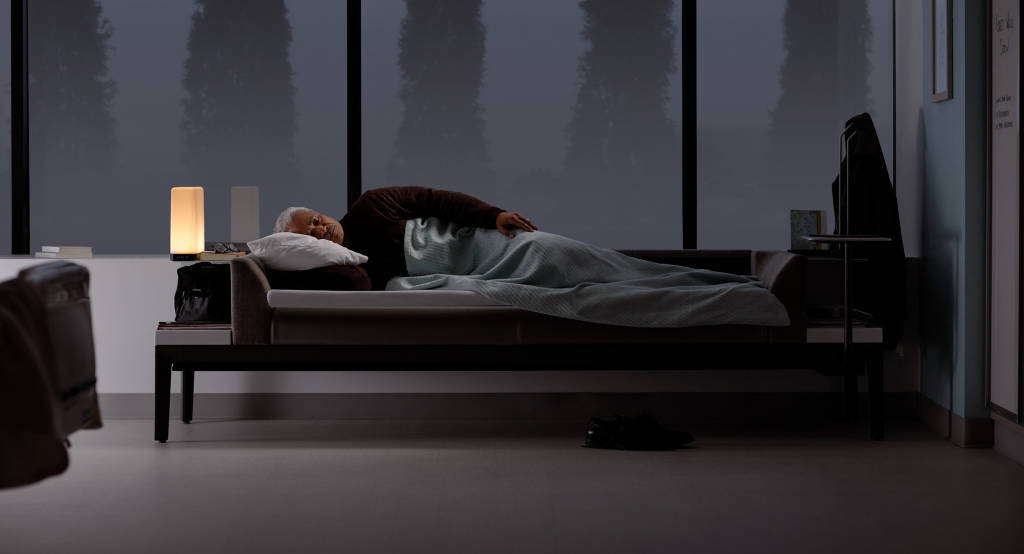 During a patient's stay, family members often live in the hospital, wanting to be involved but not impede their loved one's care. It's a juggling act to balance being available, tending to daily responsibilities like working, paying bills, eating, sleeping and socializing, and being an active participant in the care process. As long hospital stays wear on family members, their physical, emotional and psychological wellbeing slips. Since family members often support patients once discharged, taking their wellbeing into account achieves multiple benefits.
Family member wellbeing challenges include:
Sleeping is not comfortable or well supported: In-room sleepers are often not long, wide or firm enough to provide restful sleep. The average American man measuring 5'9'' and weighing nearly 200 lbs can't fully stretch out on most in-room sleepers.
Eating together is deeply valued, but the built environment isn't conducive. Although health care facilities offer cafeterias, many family members prefer to eat with their loved ones, improvising with whatever furniture is in the room. Overbed tables are often borrowed or moved to create an intimate shared meal, displacing other items clinicians or patients might need in the process.
Visitors aren't easily accommodated: During the day, patient rooms may host a line of visitors wanting to comfort or congratulate patients and family members. This can negatively impact the space for clinical staff to perform needed procedures.
Family members shift their attention between active support and other forms of social support such as companionship. Between taking notes and communicating with patient and staff, family members also need some downtime. The television or personal devices can serve as a positive distraction. Often, furniture is moved to accommodate a clear view of the television or different postures needed for tablets and laptops.
Daily routines, from paying bills to checking emails, require access to computers, tablets and smartphones. Easy access to power as well as work surfaces and furnishings that support work postures are conspicuously absent from most patient rooms.
Information receiving and sharing challenges like the ones listed below are commonplace for family members and not surprisingly, affect well-being. Uncertainty creates anxiety and stress, so information sharing is one of the most helpful ways to alleviate family members' emotional discomfort. Information sharing challenges include:
Wanting to feel helpful, not a hindrance: Family members are often the only people on the care team who have been side by side with the patient from the beginning. As such, they provide relevant information about medical history, preferences, habits, medication side-effects, and other information that can inform clinician decisions. A well-equipped family space can support involvement and mitigate disruption.
Family members need coaching to bridge from presence to active care support: While repeat admissions can result in an "experienced" family member, each new admission has its own challenges and nuances that require family education. Technology can provide general information, but nurses and doctors are called upon to instruct the family on the particulars for their loved one, for example, when and if food is appropriate, getting out of bed, and inviting their participation during turning or bathing.
Once patients are discharged, family members often feel unequipped to care for their loved ones at home. Teaching and learning over the course of the hospital stay helps make the transition from hospital to home much less stressful. Moreover, failure to understand and adhere to post-discharge care plans is a known contributor to emergency department visits.
Where Priorities Collide
Even as it is lauded and encouraged in policy, research, and practicing clinician circles, family involvement is complicated at the bedside. Families are an additional 'patient,' requiring clinicians to provide explanations around care activities and can physically impede patient care and access. Additionally, patient rooms are like major traffic intersections — doctors, nurses, therapists, patients and family members all come together in one small space, each with their own perspectives and requirements. Together with an increase in bedside procedures and space-constricted floor plans, the potential for crowding, stress, and physical hazards is increased.
"Any inpatient admission, whether to have a baby or to treat sepsis, is stressful for the patient and family," says Michelle Ossmann, MSN, PhD, and Director of Healthcare Environments. "We know that by responding to the family's core needs holistically, by providing for all dimensions of family involvement, we mitigate that stress and ultimately contribute to improved care and an improved experience. But human interactions don't occur in a black box — the physical environment is active and must be harnessed as a tool to the benefit of patients, families, and all healthcare workers."
Based on user research, Steelcase Health believes these tensions can be resolved, and that patient rooms can provide efficient, comfortable spaces for patients, clinicians and family members alike. Families need an intuitive and welcoming environment that affords their needs, cues appropriate behaviors and allows them to productively support their loved ones.
"Simple steps like accommodating for physical and technological needs — even providing a place for belongings — can help family members feel invited, included, prepared and supported to be a participant in their loved one's care," says Wang. "When family members' needs are addressed, we have the opportunity to improve the experience for everyone on the care team, including patients and clinicians."
Introducing the Surround Collection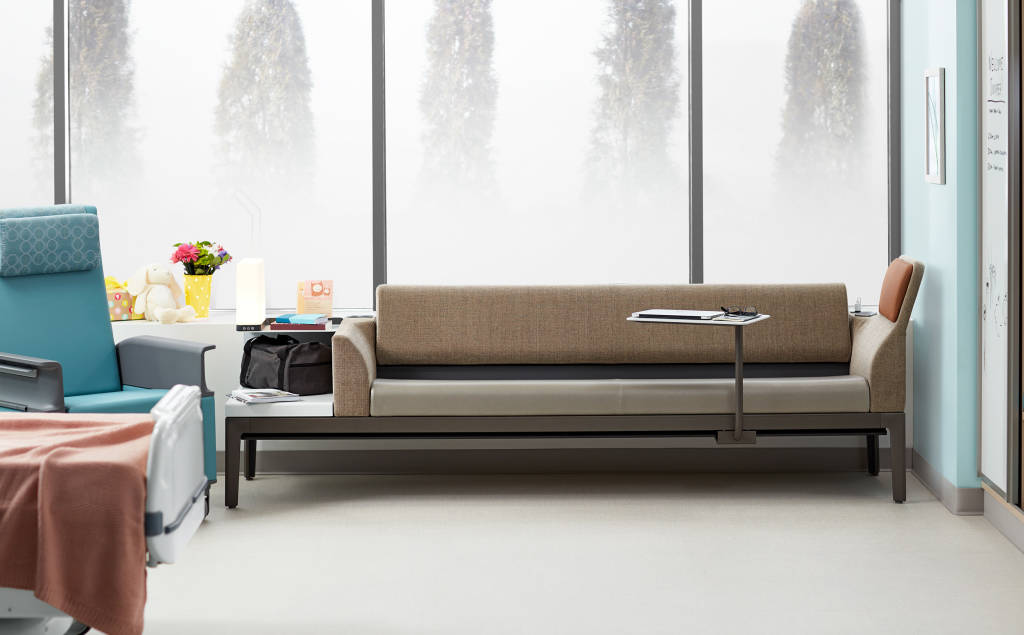 These insights lead to the design of the Surround collection, a multi-use seat that unfolds into a comfortable single bed. Available in a one-seat, two-seat, and a three-seat sleeper application, Surround supports the family experience in every way, offering a place to spend time with patients, rest and relax, be productive, host other guests and communicate with clinicians in the patient room, including:
Flexible, Modular Design: With 120 configurations, multiple sleeper variations and lengths from 44 to 104.5 inches, Surround accommodates a variety of healthcare spaces.
High-Recline Arm: Curvilinear profile designed to support a relaxed and reclined seated posture.
Integrated Sliding Table: A sliding surface to eat, work or engage with other visitors and the patient.
Ambient Lighting: A small light enabling family members to read without disrupting patient rest.
Fold-Down Sleeper: Intuitive fold down sleep surface designed for a comfortable overnight stay.
Easy-Access to Power: Power outlets and USB port located in the arms of the sofa to recharge the multiple personal devices that accompany the family and friends visiting the patient.
Open Storage for Personal Belongings: Layered storage create an intuitive and visible space for personal belongings, keeping them out of the way of clinicians.
Easy to Clean Surfaces: Surround frame design provides complete and easy access to the floor for fast and effective cleaning without the need to move the unit.
To learn more about Surround go to steelcasehealth.com/surround