Classroom Options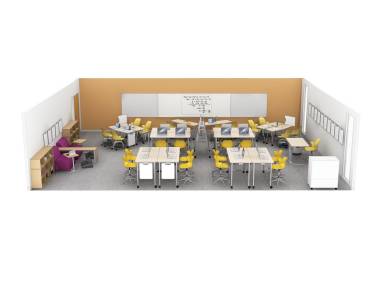 Active Learning Classroom 1
Students and instructors need convenient sightlines
to digital and analog content, as well as to each
person in the room for optimal conversation and
collaboration. These tiered, "stadium" style seating
and tables adjust with ease to create a clear view
through multiple configurations.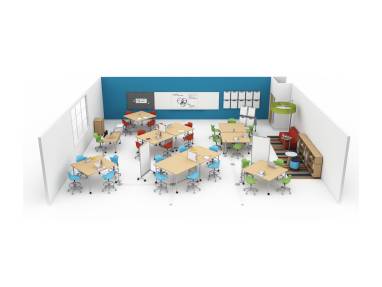 Active Learning Classroom 2
Hands-on activities and less-formal conversations
can spark new thinking and understanding. This
varied, mobile setting makes it easy to get
together, share and try something new.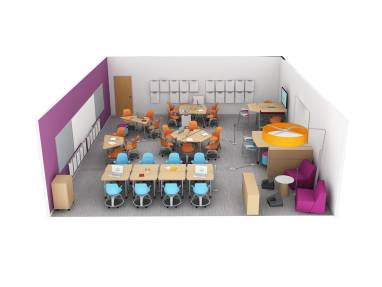 Active Learning Classroom 3
Collaboration. Listening. Independent reading.
Hands-on making. This classroom has it all – and
invites engagement with clear zones to support
different activities that may happen
concurrently.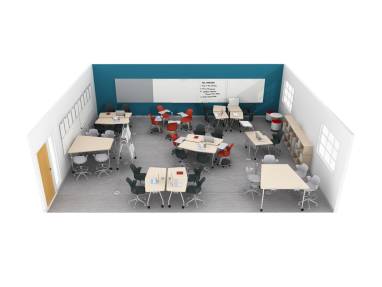 Active Learning Classroom 4
Where will learning take the classroom?
With smart tech support and extreme
mobility, this space delivers a dramatic range
of options to suit different learning
styles and teaching methods.
2016 Active Learning Transformations
Grant helps University of Saint Mary reimagine underutilized library space — Steelcase Education
University of Saint Mary in Leavenworth, Kansas was a recipient of the 2016 Active Learning Center Grant. See how the University reimagined a space within their existing library to encourage active learning and collaboration while further connecting their students, faculty and community.
Grant helps Boyce Middle School propel their STEAM program
Boyce Middle School near Pittsburgh, Pennsylvania was a recipient of the 2016 Active Learning Center Grant. See how this school propelled their STEAM program and motivated students through the use of mobile, adaptable furniture and space design.