Active Learning Center Grant
Steelcase Learning is partnering with institutions to create effective, rewarding and inspiring active learning spaces. Sign up to be notified when the next Active Learning Center Grant opens.
Sign Up for Updates
The 2020 ALC Grant is now closed. Sign up to receive updates for our next grant and be kept up to date with important insights, products and news from Steelcase Learning.
Here's What's Included
Steelcase Learning is offering the Active Learning Center Grant to up to 10 recipients.
The grant includes:
Furniture, design review, installation
On-site training and a Learning Environment Evaluation measurement tool
New: enhanced professional learning and transformation services
Package valued at $132,000
Who Should Apply?
Eligible institutions that focus primarily on formal, instructor-led learning in a designated classroom.
Eligibility includes:
Grades 6-12, colleges and universities
Up to 30 students per classroom
Classroom must be located in the United States,
U.S. territories, Puerto Rico, Canada or Mexico
Mark Your Calendar
December 2, 2019: Grant Opens
December 9, 2019: Grant Webinar
February 3, 2020: Applications due by 11:59 PM PST
May 2020: Grant Recipients Announced
How To Apply
Review Eligibility
Determine if your classroom is eligible to receive a Steelcase Active Learning Center Grant.
Do Your Homework
Learn about grant parameters, classroom options, FAQs and other helpful resources.
Start Application
Complete your application to apply for the grant.
Experience the Transformation
Classroom Options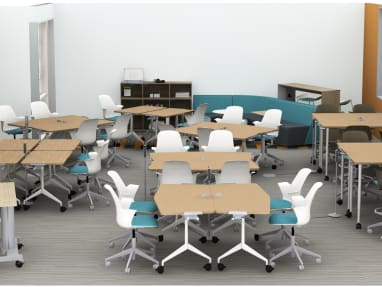 LEARNING STUDIO
From lecture and discussions to test taking and back again, this classroom supports the dynamic rhythm of active learning. Flexible tables and chairs allow quick reconfiguration, so students and instructors can easily engage in different learning modes.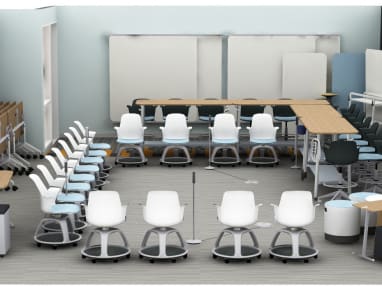 FLEX FLIP STUDIO
Inspired by design thinking practices, this setting is made to help students engage in creative problem solving. Tools and furnishings provide responsive support as students challenge assumptions and imagine alternatives together.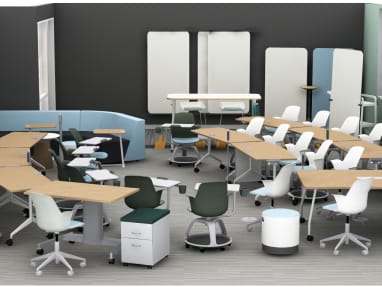 STUDENT CENTRIC STUDIO
It's about comfort, collaboration and control. This classroom is designed to tailor learning to students' diverse needs and preferences. A variety of settings and tools can help students craft their aspirations into individualized experiences with instructor guidance.