Steelcase and Microsoft work together with a shared commitment to put people at the center of how place and technology intersect and empower individuals and teams to do their best work.
.
Hybrid Collaboration​
Microsoft and Steelcase co-designed and developed the Hybrid Collaboration Table to create a more equitable experience for participants in person or remote. ​
​The table was created for Microsoft Teams Room Front Row experience, although it can benefit other hybrid collaboration spaces as well. The Front Row screen layout moves the video gallery to the bottom of the screen and keeps other meeting content persistent. The orientation of the room to landscape (facing the long wall) and the curvature of the table creates more eye-to-eye contact for those in the room and joining remotely. The front-angled leg and modesty panel means everyone can sit comfortably side-by-side for extended meetings. ​
Activating Collaboration
Microsoft and Steelcase are giving teams an unprecedented level of control over how they collaborate. Microsoft launched its next generation, all-in-one collaboration devices built for teamwork: Surface Hub 2S. Steelcase worked with Microsoft to develop Steelcase® Roam™ Collection, a system of mobile stand and easy-to-hang wall mounting system designed for the Surface Hub 2S family of devices that allow teams to collaborate almost anywhere.
Explore Steelcase Roam
.
Enhancing Creativity
To help organizations accelerate the shift toward more creative work, Steelcase and Microsoft co-developed Creative Spaces, an interdependent ecosystem of spaces and technologies designed for the diverse modes of creative work.
Learn more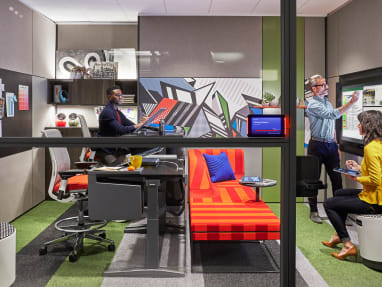 Contact us about creative spaces
Steelcase and Microsoft can help you develop a unique ecosystem of creative spaces that is tailored to the needs of your organization.
Find a reseller
Roam and Surface Hub 2S family of devices are sold through Microsoft Authorized Device Resellers.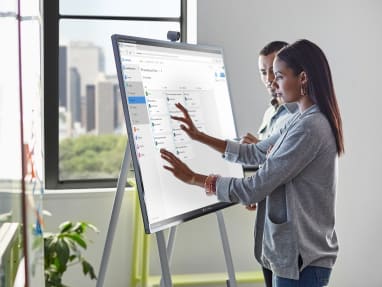 GO WHEREVER YOUR IDEAS TAKE YOU
Built to empower new levels of active and flexible teamwork, Steelcase Roam is a critical support system for the newly upgraded Surface Hub 2, untethering teams from traditionally limited collaborative environments so they can work together how they like: easily, actively and spontaneously. Contact us today to learn how to empower active collaboration into your workplace with Roam.