JLL
Transforming Work, Optimizing Place, Enhancing Experiences
When your business is helping clients solve their commercial real estate needs, your workplace presents unique opportunities to showcase your expertise and live by your own best practices.
As a leader in commercial real estate services and investment management, JLL Pittsburgh knew that an innovative, high-performance workplace could contribute to their continued success. "Our rapid growth – increasing from 50 to more than 450 employees in just eight years – forced a 'make do for now' approach," says JC Pelusi, regional managing director. As a result, their workplace was a maze of high-panel cubicles — more of an embarrassment than an asset.
"I used to meet clients at the Starbucks next door instead of bringing them in our old space," confesses Dan Adamski, managing director of the JLL Pittsburgh office.
The former space did little to encourage the collaboration and innovation that was essential to the organization's ongoing competitiveness and success. It also presented challenges for recruiting new talent and retaining employees. "Nowadays there's increased competition for good people. They have multiple job offers…. If all things are even close to equal, they're going to go with the company that offers a place where they want to work," Adamski says.
Clearly, the time to revitalize the JLL Pittsburgh office was overdue, and in May 2016 the company made a bold move: relocating to a 55,000-square-foot space to become the anchor tenant of a newly developed mixed-use property that is part of the city's elite skyline overlooking historic Market Square. In so doing, they created an entirely new office environment that has transformed the ways their employees work and captivated clients.
A Pivotal Process of Discovery
Before jumping into the design of their new facility, JLL leaders wanted to better understand how work was currently happening in their organization and identify strategies for shifting toward improved, more productive experiences in the new space. At the same time, they wanted to reinforce their standing as a JLL national operations hub while also managing costs and efficiency to support future growth.
To achieve their ambitious goals, they engaged a team from Steelcase to understand user preferences and behaviors. Leveraging Steelcase's proprietary collection of Workplace Tools+Resources, JLL leaders and employees participated in workshops, surveys and onsite observations at various stages of the project.
Engaging the Steelcase team was a pivotal step, says Project Manager Shelley Boyle, who normally delivers JLL project development services to Pittsburgh-area clients.
"In this instance, the client was the people I work with every day," she notes. "Having the opportunity to work with Steelcase at the front-end planning stage of our project made it apparent that they do a lot of really good research and bring that knowledge to everything they do. It's about a lot more than just putting people in chairs."
Collecting and analyzing multiple sources of data yielded insights that helped Boyle and her team better understand JLL workplace needs and provided clear strategies for moving forward. Identifying key opportunities for increased effectiveness and resilience, the Steelcase team was also able to recommend spatial attributes that would support the project goals.
In particular, the data collected and analyzed uncovered a critical need for more settings for collaboration; nearly half of JLL employees reported that, although meeting and exchanging ideas was important to their work, they didn't have adequate spaces to do so, resulting in a drain on their uptime for productive work. Conference rooms were large, even though most meetings involved just 2-3 people – a significant waste of real estate. In addition, a growing demand for videoconferencing with clients and offsite teammates was burdening already overscheduled conference rooms with those capabilities.
"Having the opportunity to work with Steelcase at the front-end planning stage of our project made it apparent that they do a lot of really good research and bring that knowledge to everything they do. It's about a lot more than just putting people in chairs."

Shelley Boyle

Project Manager, JLL
Given the lack of meeting spaces, employees reported that they usually met in their personal workspaces when they needed to work with someone else, and, not surprisingly, most (61 percent) also cited managing noise as their top concern. Chair comfort, ergonomics and access to natural light were other priorities that employees identified, pointing toward significant opportunities to better support their wellbeing at work.
In addition to too few meeting rooms, there were almost no ancillary spaces for informal collaboration and impromptu socializing. And although many employees had flexibility to work away from the office, they were underserved when they needed or wanted to be onsite, losing productive time searching for a place to work and often feeling more like visitors than integral members of the team.
At a minimum, employees said, they wanted to be rid of the tired tan cubicles that pervaded their old space. "Continuing to work in a 'Khaki Wonderland' would be a huge disappointment," is how one survey participant put it.
Empowering Engagement + Performance
Armed with a clear understanding of employees' priorities and how they tied to the strategic priorities of the organization, the design team could successfully formulate an innovative new workplace that would dynamically reflect the caliber of JLL employees and the services they provide.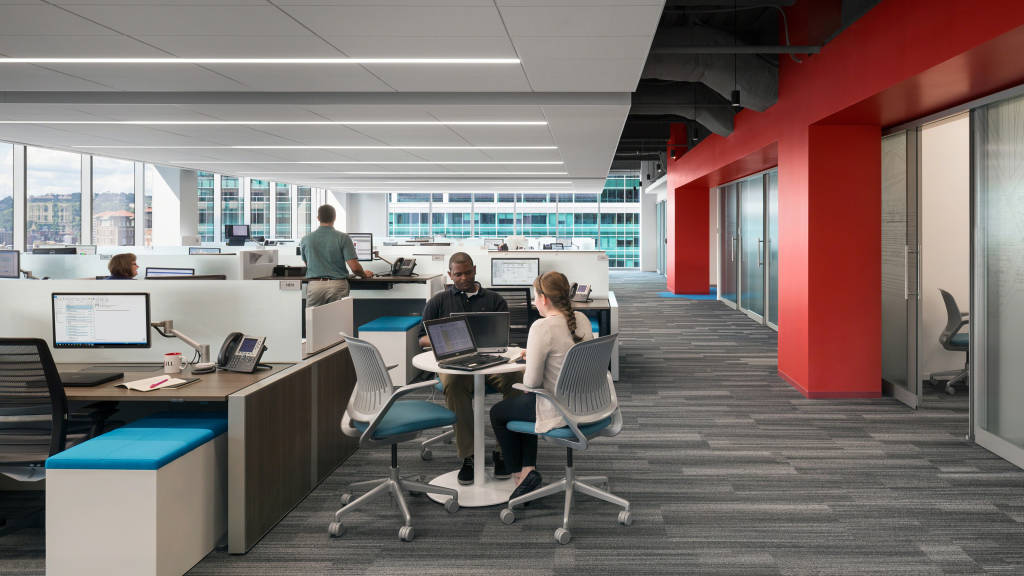 Cubicles have been replaced by open, adjustable-height workstations that encourage interaction and healthy movement – "a very popular move," reports Adamski, adding that he keeps his own desk up 99 percent of the time to ease lower back issues he used to experience. Most workstations are free-address versus assigned, supporting mobility and choices for employees who work in the space every day as well as those who come and go as needed.
Palette and materiality were carefully considered to create human-centered, amenity-rich settings where employees are empowered to do their best work. JLL's signature red is used selectively in glazing and wall accents, with complementary accent colors in furnishings and environmental graphics, and warm tones for various finishes.
Only a few senior leaders now have private offices, and these are located away from perimeter walls. By strategically positioning all enclosed spaces in the core, employees in the open plan have access to natural light and clear sightlines to inspiring views of the city, improving their day-to-day productivity and wellbeing as well as contributing greatly to the appeal of the space.
Teams can choose from a range of informal or enclosed meeting places, including several rooms with videoconferencing so remote employees can participate and contribute. Small-scale meeting rooms also provide hideaway places for deep-focus individual work or private conversations as needed.
"The expectation is that you're not going to come into the office and sit at your desk all day," says Boyle. "We really tried to provide spaces that would support the ways people work throughout the day as their tasks change."
To encourage more information exchanges and camaraderie, there is a centrally located café as well as casual interaction spaces on each of the three floors that JLL occupies. On the 12th floor, a large café with an adjoining balcony patio extends the workplace, offering a variety of settings to support a variety of activities – from lunch and coffee breaks, to individual touchdown work, to informal collaboration and meetings. Nearby, there's a break area with a shuffleboard table. In addition to supporting personal rejuvenation, these spaces provide easy opportunities for people from different business lines to get to know each other, build trust, share information and bundle ideas.
"The fact that everyone is now more mobile and there's more collaboration between groups allows us to be more innovative and think of better ways to support our clients," explains Boyle.
At the same time that the facility promotes connections, it gives people options for privacy when needed, she emphasizes. "We know that people sometimes have a day when they're really busy and don't want to be bothered…. And that's okay, too, because we have the space available to do that."
Decreasing the number of private offices and eliminating space-consuming cubicles increased the amount of space available for conferencing, collaboration and socializing by nearly 60 percent. The abundance of shared spaces also optimizes the real estate and sets the stage for future growth — key attributes of a resilient workplace that were missing in JLL's previous space.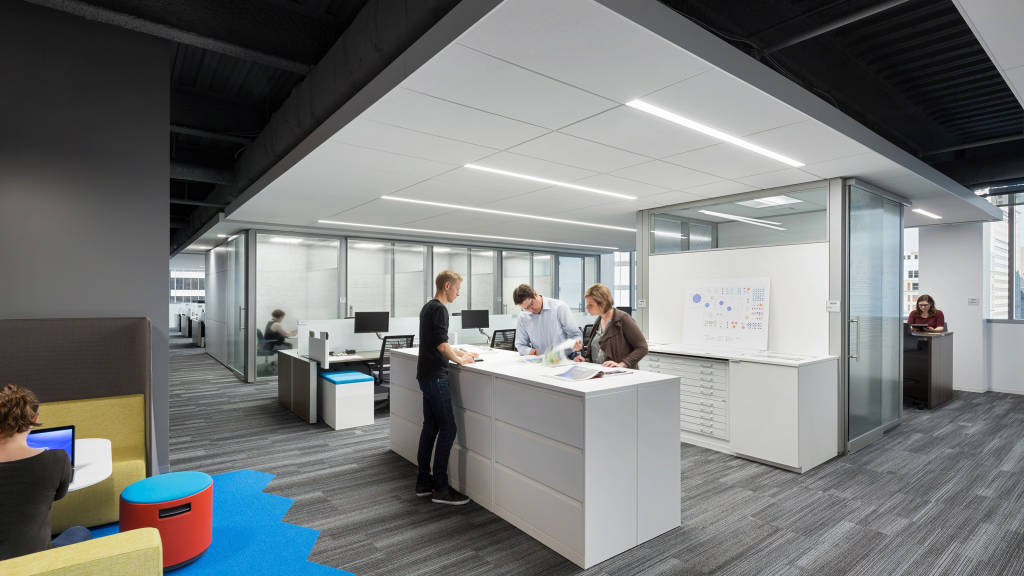 "Now, as we grow, we won't necessarily need to take another floor of space because we've got that growth built into our ratio for sharing," Boyle explains.
From start to finish, employee feedback was a top priority. To ensure everyone's voice was heard and to help employees transition to different ways of working, JLL created a Change Ambassador program. As Ambassadors, selected employees communicated questions and concerns to the project team, and they also had a key role in helping employees successfully settle into their new work environment.
Achieving Results that Matter
Employee post-occupancy reviews show that the new space has improved many dimensions of work, including:
| | | | |
| --- | --- | --- | --- |
| | Old Space | New Space | Change Percent |
| Time lost daily due to productivity-impacting factors | 66 minutes | 23 minutes | – 65% |
| Spaces are available to meet different needs | 52% YES | 95% YES | +83% |
| Workspace empowers the creation of new ideas | 60% YES | 79% YES | +30% |
| Pleased with the views | 58% YES | 90% YES | +55% |
| Access to quiet, private spaces for confidential conversations | 63% YES | 96% YES | +52% |
| Access to casual spaces to re-energize | 30% YES | 86% YES | +87% |
| Helps attract and retain employees | 43% YES | 80% YES | +86% |
| Comfortable with the amount of natural light in most common spaces | 69% YES | 92% YES | +33% |
Another important signal of success: The new office has become a destination of choice with more mobile employees now choosing to work onsite versus remotely.
In addition to providing greatly improved experiences for employees, the new facility has become a magnet for clients. More than 100 companies visited during the first 90 days of occupancy and hosted events, such as a summer "Patio Series," provide memorable business-networking opportunities.
"I love to show off the space," says Adamski. "It's such a unique way of working for Pittsburgh. Clients come through and say, 'Help us do that.' Or maybe not exactly that, but something similar."
The project has dramatically changed his views about the value of space and how it can support a business. "I now joke that in the first 20 years of my career, all I ever talked about was rental rates," he notes. "I've come to the realization that's not really the best metric to be focused on. Because if the work environment doesn't support what you're trying to do, it really doesn't accomplish anything."
"Now, I can say that our space actually makes us money. "

Dan Adamski

managing director of the JLL Pittsburgh office
The new JLL Pittsburgh office is a superb example of how office real estate can be much more than just a cost to be managed. Instead, when strategically planned, it can be a valuable asset for driving improved productivity, competitive advantage and rapid, measurable returns on investment
"Now, I can say that our space actually makes us money," concludes Adamski.
---
Credits
Design: Perkins Eastman
Dealer: Franklin Interiors
Steelcase Inc. Products:
Think, QiVI, Cobi, SW-1 and Gesture seating
Elective Elements office desks, returns, and credenzas
Ceramic markerboards
Campfire Big Table
Media:scape lounge and technology