Microsoft Q+A: Design Solutions Empower Creativity
Steelcase and Microsoft have come together for the first time to help organizations enable and facilitate more creative work from their teams in an increasingly competitive business landscape. By providing workers with a thoughtfully designed workplace — one that brings together space and technology — business leaders can unlock the creativity of people, inspiring ideas and accelerating innovation along the way.
360 sat down with Microsoft Senior Director Julia Atalla to hear more about how this partnership can inspire creativity in the workplace.
---
360: Microsoft and Steelcase recently announced a strategic partnership. Tell us why Microsoft, a tech company, is interested in the physical environment?
Julia: At Microsoft, we believe in what people make possible. Our mission is to empower every person and every organization on the planet to achieve more with the help of software, services, devices and solutions. As we embark on our partnership journey, we are excited to bring the right mix of technology experiences to life through our Microsoft Surface devices in beautifully designed spaces to reimagine the workplace. In the early days, when the teams were starting conversations, we quickly learned that we had much more in common than meets the eye. We share a similar core — to design solutions that empower people to create. When you sit in the Creative Spaces, you really feel that aligned sense of purpose come to life — it's a real collaboration.
---
Explore Creative Spaces
Explore Creative Spaces and the Microsoft and Steelcase partnership.
Learn More
Former Steelcase CEO Jim Keane shares how people are at the center of this new partnership.
---
360: Creativity is the first issue the two organizations are working on together. Microsoft has received accolades for its new Surface Studio and its ability to create in new ways. Why is creativity so important right now?
Julia: Creativity is core to who we are as humans. Our ability to think creatively is one of the things that make us a unique species. It is no longer an ability that is exclusive to artists and designers. We all want to create in our lives, be it cooking, writing, drawing or code. That's creativity. Our job is to bring in technology that amplifies your innate creativity and to ensure nothing stands in the way of bringing your ideas to life.
Our job is to bring in technology that amplifies your innate creativity and to ensure nothing stands in the way of bringing your ideas to life.

Julia Atalla

Microsoft Senior Director
The global economic climate has become increasingly competitive, and business leaders are under pressure to continuously grow their organizations in new ways. To do this, companies need engaged employees, and creativity is really at the heart of what spurs new ideas, which fuels innovation and growth.
Steelcase and Microsoft did a study on this and found that out of 515 workers, 72 percent think their future success is tied to their ability to be more creative. Yet, while there is greater need to collaborate to be creative, only twenty-five percent of respondents feel they can be creative in the places they have available for group work. This is why Microsoft and Steelcase are coming together to blend space and technology, so every employee has the tools they need to be creative.
360: If creativity is so critical for people at work, what are some of the barriers to creativity you see when you work with companies around the world?
Julia: Work used to be based on efficiency such that it was broken down into parts in which people could specialize. It was a very linear process. Now, organizations are expanding across industries, talent is often spread across geographies and the problems people are tackling are much more complex than they have ever been. This requires creative thinking and a very different work process in which people and ideas can be much more fluid. Creative Spaces were designed to better enable that creativity.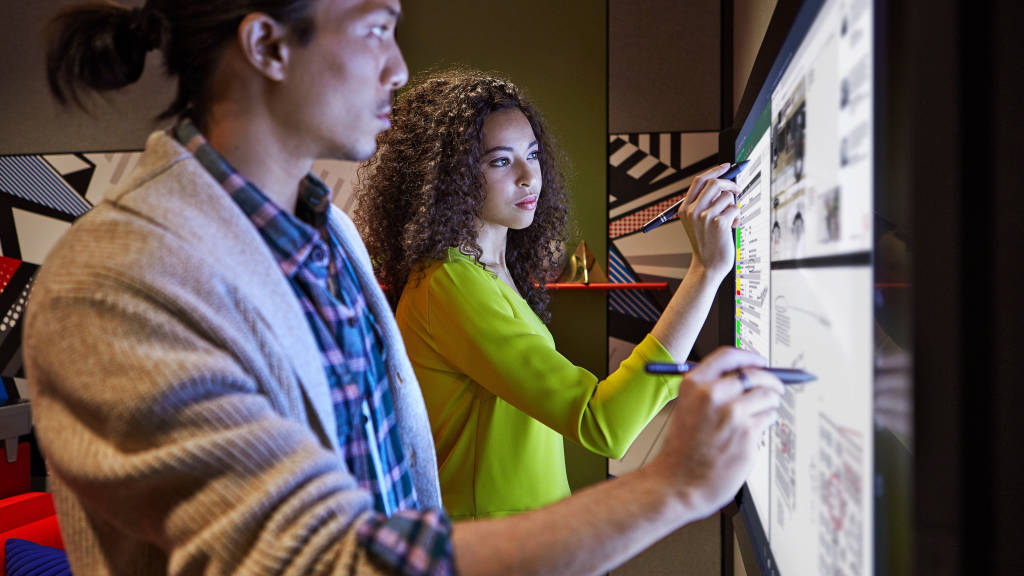 360: How can technology be deployed differently in workplaces to better support the creative process?
Julia: What's interesting is that organizations are already spending a lot of time, and money, on both their physical office spaces as well as technology. And, in most cases, these decisions are being made by different groups in an organization. Our goal is to erase the barrier between technology decisions and space planning – to think about them together. For example, Microsoft Surface Hub is a large screen, interactive group collaboration device powered by the best of Windows 10. At 55" and 84", the Surface Hub can unlock the power of the group — especially when the space it is in is also conducive for group collaboration, encouraging a more engaged posture. This is a prime example of how bringing what were once disparate parts of a business together can help people be more creative and more collaborative in the workplace.
360: Your array of Surface products: the Surface Hub, Surface Studio, Surface Pro, Surface Book all cater to different needs people have at work. Why do people need a range of devices and a range of spaces?
Julia: Work is fluid; creativity is fluid. There isn't a one-size-fits-all workspace or piece of technology.
We created Surface to give people choice and flexibility wherever they are in their day, at whatever stage they are in their creative process, and however they work best. For example, people don't always need to be doing group work; sometimes they need space to focus in on a particular task. Sometimes people need to work shoulder-to-shoulder with a colleague on a project and then bring others in to present or ideate. Sometimes you need a messy brainstorm. All of our Surface devices can fit into those various creative scenarios. We also get that people like to work in different ways, whether you are a visual person who likes to draw, someone who processes better through writing or you communicate best verbally, Surface powered by Windows allows you to pick whichever mode is best for you.
When Microsoft and Steelcase built Creative Spaces, the teams specifically designed spaces that touch on all of these modes of work. Everything from the Maker Commons with a Surface Hub, great for spontaneous brainstorming, to the Duo Studio, perfect for close-knit and small group work on Surface Studio and Surface Hub, to the Focus Studio and Respite Rooms, made for individual creative work on Surface Studio, Surface Book or Surface Pro 4.
360: Today we have a series of Creative Spaces created by Microsoft and Steelcase. What's next for the Microsoft and Steelcase partnership?
Julia: The Creative Spaces, and the announcement that select Steelcase dealers are now Surface Hub resellers, is just the beginning. We will have more to share as we work with customers to reimagine their office spaces and technology around creativity. Additionally, we will be tackling new technology-enabled workplace solutions built on Microsoft Azure IoT technology. We will have more to share there in the coming months.
---
Discover More
Microsoft and Steelcase are introducing all-new, immersive Creative Spaces, that bring together place and technology to help people generate new ideas and move them forward.
View Creative Spaces Learn More: Microsoft and Steelcase Partnership