Screens
Steelcase Work Tents Collection
by Steelcase
Steelcase Work Tents is a collection of versatile privacy solutions – inspired by tents, designed for the workplace. From simple screens to small enclosures, Work Tents provide privacy and shelter in the office - in an unexpected and delightful way.
–
Reimagined Retreats
Designed in collaboration with a world-class tent designer, the concept of Work Tents is rooted in the human desire to seek shelter and protection from natural elements. Recreational tents provide safety and a haven of security in uncertain outdoor conditions, and now Work Tents provide people in the office with the same shelter and protection they crave.
With tensile construction at the core of the design, Work Tents pair light and airy organic shapes with tent-like and sheer textiles to create a range of flexible and captivating privacy solutions. Steelcase Work Tents challenge conventional privacy solutions by offering a novel and compelling way for people to work.
Features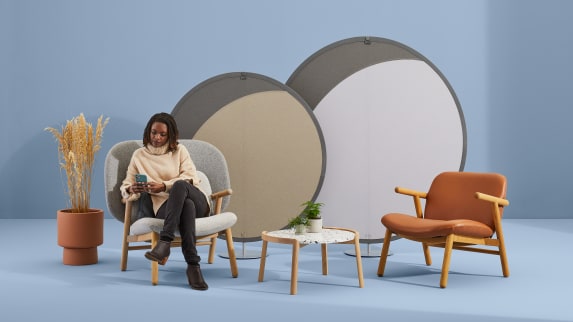 Shelter + Privacy
Work Tents provide shelter and protection to people at work from common distractions such as noise, stress and other people – providing psychological comfort. From simple screens to open enclosures, Work Tents give people options for how they want to work – and what level of privacy they need – allowing them to stay focused and productive.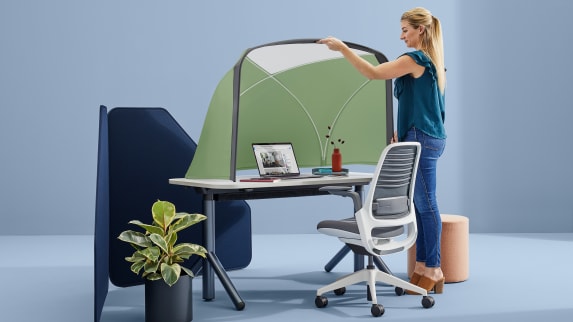 Versatile + Flexible
Work Tents are lightweight and quickly deployable to create different levels of privacy in the open office. Compatible with existing furniture, Work Tents are easy to drop in​to any space giving people control to choose their desired amount of privacy. Easily moved, Work Tents allow the workplace to adapt to changing conditions and needs.
Specifications
Boundary Tent
Screen
Available Sizes:
Diameter: 1372 mm or 1676 mm
Surface Materials:
Warm – Primary: Era Pink Lemonade 5ER8 / Accent: Era Scarlet 5ES0
Neutral – Primary: Era Comet 5ER5 / Accent: Era Night Owl 5ES7
Cool – Primary: Era Royal Blue 5ES6 / Accent: Era Night Owl 5ES7
(Screens are available with these predetermined palettes. Outer fabric rim is a color match to 6059 Sterling Dark Solid. Custom Era fabric selections are available with an upcharge.)
Pole
Available Sizes:
Height: 1499 mm or 1803 mm
Base Diameter: 406 mm
Pole Diameter: 25 mm
Surface Materials:
Pole/Base: Steel (Available in all Steelcase standard and lux paints)
Connector Buttons: Plastic (6059 Sterling Dark Solid)
TABLE TENT
Available Sizes:
Small – 1041 mm width, 572 mm depth, 762 mm height
Large – 1346 mm width, 686 mm depth, 838 mm height
Surface Materials:
Fabric: Ascent
Top Panel: Ascent Arctic White
Outer Trim: Sterling Dark
Fiberglass Rods: Milk
Table Tent comes ready to assemble.
POD TENT
Available Sizes:
Base diameter: 1930 mm ​
Diameter: 2235 mm ​at widest point
Height: approximately 2337 mm​
(Variation in heights related to tensile construction is expected.)
Surface Materials:
Available in 3 fabric families (Sheer, Ascent, Era) and can be can be specified in one solid color or in two color families:
Sheer
Ascent/Era
Sheer/Era
Sheer/Ascent