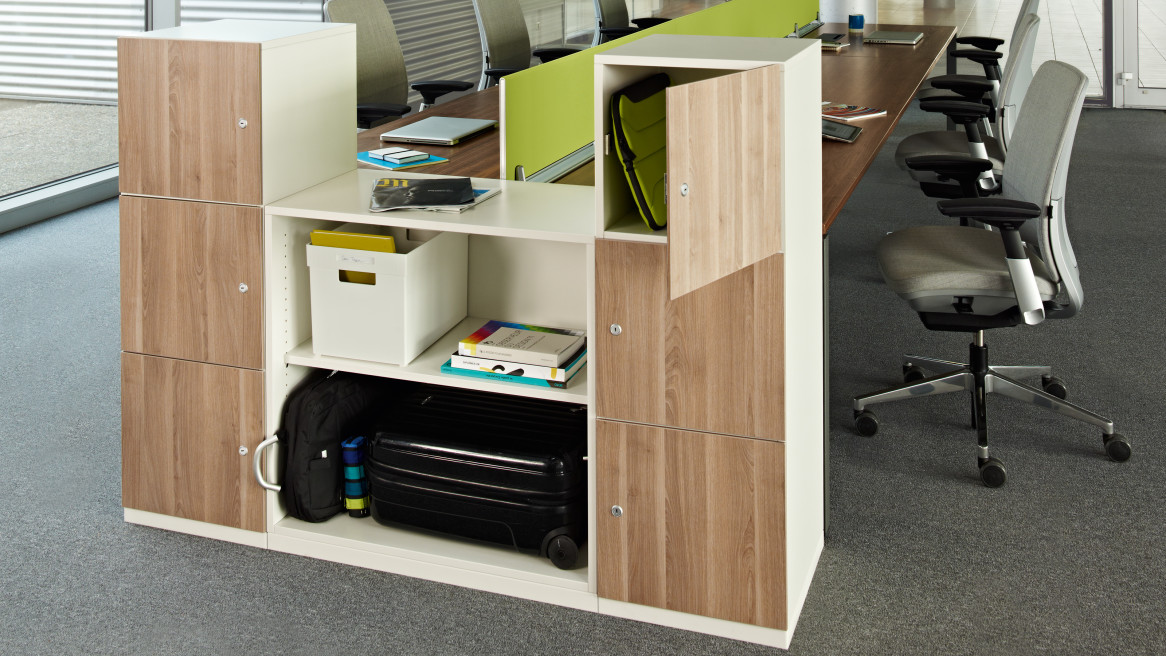 Share It is a modular storage system. It offers personal storage, team storage, meeting point solutions and lockers. Share It can be also used as space dividers, structuring workspaces.
All Cupboards + Cabinets
Insights
Smaller Office Space
Office space is shrinking. Storage becomes a divider and structural element.
Sustainability
Overview
Overview
Designing for Sustainability
We believe the only way to provide the best office furniture solutions is to ensure they're the best products for the environment. That's why every step of the way – through design, manufacturing, delivery and product lifecycle – we consider the impact of our work on people and on the environment and uncover opportunities to make things better.
17 %
Up to
recycled content by weight
97 %
Up to
recyclable by weight
Life Cycle
Life Cycle
Materials
17% recycled materials. No hazardous materials (no Chrome VI, no Mercury and no Lead), no dangerous materials (PVC) and no hazardous flame retardants. 7% of weight reduction compared to similar storages, without altering robustness. Packaging: 30% recycled material. Water based inks without solvent for paper and packaging.
Production 
ISO 14001 and EMAS II certified plant in Durlangen. Powder-coat painting: VOC-free and free of heavy metals. Unused paint that does not attach to the product can be directly reused in the process.
Transport
Optimised packaging weight and materials types. It is manufactured close to customers.
Use
Designed for an extensive life time. Possibility to modify the interior to answer users changing needs over time.
End of life
97% recyclable by weight. 100% recyclable cardboard and plastics used for packaging. Modular and easy to disassemble using normal hand tools. Contains only few different materials making sorting for recycling easy. Plastic parts labelled for recycling.
LEED Contribution
LEED Contribution
Steelcase helps customers seeking LEED certification to identify products and programs that can contribute to LEED criteria in the categories of Materials and Resources, Indoor Environmental Quality and Innovation (Ergonomics Training, Sustainability Training, Product Innovation).
Learn about Steelcase's direct and indirect contributions to a project's pursuit of LEED certification across LEED's three categories:
Building Design + Construction
Interior Design + Construction
Operations + Maintenance
Since the USGBC and its certification partner, GBCI, evaluate each project individually, the role our products play in achieving LEED certification is unique to each project.
Certificates
Certificates
Certifications can help you choose products that are environmentally sustainable and just right for your project. Share IT has achieved the following certifications:
Environmental Product Declaration (EPD)
With Share It a we can provide an  (EPD), according to the objectives of ISO 14025, based on Life Cycle Assessment (ISO 14044).
PEFC (Programme for the Endorsement of Forest Certification).
The wooden components of Share It are labelled with  PEFC (Programme for the Endorsement of Forest Certification).
"E1 Standard"
The particle boards comply with the low emission  "E1 Standard" (EN13986).
"Blauer Engel".
Share It complies with the German environmental certification "Blauer Engel"
NF Environnement
Specification
Options + Dimensions
Options + Dimensions
Main options
Side-opening tambour doors, sliding doors, hinged doors, open shelves, drawer unit, meeting point
Various configurations adaptable to different demands
Variety of colours and surfaces on the fronts
Global Availability
Global Availability
This product is available in the following regions:
Africa
Europe
Middle East
Not available in your region?
If you're interested in purchasing a product that's not available in your region, please contact your local dealer for purchasing options.
Design Awards
Design Awards
2010 Germany – iF Design Award
The Design Forum International in Hannover honoured the storage Share It with the coveted iF Design Award.
The iF Design Award has been one of the most important design awards since 1954. Every year more than 1800 products from 30 different countries are registered. The jury was composed of international designers.
Resources + Support
Download 2D and 3D CAD models for use in your design application.

View and save brochures, certificates, and other documents.

Browse, save, and download beautiful images for use in presentations or inspiration boards.